The best hiking near NYC
If you want to go hiking near NYC, there are many trails (from easy to challenging) you can get to without a car.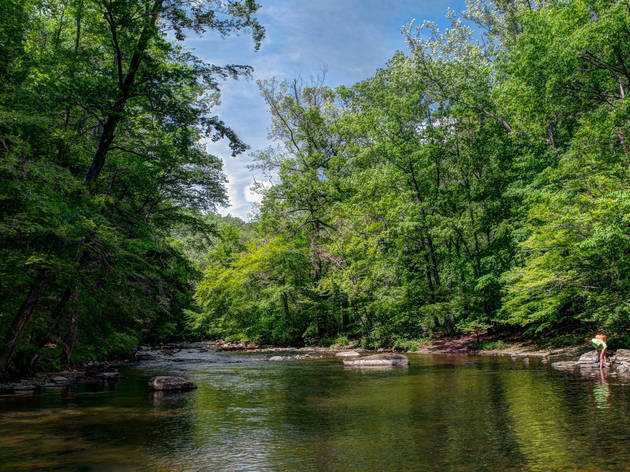 Grab your boots and MetroCard: These magical and awesome places to go hiking near NYC await! While there are a handful of parks in NYC with trails you could wander, becoming one with nature can be a bit of a challenge when you're sharing it with 8.6 million other people. When you tire of the best things to do outside in the Gotham, get a change of scenery and try one of these outdoor adventures below. From serene paths through the woods and thrilling ascents up rocky cliffs, these hiking trails and day trips from NYC are just a quick train or bus ride away.
Best hiking near NYC
11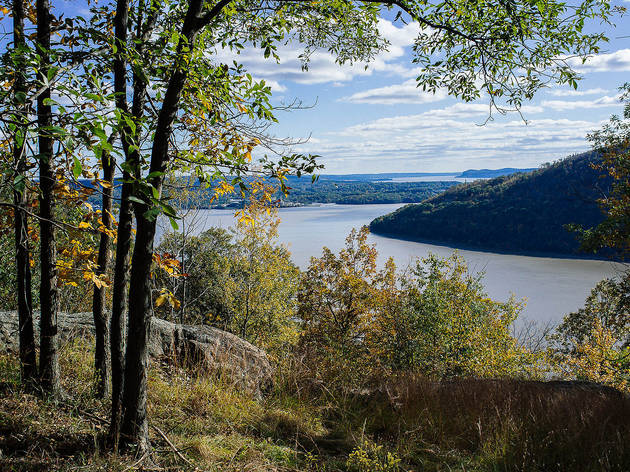 Photograph: Courtesy Creative Commons/Flickr/Mat McDermott
If the Appalachian Trail and Bear Mountain are a bit crowded, this three-and-a-half-mile hike is great for a little solo strolling. The rolling hills are great for some fitness, but aren't overwhelmingly difficult. With fairly easy terrain, even your four-legged friend can join you on the trail. Take the Metro-North Hudson line to Peekskill Station for free shuttles to the Bear Mountain Inn, where you can hike up to see incredible Hudson Valley vistas.
Time: Three hours
Level: Moderate
12
Photograph: Courtesy Robert Rodriguez Jr
In less than two hours, Metro-North's Hudson line brings you to Poughkeepsie, where a whole day of activities awaits you. Start with a stroll on the Walkway Over the Hudson (the world's longest pedestrian bridge, perched 212 feet above the river) before heading west into Franny Reese State Park. There are two-and-a-half miles of trails with sites like an old carriage road, ruins of a 19th-century estate and superb views of the Mid-Hudson Bridge. Reward yourself with dinner at one of the many restaurants nearby before heading home.
Time: Two hours
Level: Easy
13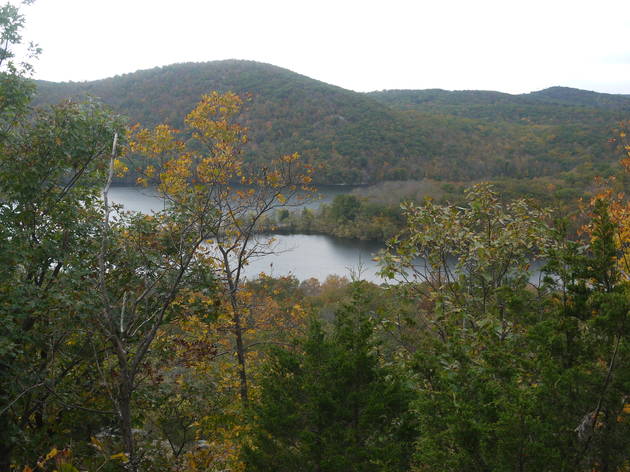 Photograph: Courtesy CC/Flickr/WhatsAllThisThen
Indian Rock/Wanaque Ridge Trail Loop
Lakes? Check. Babbling brooks? Check. Stunning views? Check. This 5.5-mile hike has it all. After taking NJ Transit's #197 bus from the Port Authority to the intersection of Ringwood Avenue and Second Avenue in Wanaque, walk just under a mile to begin your journey. Climb the scenic Ramapo Lake and follow the Wanaque Ridge Trail along the western ridge of the Ramapo Mountains to spot stunning views over New Jersey and Ramapo Lake.
Time: Three and a half hours
Level: Moderate
14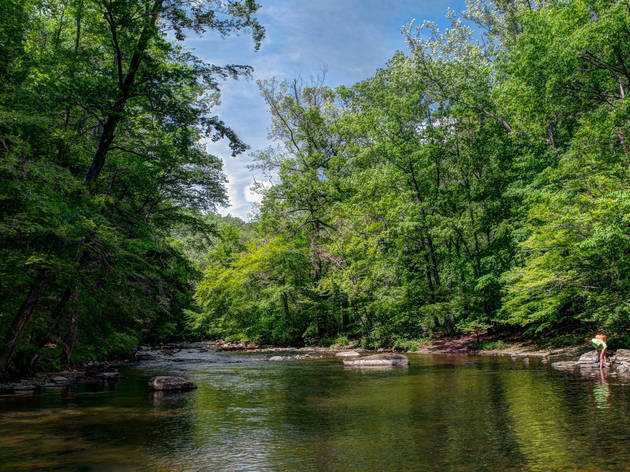 Photograph: Courtesy CC/Flickr/Khürt L. Williams
Ken Lockwood Gorge and Columbia Trail
Everything about this 7.5-mile hike is quaint. You start in the adorable town of High Bridge before setting off to the scenic Ken Lockwood Gorge, then hit the banks of the Raritan River before finishing on the Columbia Trail. To get there, simply take New Jersey Transit Raritan Valley Line to High Bridge.
Time: Three hours
Level: Easy
15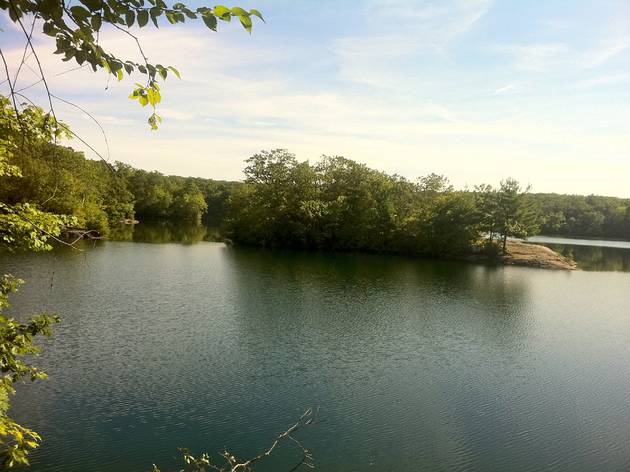 Photograph: Courtesy CC/Flickr/Morrow Long
Lemon Squeezer/Island Pond Loop
With a name like Lemon Squeezer, you know this has to be a fun trail. The 7.5-mile circuit features the typical pond and greenery, but it also has the unique bonuses of a tight rock formation (hence the squeezer) and the historic Boston Mine. Just buy a ticket to Southfields on the Shortline bus from Port Authority and ask the bus driver to let you off at Arden Valley Road next to a "Welcome to Harriman State Park" sign. There's even a discount for hikers.
Time: Four and a half hours
Level: Moderate to strenuous
16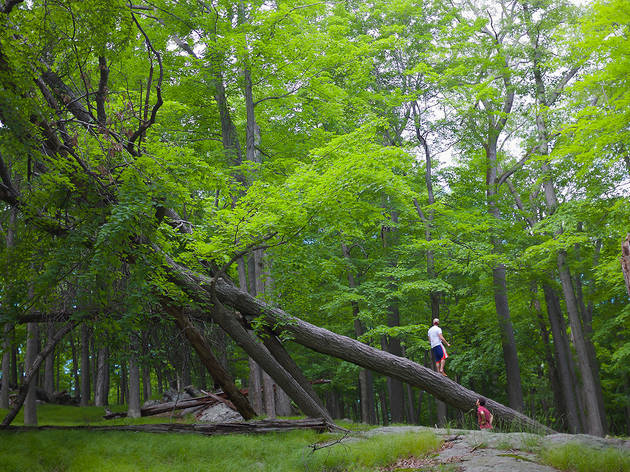 Photograph: Courtesy Creative Commons/Flickr/Josh Kesner
While getting up close and personal with the Hudson River might not be your idea of fun, this hike might change your mind. A walk or bus ride over the George Washington Bridge leads you to Fort Lee Historic Park and access to 356 miles of trails on the Long Path. Of course, you won't complete the whole walk in a day, but you can choose your distance and direction and pass things like the Rockefeller Lookout or the Greenbrook Sanctuary or follow the Shore Trail to waterfront picnic areas.
Time: Varies
Level: Easy to Moderate
17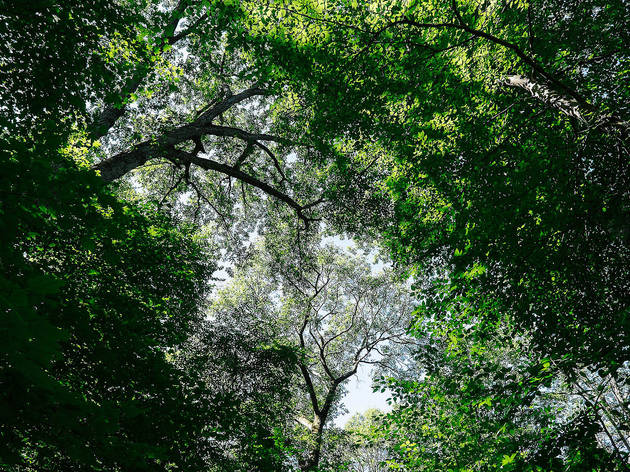 Photograph: Courtesy Creative Commons/Flickr/Mat McDermott
Good for all skill levels, this four-mile hike parallels the Hudson River, ultimately leading to a cliffside with sweeping views of the river. To get there, just take the Metro-North Line to Manitou Station and follow signs for the trail. About halfway through the three-hour hike, you get the treat of walking past a historic mansion that once belonged to the Livingston family.
Time: Three hours
Level: Easy to moderate
18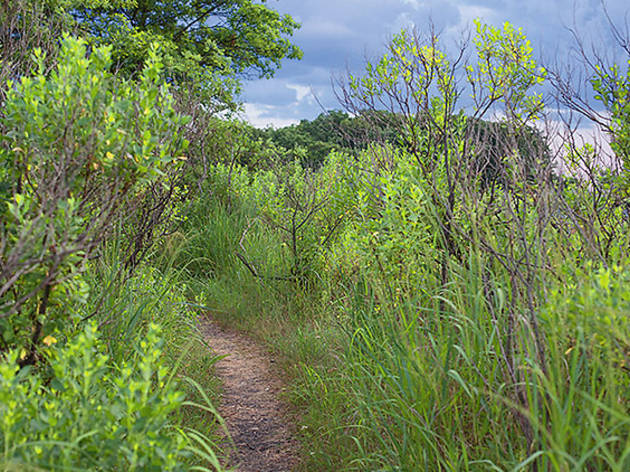 Photograph: Courtesy Creative Commons/Flickr/June Marie
This easy one-mile hike along the Long Island Sound is great for taking in lovely water and marsh views. You also walk past an 1838 mansion that was once home to John Jay. For this hike, take Metro-North's New Haven Line to Harrison Station, walk down Purdy Street, turn left on Park Avenue then right onto Boston Post Road.
Time: One hour
Level: Easy
19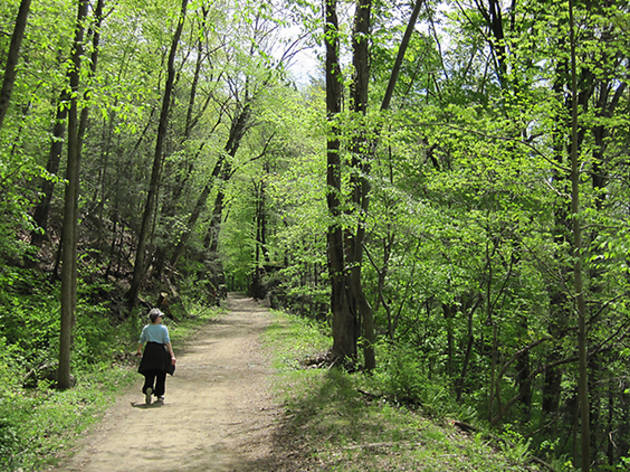 Photograph: Courtesy Creative Commons/Flickr/ScubaBear68
Nature and history buffs will get a kick out of this trail that runs along the route of the Old Croton Aqueduct. The full length of the trail runs 26 miles from Tarrytown to Yonkers, but there are multiple Metro-North stops between the two towns, making it easy to hop on and off. Stroll past parts of the old aqueduct, Lyndhurst Castle and many other historic buildings during your hike.
Time: Three hours
Level: Easy
20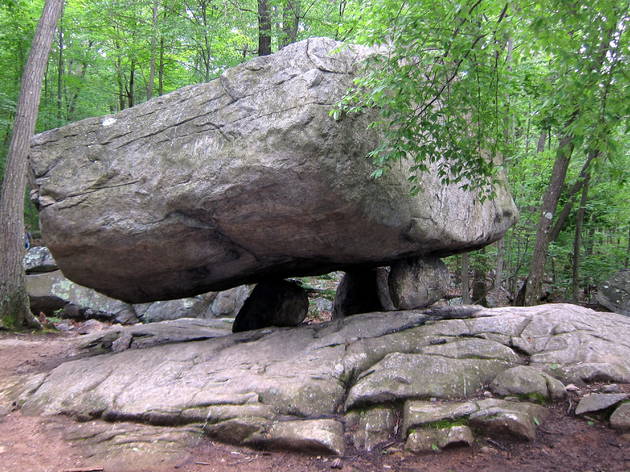 Photograph: Courtesy CC/Flickr/Wally Gobetz
Pyramid Mountain and Kakeout Reservoir
Yes, New Jersey makes the list again for another one of its scenic paths. This approximately 9-mile loop follows the shore line of the Kakeout Reservoir before climbing Pyramid Mountain, where you'll see two crazy looking rock formations. Luckily, this range of landscape is just a bus ride away. Take NJ Transit bus #194 from the Port Authority to the Meadtown Shopping Center, then walk west for 0.1 mile on Kiel Road and turn left onto Kakeout Road. Continue for 0.5 mile to Bubbling Brook Road.


Time: Five hours
Level: Moderate

Show more
Find the best hiking trails in America
Hit one of these epic hiking trails to experience some of America's most iconic and dramatic landscapes at ground level