Uncover NYC's gory, blood-splattered past, hiding in plain sight
We unveil the locations of New York City's long-forgotten, grisly murders that you might just pass by every day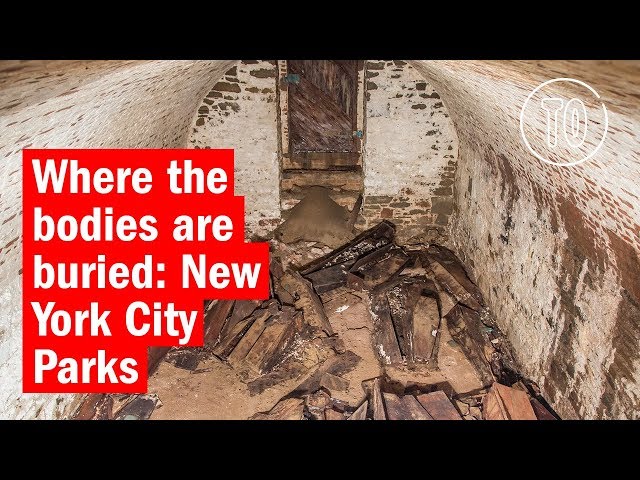 Not to point out the obvious, but things move pretty damn fast here. Skyscrapers replace old tenements in the blink of an eye. Neighborhoods morph into destinations for the trendy clubs-seeking set seemingly overnight. Go-to New York attractions are wiped out like that. As a result, a rich, often sordid history lies buried beneath all the modern construction. That unassuming chain store you stroll past on your way to work? It was the scene of a grisly mob execution, but you'd never have known—until now. We dig up the dirty past of the city, spotlighting the little nooks that hosted violent debauchery you wouldn't believe happened. But it did, and you interact with these spaces every day.
It happened here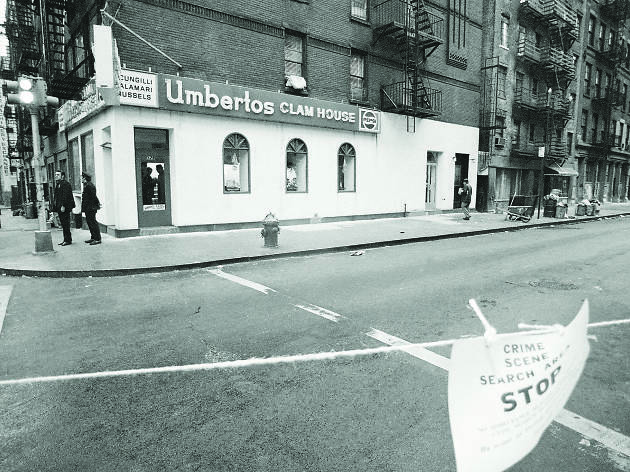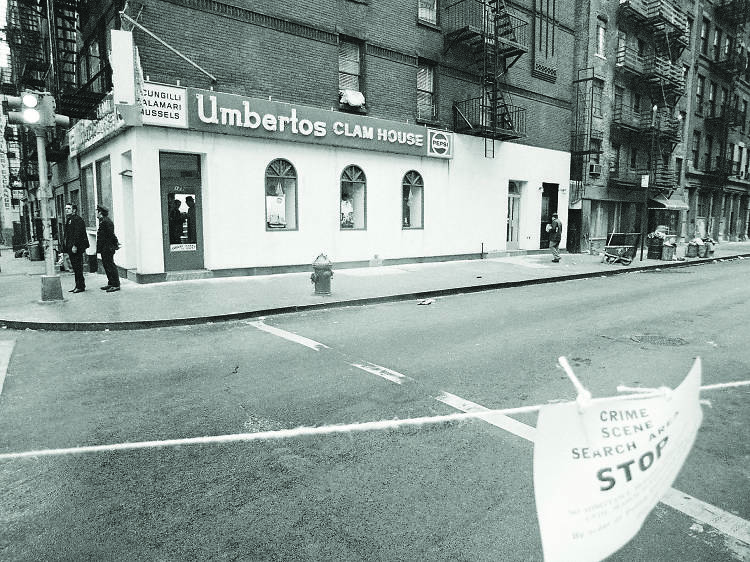 129 Mulberry Street
Leave the gun-take the calamari
THEN
Shortly after opening in 1972, Umberto's Clam House became one of the most famous restaurants in New York-—but not because of their scungilli. The Little Italy destination is where notorious mobster "Crazy Joe" Gallo was gunned down on his 43rd birthday. After a night on the town, Gallo and his family were relaxing at a table in the back when four gunmen burst in with revolvers and lit up the place.
NOW
Decades later, Umberto's moved up the block, and the site of the murder is now home to a different Italian spot, Da Gennaro.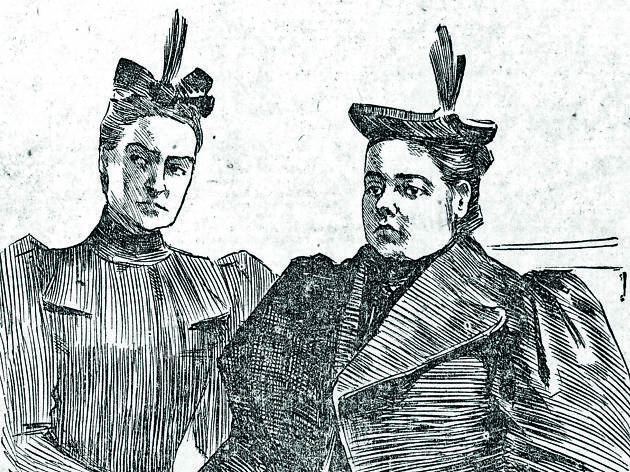 13th Street and Avenue A
Bleeding like a stuck pig
THEN
A bit of friendly advice: Never tell your fiancée that "only a pig" would marry her. It seems simple enough, but in 1895 Domenico Cataldo learned this lesson the hard way. After one too many fights, his betrothed, Maria Barbella, had had enough, so she walked up behind him and slit his throat with a razor. Cataldo staggered out of Mancuso's Saloon in the East Village and made it to the corner before collapsing and bleeding to death in front of passersby.
NOW
The intersection lays claim to two drinkeries (Percy's Tavern and the Spotted Owl Tavern) as well as Ink Spot Tattoo and CafféBene.
Pictured: Barbarella, right
46 Mulberry Street
Don't go to bed angry
THEN
In 1865, Chinatown's Columbus Park, nestled in the infamous Five Points, was an area you'd definitely wanted to avoid. Take this incident: At a boardinghouse just across Mulberry Street from the park, Peter McGeraty and Michael Healy got into a heated argument. As onlookers separated the pair, Healy screamed that he would kill McGeraty, and a few hours later he made good on that threat. Awakened by screams, the keepers of the house rushed into McGeraty's room to find him hacked to death with an ax, his blood-covered killer standing beside him.
NOW
The green space is a bright spot where neighbors gather and children play.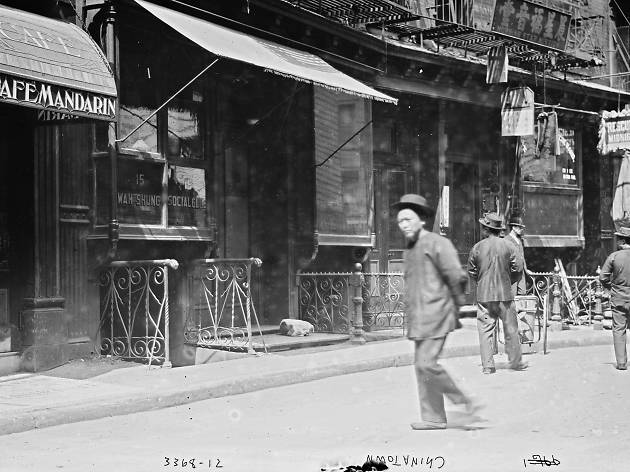 13 Doyers Street
Deadly dumplings
THEN
Welcome to the onetime most dangerous place in the country. During the early 1900s, the curve on Doyers Street in Chinatown was known as the "Bloody Angle," thanks to the huge amount of hits the Tong gangs made there. Hatchets were a particularly popular murder weapon; no wonder the thoroughfare birthed the term hatchet man.
NOW
Every weekend, throngs of people hit the street, usually for two reasons: a) to stand outside of Nom Wah Tea Parlor to wait for a seat at the popular dim sum eatery; or b) to Instagram the cool urban backdrop.
Pictured: 13 Doyers Street, circa 1900
38 West 29th Street
A real hothead
THEN
On September 27, 1902, diners at the Empire Garden Cafe complained about a putrid smell coming from the furnace. Authorities quickly found the source of the stench: the charred remains of a human head belonging to rich Long Island resident James "Captain Jim" Craft, as well as the rest of his body, which had been hacked apart by a cleaver. Thomas Tobin, a waiter hoping to rob Craft, had been seen going into the basement with his body; police found Tobin with blood still on his clothes and arrested him for the killing.
NOW
Just off Broadway on 29th Street, this location is now home to a scarf-and-hat wholesaler.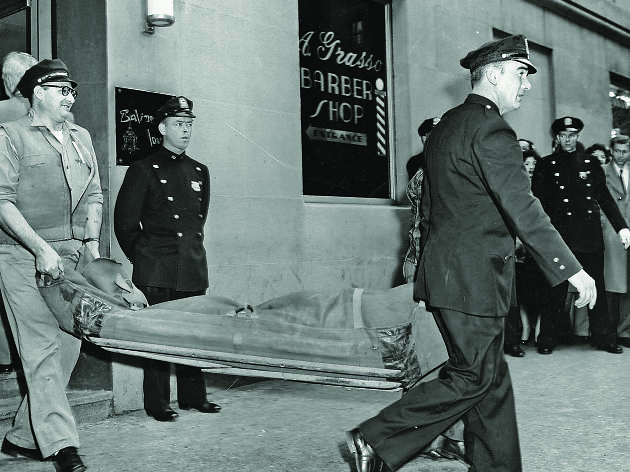 870 Seventh Ave
Lightning strikes twice
THEN
The Park Central Hotel was the site of two of the most notorious mob hits in history. First, in 1928, Arnold Rothstein—the man responsible for fixing the 1919 World Series who was portrayed by Michael Stuhlbarg on Boardwalk Empire—was shot over a gambling debt in one of the hotel's suites. Twenty-nine years later, Albert Anastasia, a founder of the organized crime collective, dubbed Murder Inc. by the press, was relaxing in a barber's chair when two masked men ambushed him and opened fire, thus killing one of the most feared mobsters of all time.
NOW
The midtown hotel, just a few blocks south of Central Park, remains a popular destination for visitors.
Pictured: Police removing the body of Anastasia in 1957
226 Elizabeth Street
More fun than a barrel of corpses
THEN
When detectives peeked inside an abandoned barrel on 11th Street in 1903, they were shocked by what they found: the body of Benedetto Madonia. "Barrel murders"—that is, murder victims discovered in barrels throughout the city—became a gruesome Mafia trend and calling card in the early 20th century, and Madonia was one of the first. Markings on the container led police to a café on Elizabeth Street, the scene of the murder.
NOW
What's the Nolita locale these days? UNIS, an upscale men's boutique owned by designer Eunice Lee, where none of the products are used to conceal dead bodies.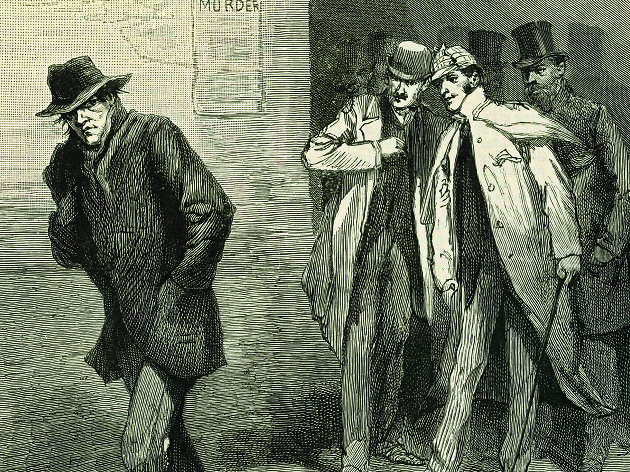 Catherine Slip and Water Street
Jack the Ripper hits the Big Apple?
THEN
The world was still addicted to all things Jack the Ripper when Carrie Brown, a well-known sexagenarian prostitute fond of quoting Shakespeare, was murdered in 1891 in a hotel room. The tabloids quickly made the connection and wondered if the famed killer had fled London to New York City, putting enormous pressure on the NYPD to solve the case. The police swiftly pinned the crime on Ameer Ben Ali, an Algerian man staying across the hall, despite minimal evidence. But after 11 years his conviction was overturned, and Ali was released. The murder has never been solved.
NOW
The intersection of the old hotel is near a playground a block away from FDR Drive.
Pictured: Illustration, 1888
Stranger than fiction
THEN
As you stroll through this beautiful waterside green space, it's hard to believe you're at the scene of a stabbing that involved the king of the Beats. It was here, in 1944, that Lucien Carr dumped the body of David Kammerer, a man who had once been Carr's Boy Scout leader. (The murder weapon was, appropriately, a Boy Scout knife.) In a panic Carr sought the aid of Jack Kerouac. The On the Road author even helped dispose of the weapon, and the events surrounding the killing influenced William S. Burroughs and Kerouac's joint novel, And the Hippos Were Boiled in Their Tanks.
NOW
The bar in which Carr and Kerouac were drinking before the incident was on 114th Street and Broadway; the intersection today houses Columbia University dorms, bookstores and other campus buildings.
Read more
12 West 23rd Street
A solemn anniversary gone wrong
THEN
In the summer of 1870, the respected investor and philanthropist Benjamin Nathan was writing at his desk when he was attacked from behind with a blunt object. The particularly nauseating murder scene (Nathan's head was entirely caved in, and the walls were splattered with blood) was discovered by his sons on a Saturday morning. The family had intended to visit the synagogue to mourn on the one-year anniversary of Benjamin's mother's death, but instead they lost their father.
NOW
A Sushirito restaurant off Madison Square Park now stands at the scene of the crime.
Show more
Want to read about more NYC crime?
These unsolved murders are the scariest, weirdest and spookiest in NYC's history. Read on if you dare.
Read more
Sponsored listing
PN Wood Fired Pizza
Unlike most New York City pizzerias, PN Wood Fired Pizza gives diners the ability to choose the type of dough. This Flatiron shop offers eight different doughs, ranging from organic stone-ground wheat to a multigrain dough with rye, barley, rice and oats. Top your 'za with combinations such as porcini mushrooms, pancetta and pine nuts ($19), vegan parmesan, pesto and cherry tomatoes ($24), spicy salami, tomato pulp and basil ($19) and classic margherita ($16). PN Wood Fired Pizza also offers pastas like pappardelle with lamb ragu ($22) and cavatelli with branzino and dill ($20) and entrees like dry-aged rib-eye with cracked potatoes ($38) and Prince Edward Island mussels in tomato sauce ($16).
Venue says: "Organic flour from ancient grains imported from Italy! Check out our Happy Hour specials and book your table today! 646-964-4834."