Where to watch the Olympics in NYC during the 2018 Winter Games
No matter which country or athletes you're rooting for, here's where to watch the Olympics in NYC for the next two weeks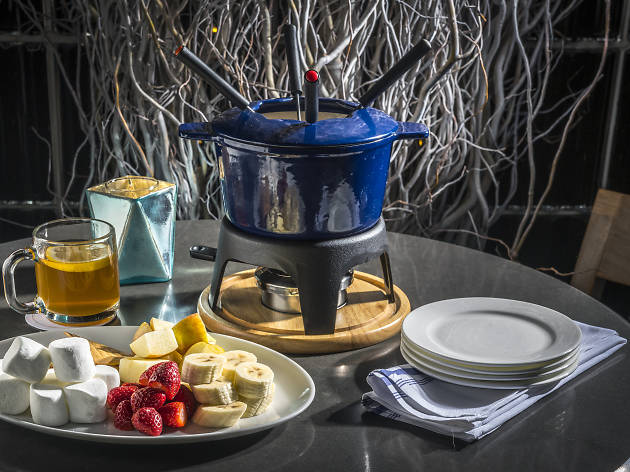 Wondering where to watch the Olympics in NYC this winter? The answer is not in the comfort of your own home. Whether you're interested in the games or if you just want to ogle the hottest guys at the Olympics, show your pride by watching the drama unfold with fellow New Yorkers. Besides, is there anything better than watching hard-working athletes with godlike physiques compete for the gold while you sit on your ass and eat greasy bar food and snacks? Luckily, there are plenty of nightlife spots and sports bars offering Olympian-style bites, cocktails as and drink specials in honor of the 2018 Winter Games. Check 'em out below! Think you have what it takes to be an Olympian? You can test your athleticism and try Winter Olympic sports near NYC
RECOMMENDED: Full guide to the 2018 Winter Olympics
Where to watch the Olympics
The Renaissance New York Midtown Hotel takes an interactive approach to the Olympic celebration this year by letting you practice street curling (not on ice) on the hotel's terrace while watching the opening ceremonies. Refuel with Asian-inspired bites and sip hot toddies and mulled wine between curls while a DJ spinning Korean music provides the pumped-up jams
We can't think of a more appropriate setting to watch athletes dominate in winter sports than Mr. Purple's cozy Cabin in the Sky. The nightlife spot's makeshift après-ski lodge broadcasts the games on a large screen all month while you live the hygge life. Indulge in chocolate and cheese fondue as well as dessert cocktails like their S'more than a Feeling.
There's nothing better than watching fit Olympic athletes go for the gold while you stuff your face with carbs! Admire their godlike abilities at the VNYL—a multi-room '70s-themed joint with a 36-foot screen and surround sound—as you load up on sliders, flatbreads and meatballs and wash 'em down with cocktails named after famous speed and figure skaters. We'll take the Tara Lipinski, please. (Yes, that's actually a drink name.)
There's nothing better than drinking atop a rooftop bar, and the Sanctuary Hotel in Times Square is using this fact to its advantage during the Olympic games. The bar will show the Olympics during the duration of the event, so order some shot-skis and enjoy the awesome views of the city.
The multilevel rooftop lounge of this Times Square bar is fully equipped with flat screen TVs, which will be play the Olympic games in the main lounge, private living room and the pool room.
Watch athletes compete for international bragging rights at this Midtown spot, that is a bit more high-end compared to traditional sports bars. (The bar prides itself on its major athlete clientele including Carmelo Anthony, Dwayne Wade, Victor Cruz and more). All fun celebrity facts aside, the club is great if you want to watch the games while munching on savory bites like fried mac-and-cheese bars, pigs in a pretzel and wings.
Looking for tasty Korean food in NYC?
Check out these Koreatown stalwarts, top-secret Flushing BBQ hideaways and more