Where to watch the Olympics in NYC
Wondering where to watch the Olympics and show off your American pride? We've got you covered for the next two weeks.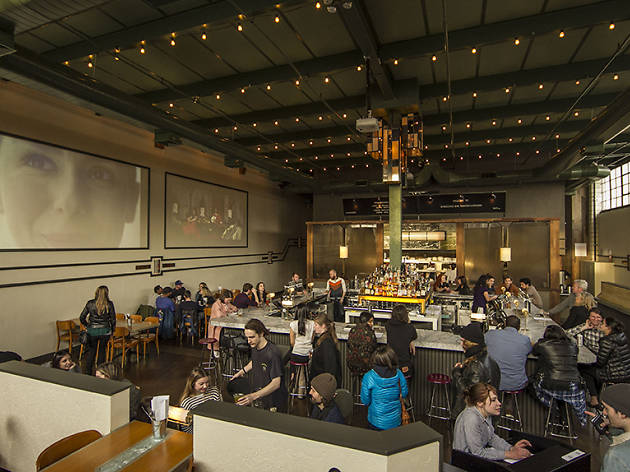 If you're wondering where to watch the Olympics in Rio this summer, the answer is not in the comfort of your own home. Why? Because you should be surrounded by a rowdy crowd of New Yorkers taking shots and shouting "U-S-A!" Whether you're interested in the sports of if you just want to ogle the hottest guys at the Olympics, show your American pride by tuning in and watching with your peers. Besides there's nothing better than observing hard-working athletes compete for eternal glory while we sit on our ass and guzzle the best craft beer in America for two weeks. From awesome sports bars to boat bars with killer views, there are plenty of spots offering Olympian-style bites and cocktails, as well as drink specials. The games start on August 5, so grab your friends and a bar stool at one of the best viewing parties below, and witness the U.S. (hopefully) take home the gold.
RECOMMENDED: Full coverage of the Olympics
Where to watch the Olympics
1
Okay: If watching the games isn't enough for you, you can play like an Olympian (er, sort of) inside this TV-adorned tavern. Village Pourhouse is hosting it's 2016 Summer Beer Olympics on Saturday, August 13 (2–6pm). Compete against all-star, brew-chugging champions during Ultimate Beer Pong, Flip Cup, Drunk Jenga and more. Tickets ($90) get you a three-hour open bar, appetizers and entry to the tournament. Use the promo code "CHAMPION" to save some change and get half-priced tickets.
Read more
2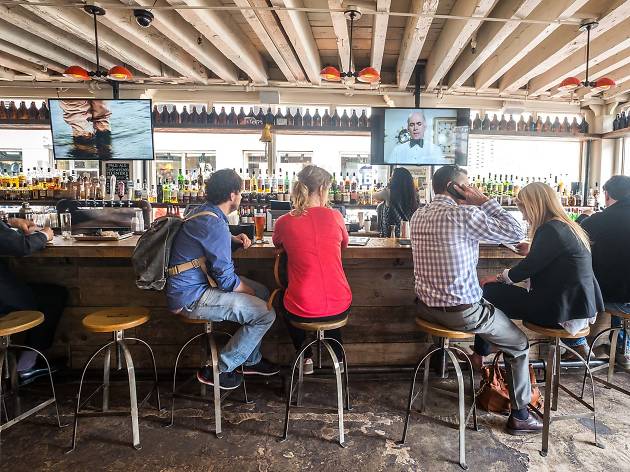 Clinton Hall + West End Hall + Ambrose Beer and Lobster
Lure Group's NYC properties will be showing the games on numerous screens indoors and on their outdoor garden spaces at Clinton Hall (Financial District), West End Hall (Upper West Side) Ambrose Beer & Lobster (South Street Seaport). But that's not all, every time the U.S. wins a gold medal, red, white and blue shots are on the house. Look out for "Olympics Beer Flights" on the menu featuring beers from different countries rotating weekly.
3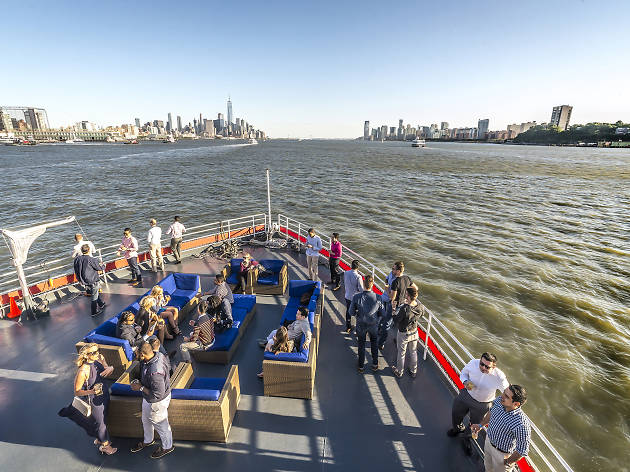 North River Viewing Village
Some of New York's best floating bars (North River Landing and the newly opened Fish Bar) are joining forces to create one Olympic viewing village on Pier 81 (W 41st) on the Hudson River. During the Opening Ceremonies (Aug 5) through the Closing Ceremonies (Aug 21), you can cheer on the U.S. and watch teams compete for the gold with Lady Liberty in the background. Fish Bar will boast a "Grand Stand" video wall, which will broadcast the games live from NBC, and the barge at North River Lobster Company will stream the games on eight high-definition screens.
4
In honor of the 2016 Olympics, this Bushwick dine-in movie theater is paying homage to the games with a special screening of two nostalgic sporty films: Cool Runnings (Aug 5) and Space Jam (Aug 6, 7). The bar and restaurant will also stream the Opening Ceremony on its projector screen on August 5, free of charge.
Read more
5
This Union Square drinking den is bringing Rio to New York by streaming the games on 21 high-definition TVs and projectors while serving Rio-inspired libations, plus $6 Cachaca shots. When you get frustrated or tired of the games, take a minute to enjoy some peace and quiet on the bar's newly renovated patio and relish in those gorgeous city views.
Read more
6
There's nothing better than drinking atop a rooftop bar, and the Sanctuary Hotel in Times Square is using this fact to its advantage during the Olympic games. The bar will show the Olympics in primetime during the duration of the event (Aug 5–23), so enjoy $12 specials on Brazilian Caipirinhas and Coxinhas as well as awesome views of the city.
Book now
Read more
7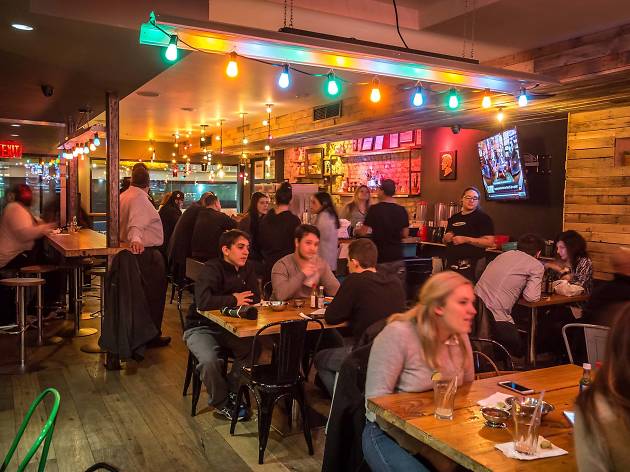 Blockheads
Note: There aren't many TVs at this Mexican food chain. However, the bar will be streaming the games, and you can wash down your chips and guacamole with margarita specials at all ten locations during the duration of the two-week event. Every time the U.S. wins a gold medal, the eatery will serve its Margarinah (a cross between a Caipirinha to honor Brazil and its infamous frozen margarita) for $5.
8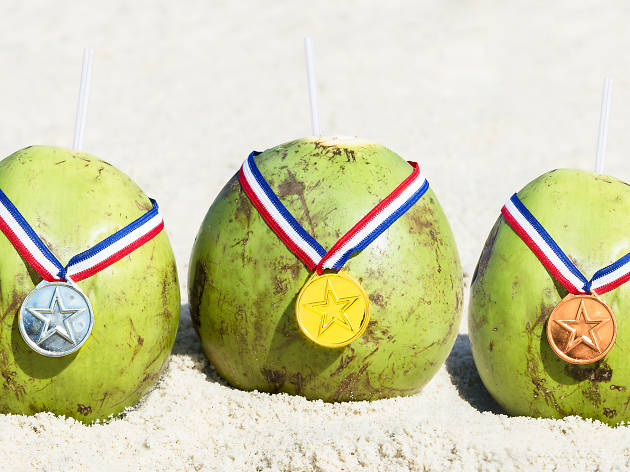 Rio on the Hudson
You can experience Rio right here in NYC during this activity-filled event. Get pumped up for the games during Citi's "Rio on the Hudson," which involves transforming Pier 26 to look and feel like a Brazilian oasis complete with beaches, palm trees, live samba music, dancers and, of course, authentic food and drinks. There will be meet-and-greets with Olympic legends and Paralympians, including Christie Rampone, Mia Ham, Scout Bassett, Sam Kavanagh and more, so get ready to feel inspired. Best of all, this is a totally free, week-long celebration that kicks off on August 5 (5pm–11pm) and continues daily (starts at noon) through August 11.
9
The multilevel rooftop lounge of this Times Square bar is fully equipped with flat screen TVs, which will be play the Olympic games in the main lounge, private living room, outdoor roof deck and the pool room. There's also a special Olympic-themed menu, including Brazilian bites such as a Churrascaria tasting platter, churros, and King Kong Caipirinha cocktails. Cheers!
Book now
Read more
10
Watch athletes compete for international bragging rights at this Midtown spot, that is a bit more high-end compared to traditional sports bars. (The bar prides itself on its major athlete clientele including Carmelo Anthony, Dwayne Wade, Victor Cruz and more). All fun celebrity facts aside, the club is great if you want to watch the games while munching on savory bites like fried mac-and-cheese bars, pigs in a pretzel and wings.
Read more
Looking for Rio themed cocktails?
From riffs on the classic to original concoctions, here are five excellent ways to drink cachaça in NYC this summer.
Read more
Sponsored listing
Cantina Royal
The simple tavern—outfitted with patterned wallpaper and a massive, seven-foot-long crystal chandelier—sports a traditional menu of tapas and shareable plates. Expect 16 house-made salsas and dishes like tostada de pulpo (octopus with spicy chipotle sauce on a crispy shell) and corneta pato (a long crispy taco stuffed with duck confit). Serious sippers, take note: Twenty-five artisanal, small-batch tequilas and mescals (including Pierde Almas and Antiguo Herradura) are on display behind the large oak bar, which also features six South of the Border beers on tap.
Venue says: "Tacos & Ladies first. Live every day like it's #TacoTuesday, with our new Happy Hour special, $2.50 tacos and beer cans M-F, 4-7pm"