This year, the Singapore International Film Festival (SGIFF) returns from November 26 to December 10 in a new hybrid format that features cinema and online film screenings of over 70 films from 49 countries. It kicked off with Tiong Bahru Social Club, the solo directorial debut of Singaporean filmmaker Tan Bee Thiam.
The satirical comedy follows a man who leaves his mundane, desk-bound office job for a data-driven programme that aims to create the world's happiest residents in the utopian neighbourhood. While it's an amusing take on the standard of living in Singapore, it does leave you questioning the concept of happiness in the city.
ICYMI – you can still catch Tiong Bahru Social Club when it hits cinemas from December 10. But before you do so, why not tap into the mind of the filmmaker with us? We chat with Tan Bee Thiam about the film, the Singapore Dream, his favourite spot in Tiong Bahru, and his definition of happiness prior to the film's cinematic release.
RECOMMENDED: The best upcoming movies in Singapore and the ultimate guide to Tiong Bahru
First things first, what's one thing about Singapore that excites you?
I miss the food in Singapore every time I am away, but what excites me most these days is the vibrant cultural scene in Singapore. I am particularly drawn to the new talents we see in theatre, literature, and visual arts.
Which part of Singapore feels very much like home?
The demolished Pearl Bank apartments, [especially] when I visited it for the first time during the location recce for the film. It is such an architectural icon. I felt the cultural heritage, the dreams of the architects, the hopes of a communal future and the fight of the heritage lovers who wish to preserve it. That's home to me – a Singapore Dream that we share and fight for.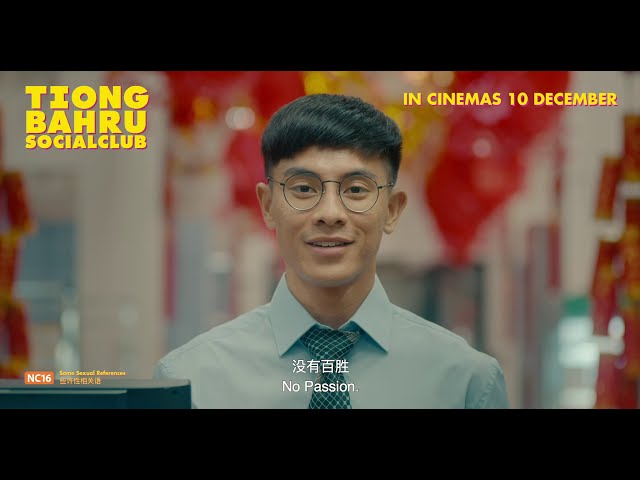 This year's SGIFF opened with Tiong Bahru Social Club. Tell us more about the film.
Tiong Bahru Social Club is a stylised satire about Ah Bee's journey through a data-driven project to create the happiest neighbourhood in the world. We have given the iconic neighbourhood a fantastical spin and a visual make-over so audiences will be in for a treat as they wander through the whimsical universe of Tiong Bahru Social Club. At the heart of the film, this is a story that questions the construct and mechanics of happiness today.
The idiosyncratic visual style of Tiong Bahru Social Club is comparable to a Wes Anderson film. What is the inspiration behind your film?
Tiong Bahru Social Club is inspired by the composition and colours of Yasujirō Ozu (Late Spring, An Autumn Afternoon) and the mise en scène and sound design of Jacques Tati (Mon Oncle, PlayTime). I was also inspired by Yoji Yamada's Tora-san series, recommended to me by the late Yasmin Ahmad. I think of her a lot when I was making this film – the utopia of a multiracial and caring society.
At the heart of the film, this is a story that questions the construct and mechanics of happiness today.
Why did you choose Tiong Bahru as the central location?
Tiong Bahru reminds me of my grandma and dad, both of whom have passed on. When I was young, my family would visit my grandma every weekend at Tiong Bahru. On our way there, we would pass by Pearl Bank apartments and I [would] always wonder who lived in this futuristic building.
What's the one place in the neighbourhood that everyone has to check out at least once?
Hua Bee Restaurant. [It] has been in the Tiong Bahru area for more than 70 years. The interior is very traditional, with tiled walls and marble tabletops. For breakfast, they serve kaya toast with soft-boiled eggs and tea/coffee. They also serve fishball noodles.
Your film shows the workings of Tiong Bahru Social Club – a data-driven programme that aims "to create the world's happiest residents in the idyllic neighbourhood." In your own words, how would you describe 'happiness'?
Happiness is doing what you love and learning to let go when it doesn't work out. The universe surrenders to the man who is still.
In 2012, a Gallup report suggested that Singaporeans are least happy. Will this film prove otherwise?
I think it takes very little for people to be happy. The film is a social commentary on a global tendency to measure happiness as the new GDP to quantify how well we are doing.
Would you say that it's like a wake-up call for Singaporeans?
No, don't wake up! Singaporeans should dream more instead.
Happiness is doing what you love and learning to let go when it doesn't work out.
Your film is a satirical comedy that pokes fun at our Singaporean sensibilities. What kind of Singaporean quirks strike you?
I like how kiasu we are but I don't like how kiasi we are.
What makes a great satirical comedy?
A great satirical comedy makes people laugh at what society has become and then reflect on where our society can be. Apart from [Jacques] Tati, I love Yorgos Lanthimos' Dogtooth and Jessica Hausner's Lourdes.
This year, SGIFF is rolled out as a hybrid online and in-cinema event. Sure, it's not the same pre-circuit breaker, but what are your thoughts on having such a format?
It is here at SGIFF that I met my co-writer Antti Toivonen five years ago! Therefore, I am grateful that SGIFF has pushed on to hold this hybrid format so it is still possible for filmmakers and audience to meet and have a dialogue, in person and virtually.
While we wait for film festivals to return to how it was pre-circuit breaker (fingers crossed!), tell us, what are you looking forward to the most in Phase 3?
I can't wait to hold a celebration party for the cast and crew of Tiong Bahru Social Club to thank them for their work. This is the first time that many of them are watching the film on the big screen too!
Tiong Bahru Social Club hits cinemas on December 10.