Neighbourhood guide: Tiong Bahru
Denise Cheong looks past the riverfront to see what's popping up in the suburbs
By

Time Out Singapore editors
|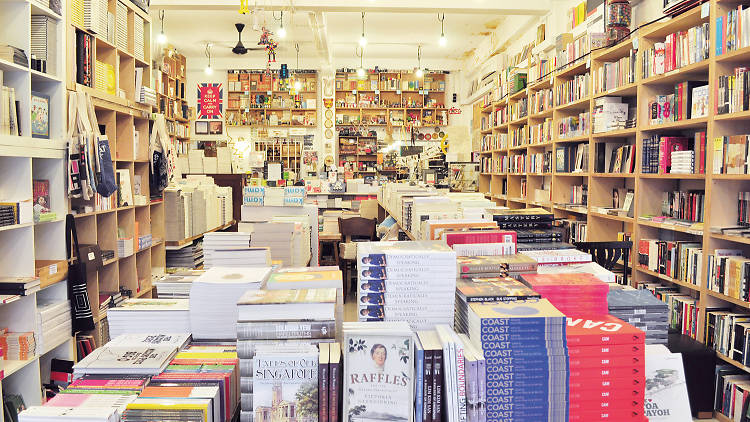 The nostalgic heritage charm of this intimate neighbourhood has had such a sublime impact on its residents that some even decided to blog about it (www.tiongbahruestate.blogspot.com), or make a movie out of it (www.facebook.com/tiongbahrufilm).

Tiong Bahru estate is a true paradigm of the beautiful marriage of new- and old-world allure – a place where plush condominiums nestle against pre-war shophouses, and where time-honoured food markets sidle up to pristine cafés.

Apart from the charming old-school coffeeshops at Tiong Bahru food market, 40 Hands Café – a buzzed-about bar-cum- café – brags about its sustainably produced speciality coffee, offering an aromatic house blend of Fair Trade beans that should leave you perfectly perky all day long.

Alternatively, drop by Eng Hoon Mansions' Caffe Pralet if you fancy quick meals and dainty desserts. The cheesecakes and chicken salads stand out, and what's more, the low-calorie laksa is surprisingly forgiving too.

Vainglorious in its boutique cachet, Wangz Hotel outclasses the surrounding hawker stalls in both style and stature. Diners at its downstairs eatery Nectar can delight in the chic East-meets-West interior while enjoying an all-day alfresco dining menu.

Bring the party upstairs to Halo – a luxurious rooftop bar offering an exhaustive list of cocktails, including their signature drinks ($16) that are categorised by colour. Ladies are treated to a one-for-one cocktail deal ($14) every Wednesday night.

Satiate your intellectual appetite at BooksActually, which has just settled into the neighbourhood. If you've been to their previous Club Street space, you'll be familiar with this independent bookstore's spread of fiction and non-fiction titles, whimsical yet practical stationery and vintage wares.

In Tiong Bahru's art-deco styled district lies White Canvas Gallery (#01-31 78 Guan Chuan St). Get comfy on the gallery's couches and gaze at the Southeast Asian artwork lining its bare concrete walls. If you find yourself particularly taken with this laidback space, you can even book it for intimate parties.

At Rice (213 Henderson Rd), find a wide palette of exquisite wall and floor, as well as bathroom furnishing. You'd be hard-pressed not to get home décor inspiration after taking a gander at this interior design showroom's tastefully themed displays.