Since the beginning of the year, 1-Group has been making moves and revitalising the F&B scene with fresh exciting concepts to boot. Riding off the recent momentous openings of Sol & Luna and Bee's Knees, 1-Arden is the latest darling to the eclectic group's portfolio.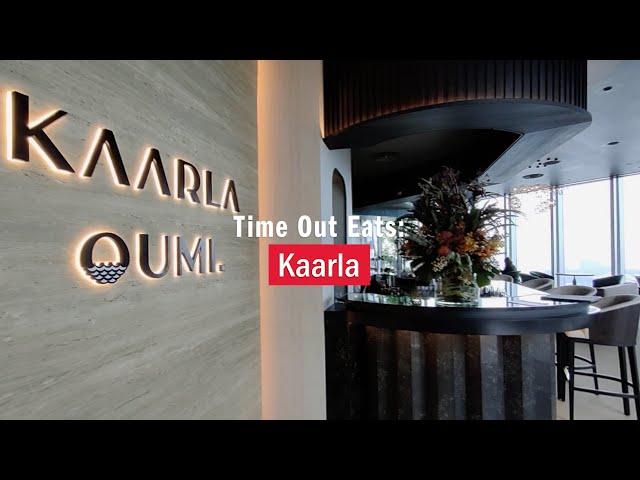 Headlining 1-Arden is Kaarla, which serves coastal Australian cuisine. Worth mentioning is the 1-Arden Food Forest right outside the restaurant. It's the highest urban farm in the world boasting 10,000 square feet – to create an unparalleled symbiotic bond between urban farmers and chefs for a showcase in sustainable gastronomy.
AT THE HELM
Running the entire show is Executive Chef John-Paul Fiechtner aka "JP" who draws on his 20-years of experience gathered from stints all around the world and growing up on his hometown farm in Queensland. Known to inventively honour every ingredient used, expect food here to be kissed by fire, honouring the farm to table concept, and woven from the bounty of coastal Australia as well as the rich harvests of the 1-Arden Food Forest right from the backyard.
LOOK AND FEEL
Perched up 51 storeys high, Kaarla's understated palettes of granite, beige, and moss green finished with natural stone and a wood veneered ceiling injects pure elegance to the interior space. Adorned with expansive floor-to-ceiling windows, you'd often find yourself gazing at the panoramic skyline.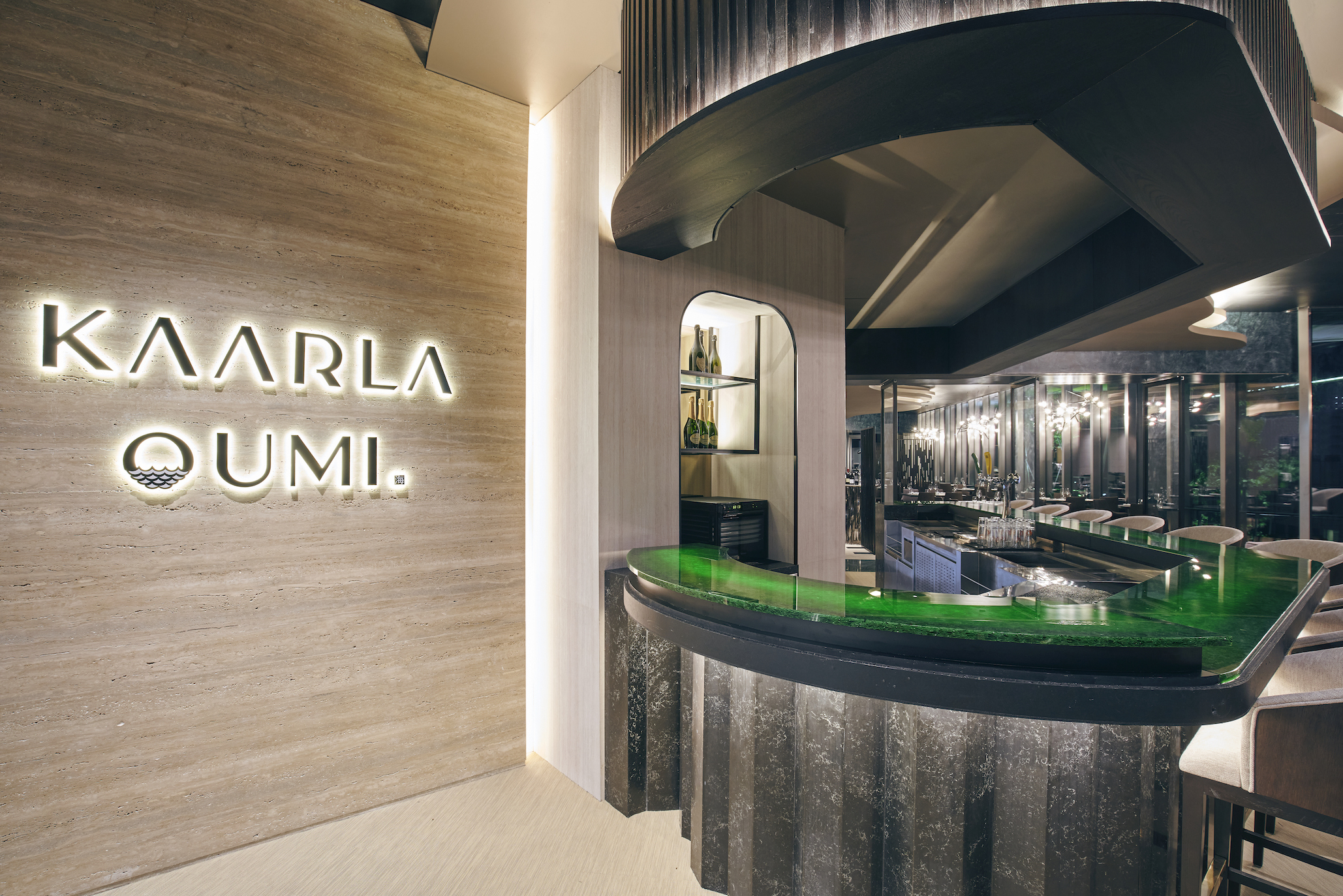 But upon entering the space, the ethereal green Magna glass bar counter – made from 100 percent recycled glass – is what truly captured our attention.
ON THE MENU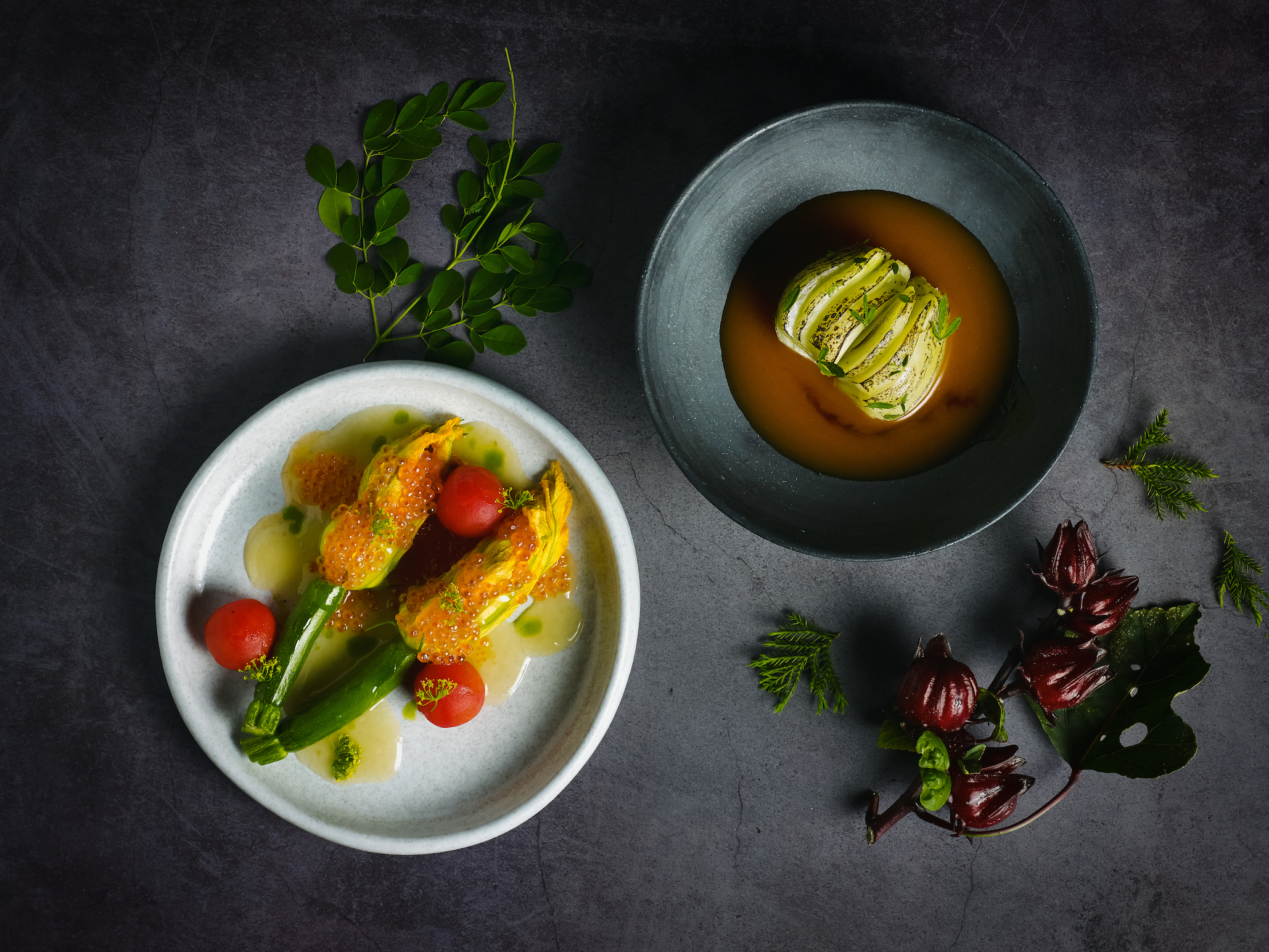 Reflecting the rich biodiversity of the land down under, the kitchen focuses on seasonal, sustainably-farmed, and ethically sourced produce to create unconventional flavour pairings while highlighting the signature use of the wood-fire hearth and oven custom forged by a celebrated stonemason, Samuel Fraraccio aka The Brick Chef.
WHAT TO EAT
Start off with the Damper ($8). A dreamy crumpet that features dense yet fluffy insides with crisp edges topped with smoky lardo, creamy macadamia spread, and finished with dried Quandong powder for a peck of sweet and salty. Oyster fans, go with the Sydney rock oysters ($8) where the plump morsels are topped with fig leaf and kombucha-inspired oyster plant vinegar. As you slurp, the brackish treat is balanced with a sharp tang followed by a subtly sweet finish.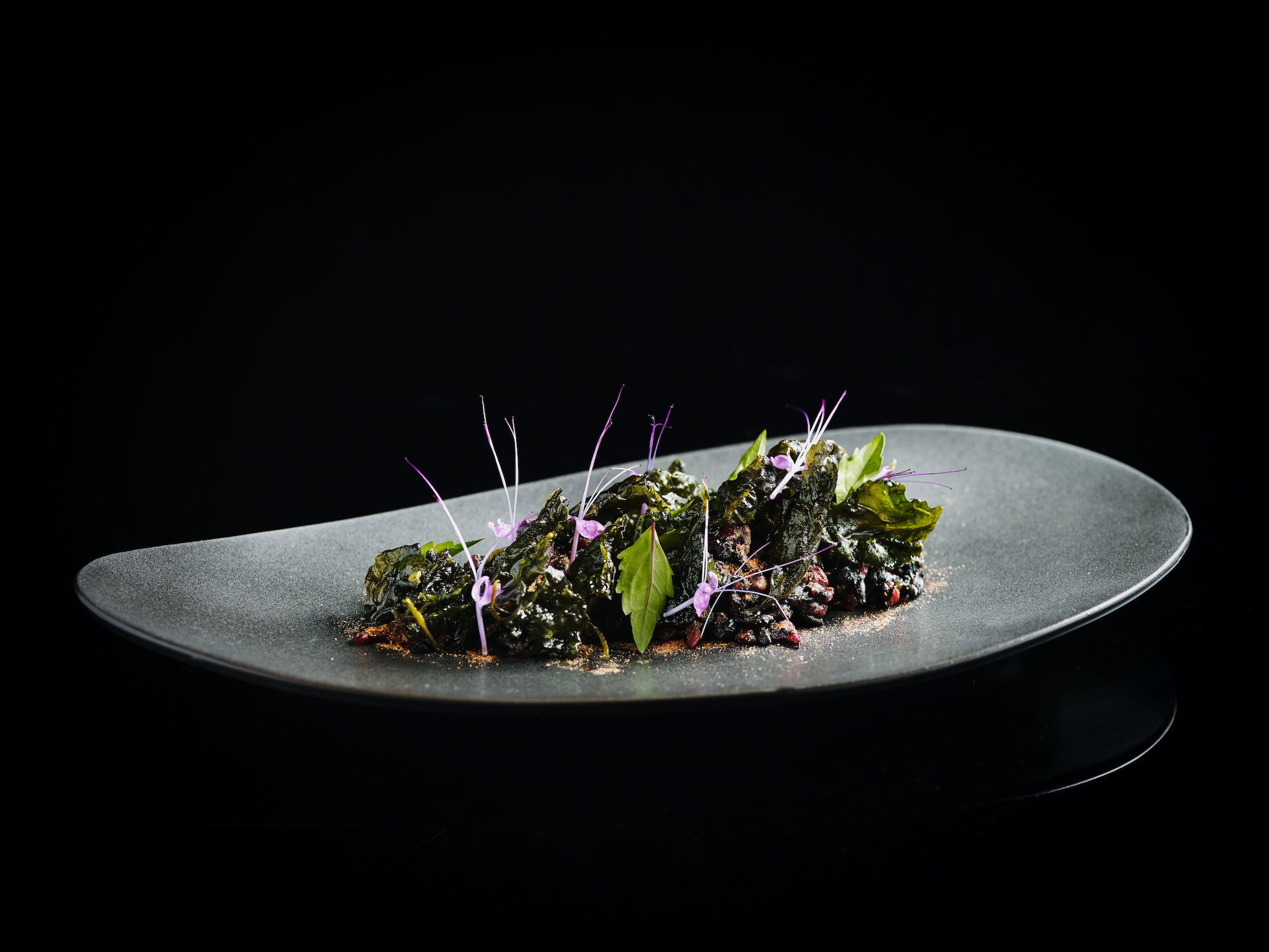 The salt-cured kangaroo ($32) is a must-order. Prized for its healthy lean meat, JP treats the loin with three-day salt brine and hung to dry before smoking it for three more days. This results in smokey, lean yet tender slices of kangaroo. Paired with an anchovy bonito reduction, nutty black barley and seasonal vegetables where red begonia leaves the wondrous tastes of Fuji apples stood out most for us.
Not game enough for Kangaroo? The Octopus ($32) sees wild-caught grilled Fremantle octopus tentacles while buttery smoked leeks add depth to the dish. Finished with pickled boabs that remind us of the familiar texture of water chestnuts and contrasted with tart beef-fat muntries, each mouthful encapsulates Australian coastal living to a tee.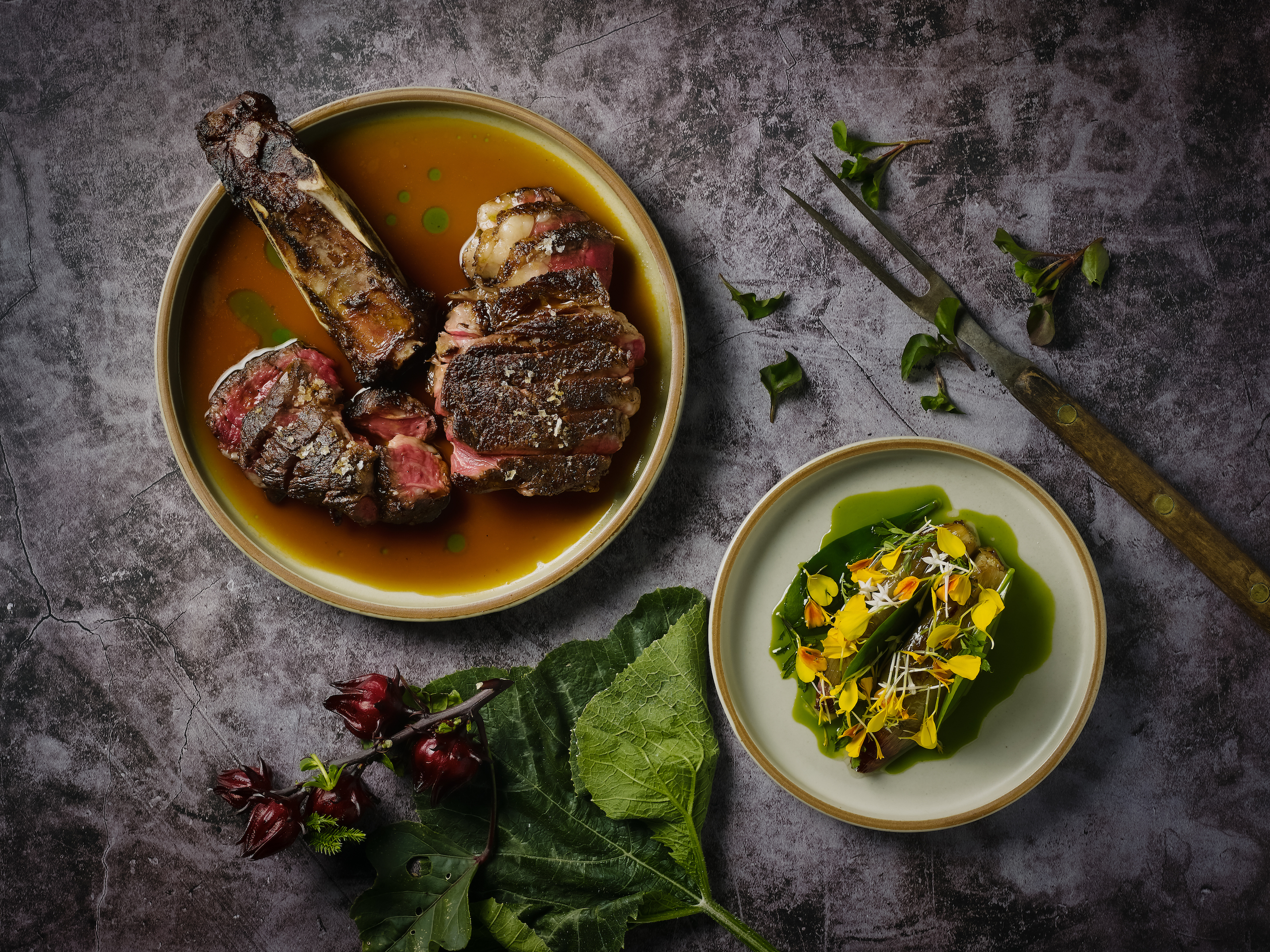 For the mains, we unreservedly pick the aged King Island beef ($120). Known as one of the last untouched places on Earth and its pristine pastures, only free-ranging grass-fed cattle are exclusively raised and harvested. The result is nothing short of great marbling, intense beefiness, and superb tenderness.
This pièce de résistance boasts a 35-day dry ageing process and is liberally seasoned with salt and pepper and then grilled to perfection. Co-starring the centrepiece are melt-in-your-mouth braised onions, garden salsa verde from the Food Forest, and a fresh Kampot pepper beef stock to introduce a tinge of bright spice.
There can't ever be enough sides so do yourselves a favour and have a go at the Pumpkin ($18). Blue pumpkin – a native of the Food Forest – is cooked skin-on via residual heat from the coals for up to 12 hours. It's then rested on a bed of eight-month-old pumpkin seed miso finished with goat's feta to deliver vegetal sweet notes and mellowy textures with each helping.
HEAD IN THE CLOUDS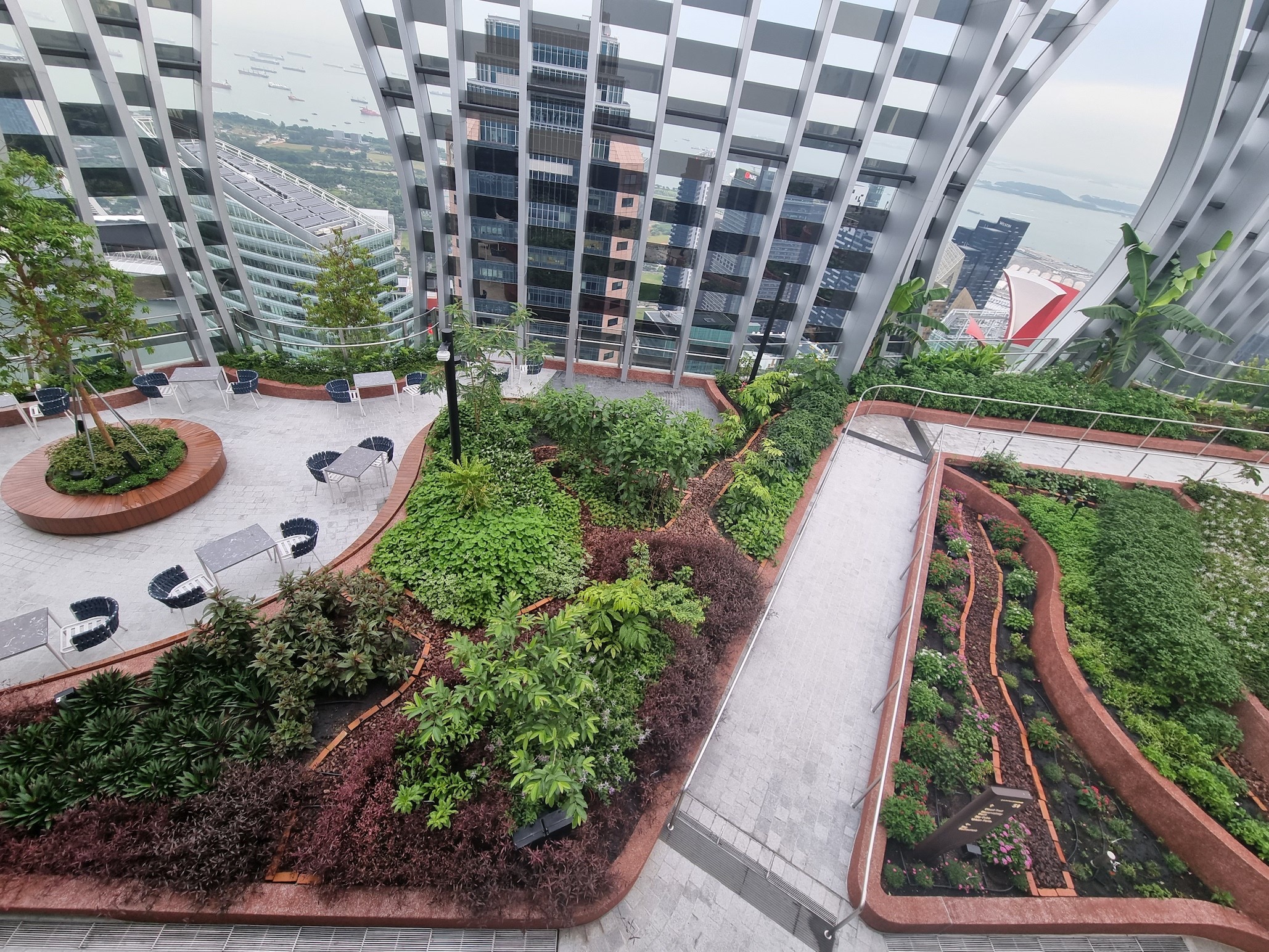 Even as we were rounding off our meal with a stroll in the Food Forest, both the aged King Island beef and the pumpkin side were still ever-present in our minds – we clearly haven't gotten over them.
Book here.
READ MORE
Tea Chapter is a quaint Chinese teahouse in Singapore's first-ever restored shophouse
New botanical-inspired tearoom Ginger.Lily makes for elegant afternoon tea sessions in town
We tried a $32 Pao Fan at Native – and we loved it