Heads up! We're working hard to be accurate – but these are unusual times, so please always check before heading out.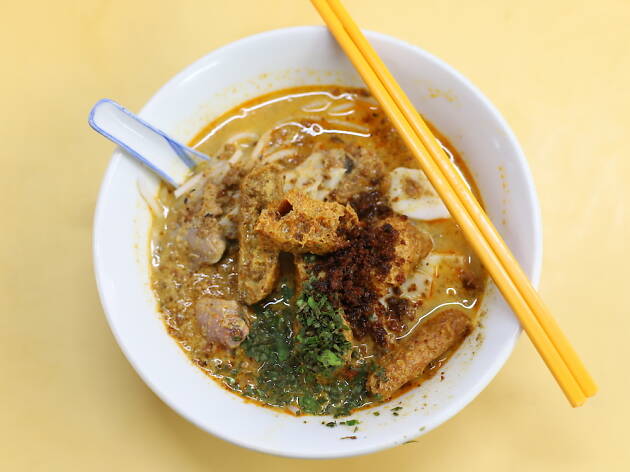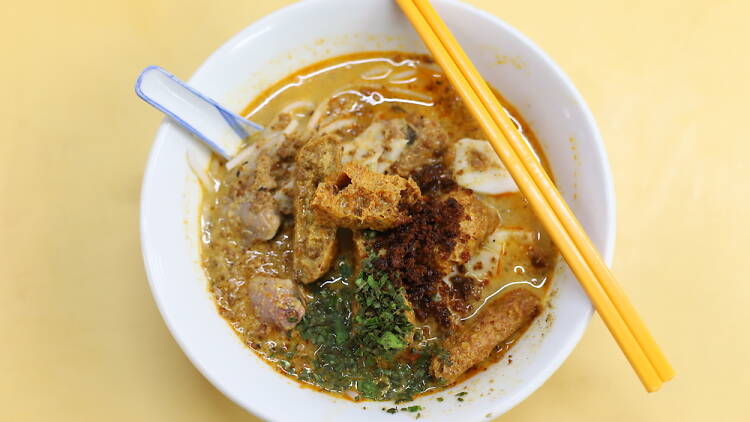 Hawker Spotlight: Lik Ming Laksa
In the Toa Payoh heartland, this laksa legend serves the hungry local crowd from six in the morning.
While the rest of Singapore is fast asleep, Tan Yang Choong arrives at his little stall in the heart of Toa Payoh to prepare his signature dish: laksa. He starts prep at 3.30am and opens for business by 6am, serving mostly the labourers around the area craving a calorie-rich breakfast to tide them through the day. His customers laud his bowl as the best in the neighbourhood – and we can't say we disagree.
The hardworking 61-year-old has learnt the trade from his father who started the business back in 1965. While his peers were out having fun, Tan was already working at the stall when he was about 10 years old, collecting dirty bowls and washing the dishes. He continued helping out and eventually took over the family business in 1984.
The family has always been a part of the Toa Payoh heartlands – his cousin also used
to run a laksa shop at the interchange before it underwent renovations. Today, Tan works in unison with his wife, preparing piping hot bowls of laksa while she takes orders and collects the money. "It's not easy work but it's satisfying," he shares. "Everything we do is made by hand. We pick all the ingredients, make the noodles and the chilli. Nothing is done in a factory."
The bright orange laksa broth comes topped with slices of fried fishcake, tofu puffs, prawns, blood cockles and a generous dash of Vietnamese coriander. But what makes it stand out from other places that hawk this iconic local dish is the chilli.
"The secret lies in the chilli," says Tan. "We use the same chilli to make the laksa broth and also serve it on the side for people to add if they want to." Trying a spoonful of chilli on its own, we can see its appeal. Instead of the wet sambal belachan that's usually served with laksa, Tan's version is dry, almost like an XO sauce, rich with the savoury notes of dried shrimp. The laksa broth is also light – more like a soup than a curry – and is not as rich in coconut, which can get quite cloying on the palate. It's difficult to stop yourself from piling your laksa high with extra sambal belachan, but thankfully, the affable Tan doesn't mind.
At $3 for a very generous bowl, we can see why this laksa joint is popular with the heartland working crowd. Tan usually sells out by 1pm, so if you ever find yourself hungry in Toa Payoh at 6am, you know where to turn.
RECOMMENDED: Hawker spotlight: Mr and Mrs Mohgan's Crispy Prata and hawker spotlight: Hougang Oyster Omelette & Fried Kway Teow
3 questions with Tan Yang Choong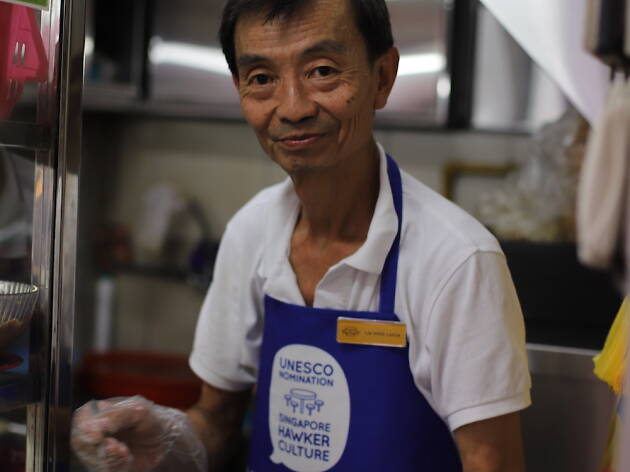 1. What do you love most about being a hawker?
It makes passing time very easy. But it is still hard work. The satisfaction comes when I see customers from all over the world coming here to eat my laksa.
2. What's your favourite local dish?
I like laksa. My brothers and sisters all love laksa too. But I also like fishball noodles, especially the handmade ones but there aren't many stalls left that do things without a machine. I think good food needs to be made from scratch with love.
3. Why do you think your laksa is the best?
I don't think my laksa is the best. That's just what customers say. But there are so many laksa stalls in Singapore that have been around longer than mine.
Go there now
Visit Tan Yang Choong at his stall in Toa Payoh for $3 bowls of laksa.