Heads up! We're working hard to be accurate – but these are unusual times, so please always check before heading out.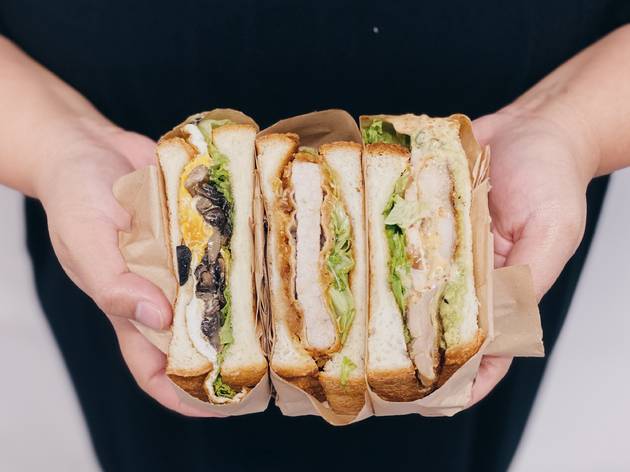 Where to get the best sandos in Singapore
Grab a bite of this Japanese-influenced creation that's taken Singapore by storm
A sandwich can be constructed simply with sliced bread and a smear of butter and jam. There are also hefty creations, layered with enough cheese, veggies, and meats to make a full meal. But in recent times, sandwiches with Japanese elements have become increasingly popular, so it's about time we shed light on the sando.
"Sando is really just a Japanese term for sandwich," shares Daryl Lim, co-founder of Grids and Circles. His café serves a tamago sando ($13) that comes with egg roll cooked with dashi, along with kombu mayo and pear sauce. He adds: "I love travel, eggs, and bread. Put those three things together and you get a super thick and fluffy egg roll sandwich that you can bring with you on the go."
Tamago sando from Grids and Circles

Daryl is not alone. Japanese sandwich bar, aptly named Sando, opened its second outlet at Cross Street Exchange earlier in January. "We were deeply inspired by all that we've seen in Japan, so we decided to start our very own sandwich shop," shares Sando's co-founder Ee Chong. On its menu, fix-ins of tamago and pork loin katsu are sandwiched between slices of shokupan – softer and fluffier than usual white bread.
Land of the Rising Sando

Beef katsu sando from Live Twice
Perhaps the most famous sando is one that comes stuffed with katsu, or deep-fried cutlet.
"A katsu sando is widely found in Japanese convenience stores, or konbinis – but they are often served cold," says Ee Chong. Sando takes its cue from the convenience food, but each sandwich is made to order and served warm. To make its pork loin katsu ($10), the meat is first brined, then breaded with panko crumbs before hitting the deep-fryer. To complete, it then gets stacked with onions caramelised with duck fat, and slathered with tonkatsu sauce and mayonnaise for "a taste of umami".
Beyond just being tasty squares, many eateries are adding katsu sando to their menu for its ease and portability. Live Twice, a Japanese-inspired drinking studio opened by the Jigger and Pony Group, is as famous for its clean, clear cocktails as its sando.
"It's convenient to eat, and easy to share. It's not full of gravy and won't make a mess while you enjoy it with your drinks," says Indra Kantono, director of the Jigger and Pony Group. "To us, that's the mark of a great bar snack."
Similarly, sake bar Kabuke serves up a wagyu sando ($58) to complement its extensive rice wine collection. Premium A4 Kagoshima wagyu striploin, wasabi cream cheese, and cherrywood-smoked salt is added between slices of grilled Hokkaido milk toast and served in bite-sized pieces. "When paired with sake, the experience is elevated thanks to wagyu's richness. It counters the strength of the alcoholic beverage and rounds the flavours," says Kabuke's chef, Rio Neo.
A multi-layered creation

Sando's Tamago
Equally popular is the egg variant, which too has its roots in Japan. Dashimaki tamago, which uses more dashi stock in its preparation process to yield softer curds, is often favoured over tamagoyaki to make tamago sando.
Grids and Circles co-founder explains: "Our egg mixture contains a high amount of dashi, creating a magical ratio of dashi within the egg. This makes each bite oozy and melt-in-your-mouth." The café also makes its dashi stock from scratch by simmering kombu from Hokkaido with hana katsuobushi, or shaved bonito flakes, to lend a smoky note.
Similarly, Sando's Tamago ($5) uses only a handful of ingredients: eggs, bonito flakes, kombu mayonnaise, and the all-important house-made dashi. "As simple as it sounds, the craft comes from our cooking method which we are still perfecting even till today," says Ee Chong.
Finger-licking good

Sando's Japanese-inspired sandwiches
While most are heavily based on the Japanese influence, local sando makers have also injected a playful twist to their creations, borrowing different inspirations and cooking techniques to create truly unique sandos.
Live Twice's three sando creations are based on yōshoku, or Western-influenced Japanese dishes. "In Japan, sandos are generally stripped down and simple. In the West, sandwiches tend to be over-the-top and full of ingredients," says Indra. "We wanted to strike a balance between the two."
For instance, the best-selling beef katsu sando ($32) is made with a medium-rare Australian tenderloin stuffed between milk bread. But most interesting is the ebi and corn sando ($22), which draws from an inspiration much closer to home: zi char. After sampling a dish of sautéed prawns and corn, the team wanted to recreate the flavours into a sandwich. "We were impressed by how well the two ingredients worked together – the sweetness of the corn accentuates and perfectly complements the briny freshness of the prawns," explains Indra.
Sando's menchi katsu ($9) is an attempt to marry Western burger patties with Japanese cooking techniques, while the tamago sando at Grids and Circles is first cooked with French butter to lend a creamier finish, then slathered with kombu mayonnaise and a special sauce made from Korean pears. "This gives it different layers in taste," says Daryl.