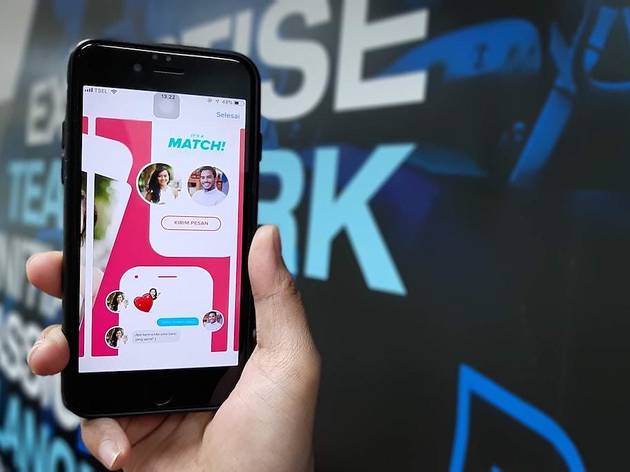 The best (and worst) dating apps in Singapore
We uncover what's trending and is Tinder still the reigning king of hook-ups? By Andrea Cheong
If you're single and ready to mingle but meeting new people vis-à-vis isn't really your forte – and also you're not really supposed to go out anyway because of the 'circuit breaker', it's time to dive deep into the world of online dating. Apps like Tinder and Bumble are not only great for exercising your thumbs and fingers for a good swipe, but they also open a whole gateway for users to find a potential partner or simply socialise. Skeptical? We put these dating apps to the test to determine which among them is more credible. You never know, you might just meet your soulmate online.
RECOMMENDED: 25 most romantic restaurants in Singapore and 11 best indoor date ideas in Singapore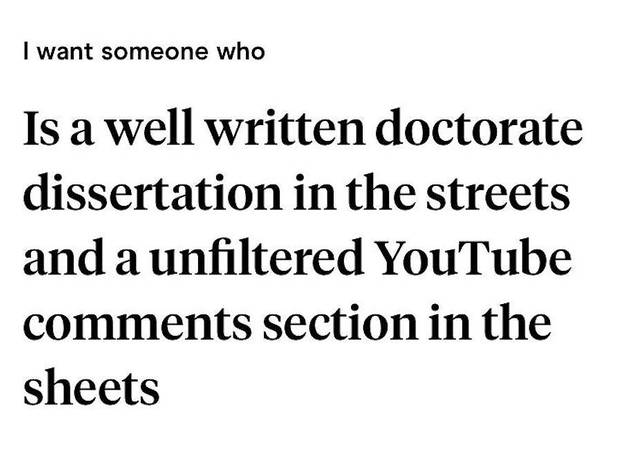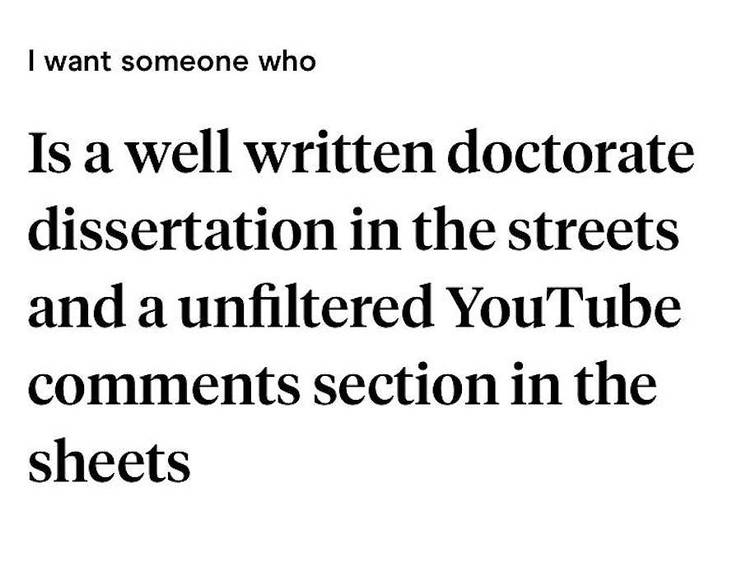 Photograph: Time Out Singapore
The new kid on the block – Hinge – might look glossy like a magazine with the bold Serif fonts and clean white background but... you'll spot the same crowd here as on Tinder. Like Bumble, users can answer prompts like 'Most spontaneous thing I've done' and 'My greatest strength' on their profile to appear more interesting. With a tagline that says "Designed to be deleted", it promises to produce more 'serious' relationships and the focus is to get to know the people that match with you better. Free users are only allowed ten swipes per day so there's no mindless swapping going on here.
Talent pool Similar to Tinder, lots of millennials, more older people for some reason and yup, lots of 'man with tiger' pictures. Amazing. Did no one watch Tiger King during circuit breaker?
Best line "A gentleman holds your hand. A man pulls your hair. A soulmate will do both." Yech.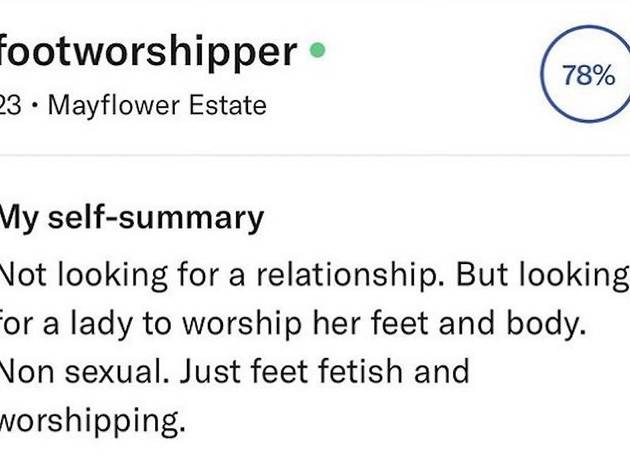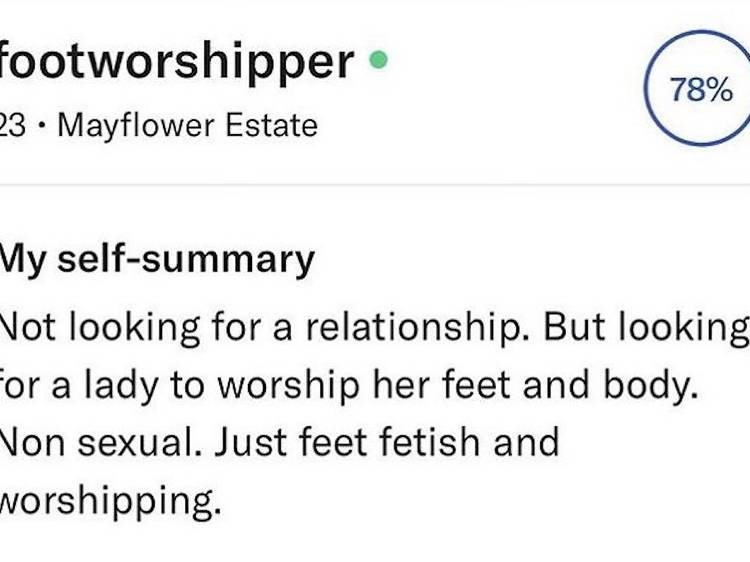 Photograph: Instagram/@rabaktinder
Whoever said OkCupid is for people looking for serious relationships obviously lied. It's already difficult enough to navigate through the process of setting up an account and answering all the questions like 'favourite cuddling position' and if intelligence turns you on. Apparently all these questions are important in letting the algorithm do the matching for us. Then there's the swiping bit that we're all familiar with. OkCupid also shows the percentage of the other person's compatibility to help us make better choices... we presume.
Talent pool It's a mess. On most dating apps, you can only message someone once you both are matched but on OkCupid, it's open season. And from the quality of messages, there is no talent here.
Best line "Wew 10/10 would sunat (circumcise) for you." Um, deleting account now.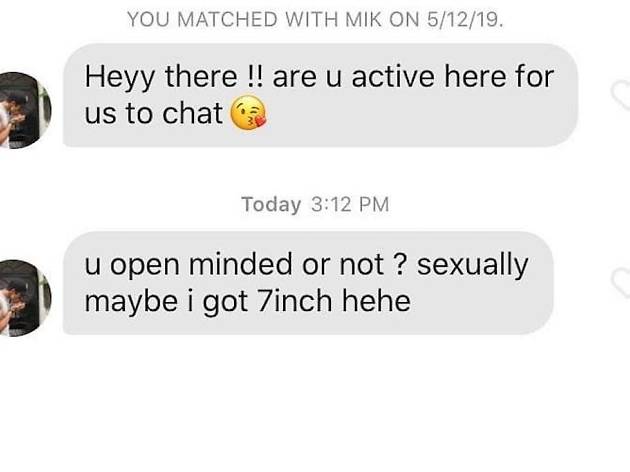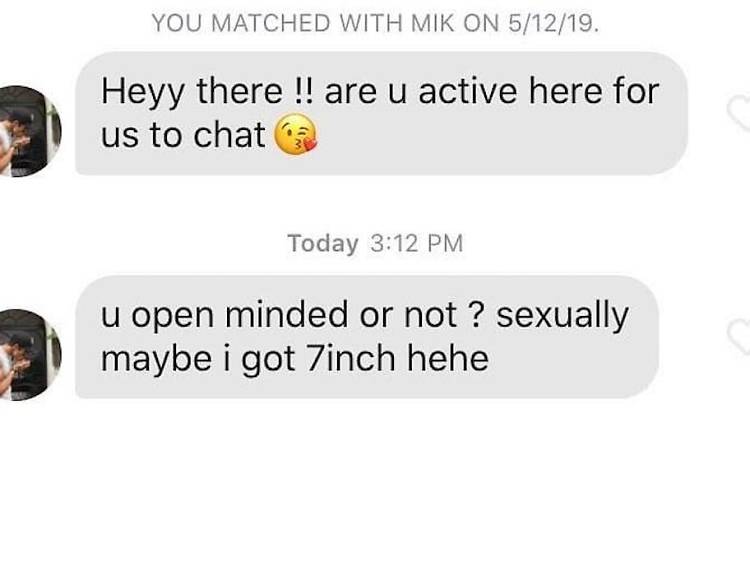 Photo: Instagram/@rabaktinder
We all know how this one works: swipe left for a no, right for hell yeah. The 'super like' update, which tries to combat some users' habit of spamming right-swipes to net as many matches as possible, has been successful in guaranteeing me a chat every time.
And with the multitude of guys on this app, it's not surprising that this is the most active one in Singapore right now. However, it's all quantity over quality. You'll find a plethora of images of the 'nice guy' cradling an infant (don't fall for it), baiting with a cute cat/dog photo (really don't fall for it), or posting pictures from his baby album circa 1990 (even worse).
Talent pool Well-educated guys, not so well-educated guys, many with 'first connections' – thanks, Facebook. It's an even mix between expats and locals, but that depends on the location from which you're swiping. There was also the obvious handful of bored army boys (complete with abs-baring selfies in uniform). Ugh.
Best line "End my suffering." Good one actually.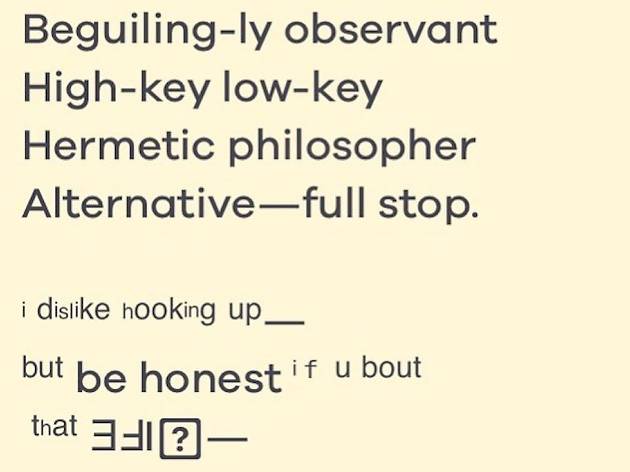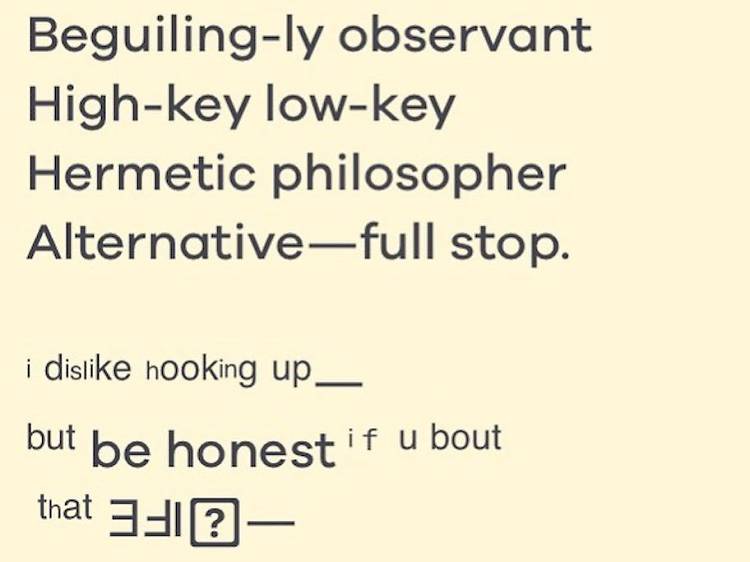 Photo: Instagram/@rabaktinder
Created by the co-founder of Tinder, Bumble gives women the upper hand. Getting a mutual 'like' gives you 24 hours to initiate conversation before the connection disappears – it's all about seizing the moment.
It isn't big enough in Singapore. After a brief session of swiping left, I had completely run out of people to ogle. Even after three days, the app couldn't find anyone for me – not even recycled users. And as for how Bumble compares to its nymphomaniac sibling Tinder, the kind of quotes that were in the profiles of my potential matches were like outtakes from 9GAG. So, not that different.
Talent pool Lots of expats and local boys who studied overseas. Almost all the photos were of them at the beach or in sportswear – basically, any situation where they didn't have to wear a shirt. Pictures also featured a lot of lion cubs and elephant-riding – the animals-attract-girls strategy is a lot more endangered than the fuzzy golden retriever here. I also encountered a guy or two I knew had girlfriends – that's a turn-off, people.
Best line "Oh sh*t, aren't you [redacted]'s friend??"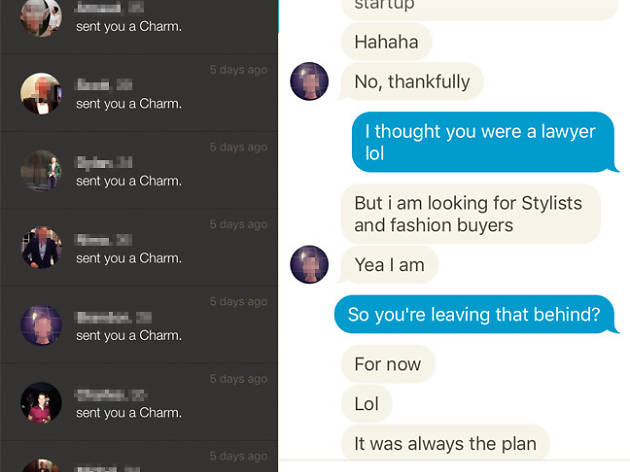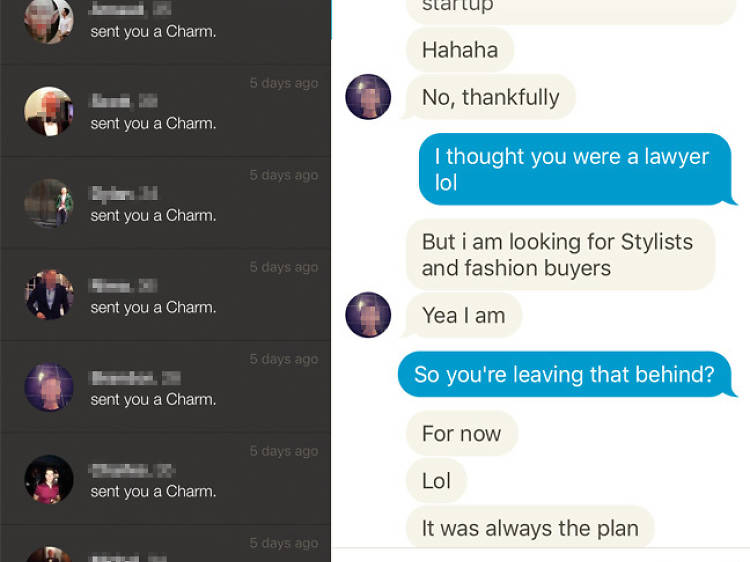 Happn tries to capture the romantic idea that your next squeeze could be the stranger you just passed by. Profiles pop up on your screen when you cross paths, and if you both give each other 'hearts', you can start chatting.
Despite being a lot quieter than most of the other apps, I'm giving Happn kudos for having more better-looking users (I'm not always that superficial, just sayin'). Oh, and one guy offered me a job interview that may or may not have been a disguise for a date. Here's looking at you, Brandon – try LinkedIn next time!
Talent pool Our office's CBD 'hood scored a lot of chefs, finance guys and lawyers in their late 20s and 30s, all clothed.
Best line "My masculine sixth sense told me [you were American]. Guess it's not very accurate xD. I wish you were American."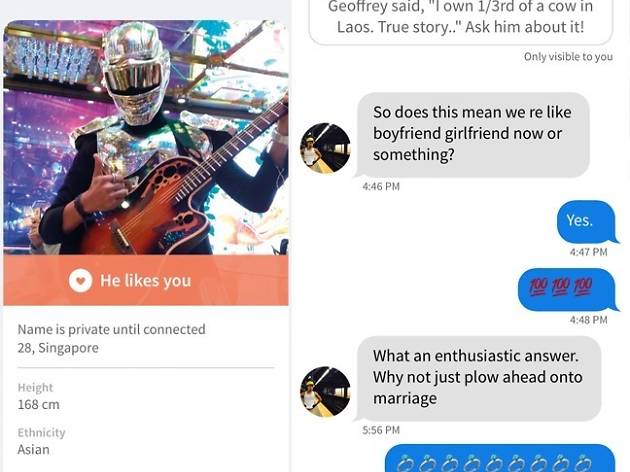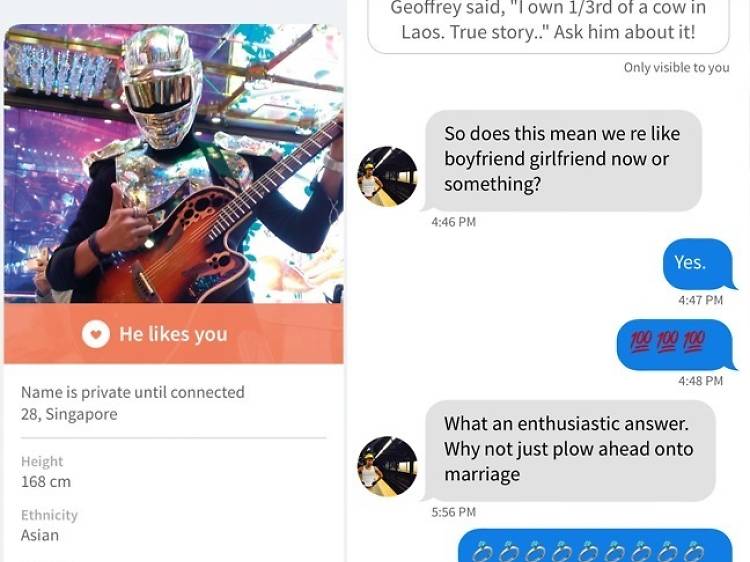 This app takes itself very seriously, almost to a fault. In some ways, it takes full advantage of the dating 'game', with its in-app currency of coffee beans. You spend them to 'Like' profiles that appear on your discover page as you only get a small number os suggested matches each day.
Upon matching, the chat stays open for a week, forcing you to trade numbers or go on a date ASAP instead of playing the texting game. If you don't hear back from your matches, there's an option to reopen the chat – it feels like the equivalent of sending out a Facebook invite to a game that no one wants to play, and smells a little of desperation.
Talent pool So shallow it's basically a puddle. There's a good balance of locals and expats, but no one really got my pulse racing. For some reason, lots of goody-goody Christian types on this app – if that's your thing.
Best line "So does this mean we're like boyfriend-girlfriend now or something?"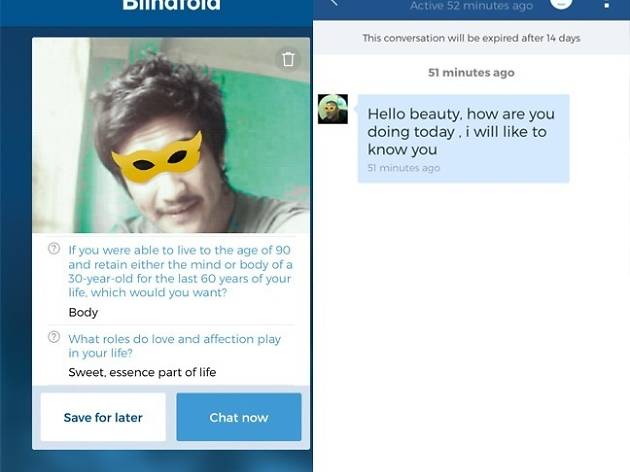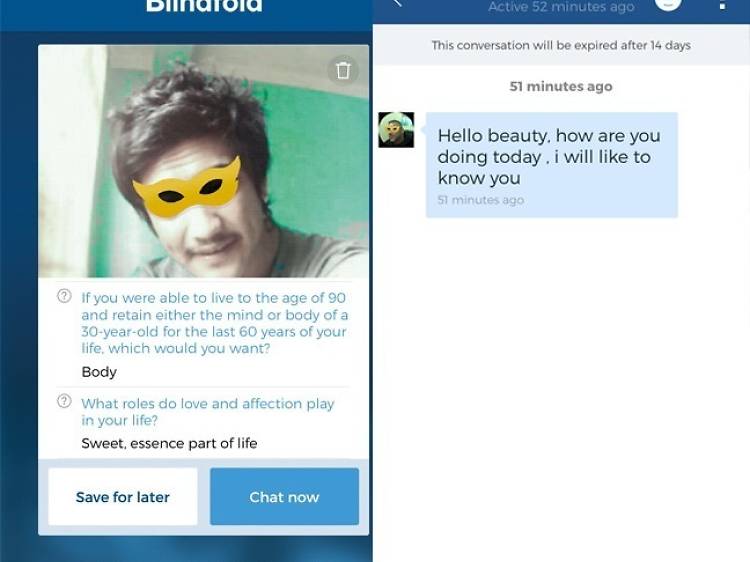 Blindfold masks or blurs profile pictures based on the premise that online dating can be embarrassing. In reality, hiding your face is not so much for discretion as it is about being unsure about how attractive the opposite sex will find you.
Every morning the app delivers a match, including a lot of 'bonus matches'. After about four unanswered greetings, I came to the conclusion that without some kind of attraction to your potential match, it was just as good as talking to a robot, minus the spelling accuracy. The only people I can imagine actively using this app are Quasimodo and the Phantom of the Opera, both of whom are fictional.
Talent pool Early 30s, and most aren't even based here.
Best line None, because this app is dry.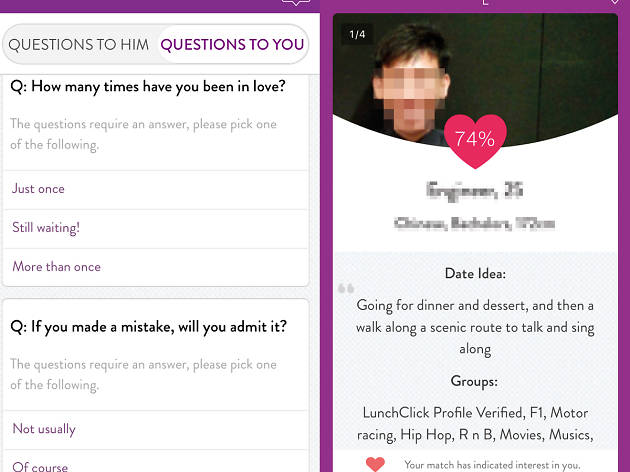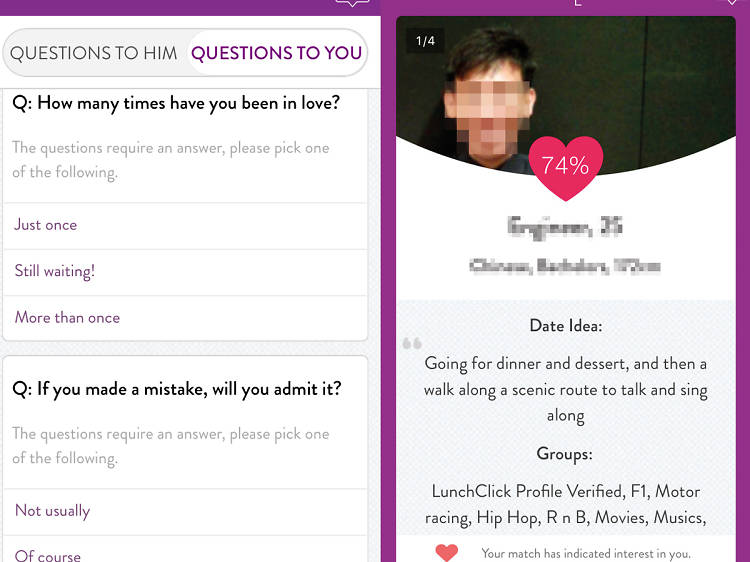 Lunch Actually runs this app that seems to frown upon the idea of casual flings. I nearly gave up within the first hour because it felt like filling out a form for a park barbecue pit permit. I had to provide my IC number and answer a tonne of questions. And then I waited. It took a whole day for LunchClick's background check with the Registry of Marriages (seriously) to make sure I wasn't just looking for a sidepiece.
From then on out, I received only one profile to pick from each day. Eventually, I was invited to get a bit of a cheeky Nando's. This app seems ideal for office workers who want to get to know people in their free time, rather than immediate access to a hook-up. Did I mention there was no conversation, just an invitation for some Peri Peri chicken?
Talent pool Mostly locals in their 30s. Judging by how communication is limited to a series of intense questions about the desire for kids, meeting the parents and splitting money in a relationship – whoa there, not-yet-friend – it's really not for people who enjoy conversation.
Best line None at all. Just quiz questions like I'm in a game show. Or a noughties Blogger.com questionnaire post.
Got a date? Here's your dating starter kit