15 fun outdoor date ideas in Singapore
From planning your own hawker safari to glamping and star-gazing, score major brownie points by taking your date outdoors.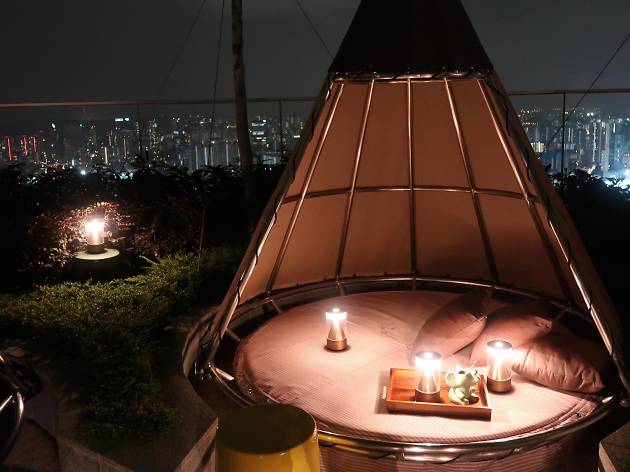 Whether you've just swiped right – and now getting a case of the first date jitters – or running out of #Fridate ideas, there are always better options than the typical dinner and movie. Shake things up and take your date outdoors to get to know them – before you take them (ahem) indoors.
RECOMMENDED: Unique and fun date ideas in Singapore & sex shops in Singapore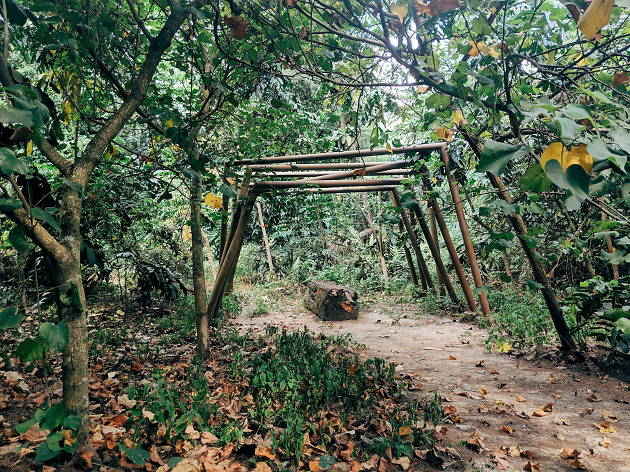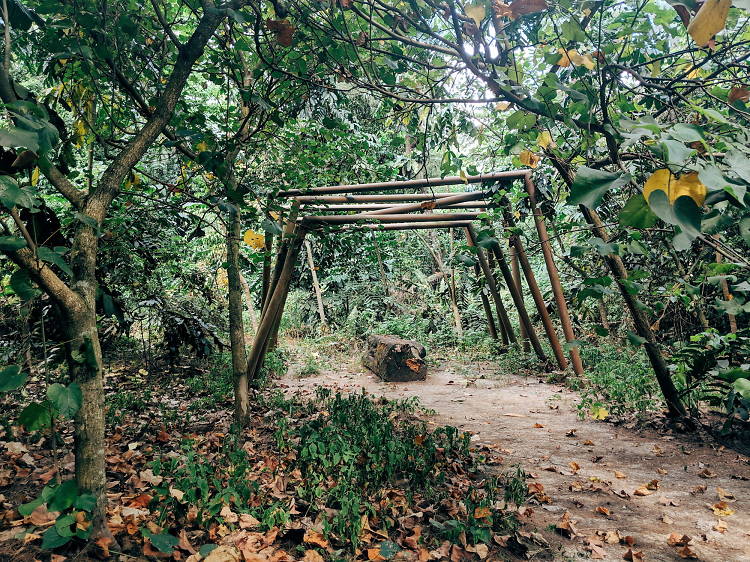 Singapore's most popular attractions may be futuristic buildings and other manmade structures in the Downtown Core but there are also a lot of natural sights to take in too. The best way to uncover them is by hiking. Strap on some sturdy walking shoes and get exploring. Be on top of the world at the TreeTop Walk at MacRitchie Reservoir, go on a rustic coastal trail at Coney Island or hop on a boat to nearby Pulau Ubin.
Imagine watching a movie with sand inbetween your toes and the salty sea breeze against your face. If that sounds like bliss to you, head out to Peroni Sunset Cinema. The annual series returns to Sentosa's Tanjong Beach from May 2 to May 15. Can't wait that long? Keep tabs on the free movie screenings at Palawan Green that happen regularly.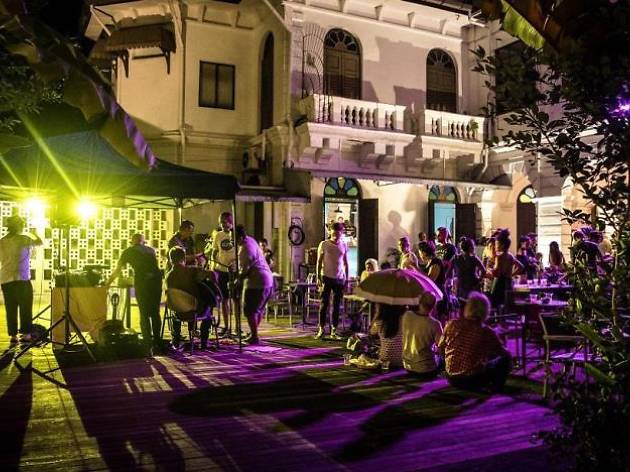 Catch some culture at the various art spots around town. The majestic National Gallery Singapore houses significant pieces from Southeast Asia and easily takes a whole afternoon
to digest but remember to drop by smaller, independent joints like the cool risograph studio Knuckles & Notch and cutting edge design and art space Kult Gallery.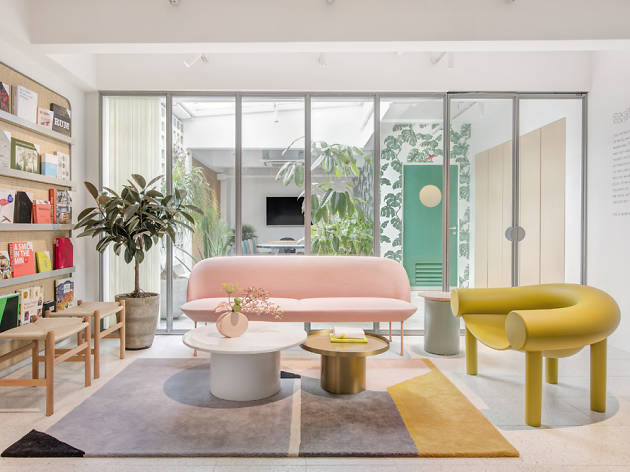 It's important to slow things down and take a breather once in a while. Looksee Looksee is a reading room where you can sip on tea while catching up on your reading. If you want to squeeze in some book shopping as well, bookstore- café The Moon has a great selection of specially curated local and international releases, knick- knacks and coffee.
When you're out exploring the city, you need to recharge with a mighty meal. Make a stop at Auntie's Wok And Steam on the 25th floor of Andaz Singapore where a weekend dim sum buffet with a view welcomes you. Prices start from $35 and you can tuck into steaming baskets of scallop siew mai, wagyu beef mantou sliders, har gow, xiao long bao and fried treats like prawn rolls, spring rolls as well as yam and chicken puffs.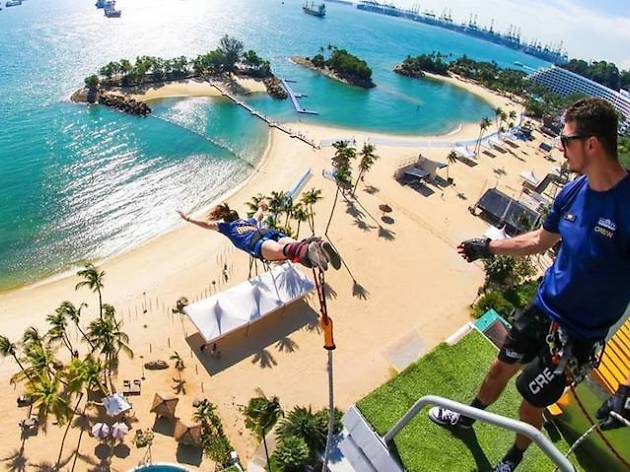 Sport and fitness, Parachuting and skydiving
Nothing says YOLO more than committing to a bungee jump. For thrill seekers, the AJ Hackett at Sentosa offers a number of adrenaline-spiking ways to bond with your beau. There's the 40m long Skybridge with see-through sections, the 42m Vertical Skywalk, and of course, taking the 47m plunge down looking over Siloso Beach.
Who says Singapore's art scene is dead? Away from the museums (save this for a rainy day), there's art everywhere you look. From the wall murals by Yip Yew Chong – there's one on Amoy Street – to the graffiti art found all around Haji Lane and Bali Lane and down Waterloo Street, go on a hunt for street art around the city. Bonus points if you manage to make a game out of it.
There's always something happening down by the bay – and it usually involved lights. Plant yourselves along the Marina Bay promenade and witness its spectacular light and water show Spectra. Held every night at various timings, the fancy lasers and accompanying soundtrack makes for a little night magic. The Marina Bay district also often holds events such as the annual i Light Marina Bay (happens every March), which features interactive light art installations. Perfect for that date night snap to show off on the 'Gram.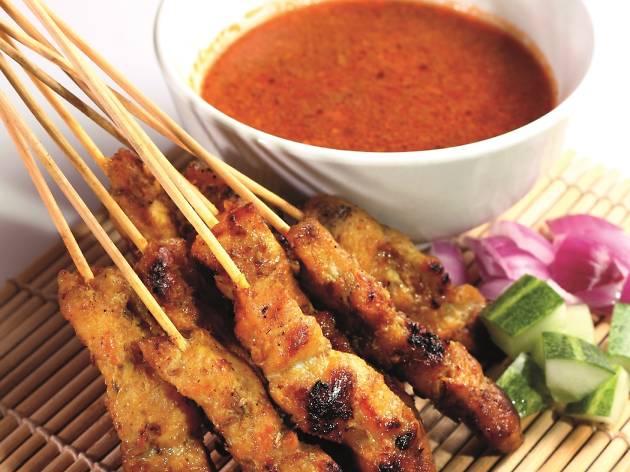 Take advantage of the fact that you're never too far from a hawker centre and draw up your own dining safari. Start with a sunset satay session at Lau Pa Sat (order the duck satay from Stall 7 and 8), before walking down to Chinatown Complex Market and Food Centre for some Michelin-starred soya sauce chicken (Stall #02-126) and hearty claypot rice (Stall #02-198/199). End the night at Maxwell Food Centre with a bowl of tummy-warming porridge (Stall 45/46) or if you get there before 8pm – fry up your own hum chin peng (deep-fried dough fritters) at stall 28 and test how you work as a team.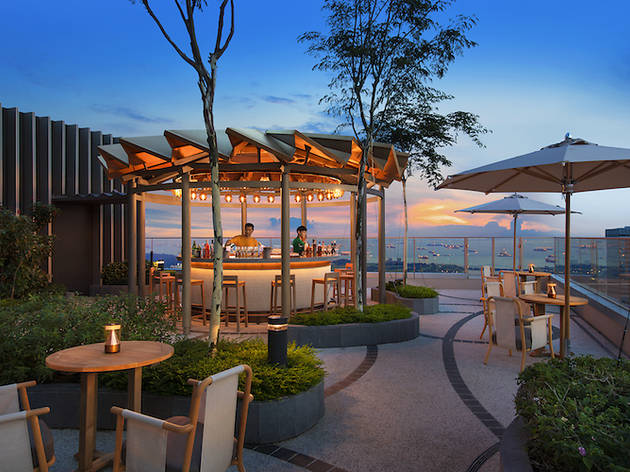 While we see the immediate attraction of a dimly-lit bar, it's kinda an overkill if you've been dating for a short while. Take the intimate tête-à-tête to a rooftop bar (we love Lavo's view and vibe), or out to the water – we hear Caffe Fernet's frose aka rose wine slushies are quite the treat. If you're after more third date material, seek out Mr Stork Roofttop Bar at Andaz Singapore and settle into one of their cosy teepees.
For more outdoor date ideas, check these out
We travel around the island to suss out the best spots to lay your picnic mat.
Here are three different kinds of free trails for you to start your adventures on.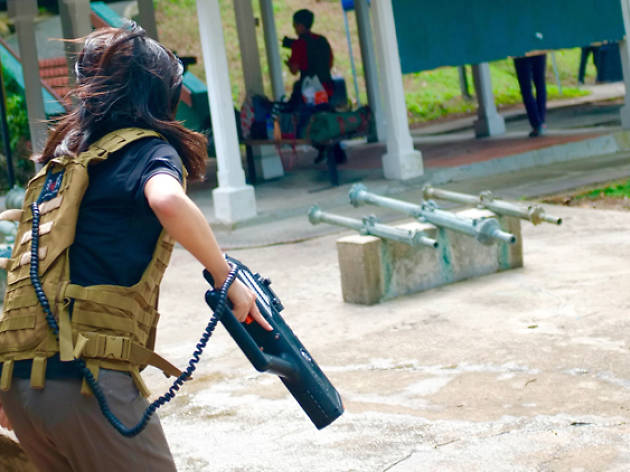 Take advantage of our city's year-long summer and head to the great outdoors with our list of the best things to do, including water sports, free walking trails, group activities and more.