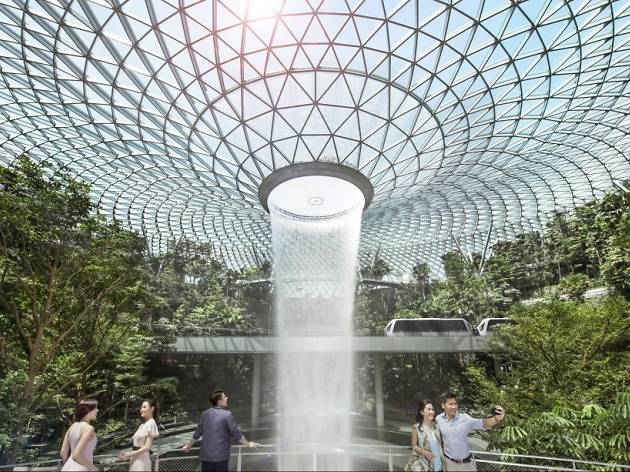 Amazing things to do at Singapore Changi Airport
A rooftop pool, cool art installations and free movies for all – there are loads of fun things to do at Singapore Changi Airport
Missed your flight? Departure been delayed? Or are you just the type of person who likes to show up three hours ahead of schedule? Whatever the reason, if you've got a couple of hours to kill, there's no airport in the world that's better to be in than Singapore's Changi Airport. After all, there's a reason why it's the best airport in the world.
There might be all the good stuff like nice buildings and great food waiting for you on the outside there's also plenty to do at the airport. Here's how to make yourself comfortable and right at home at Changi Airport.
RECOMMENDED: Do's and Don'ts for tourists in Singapore and the guide to getting around Singapore on public transport
Landside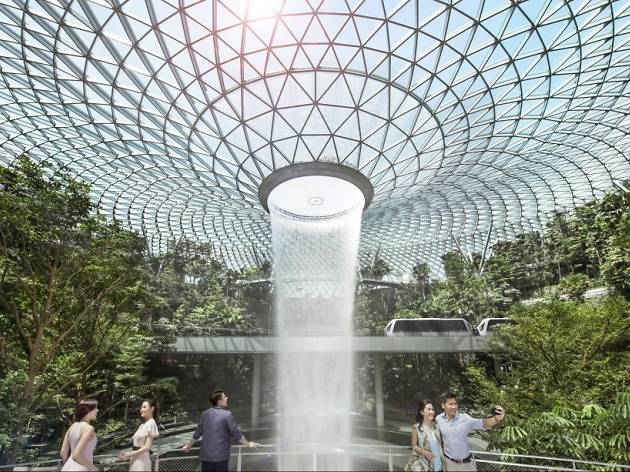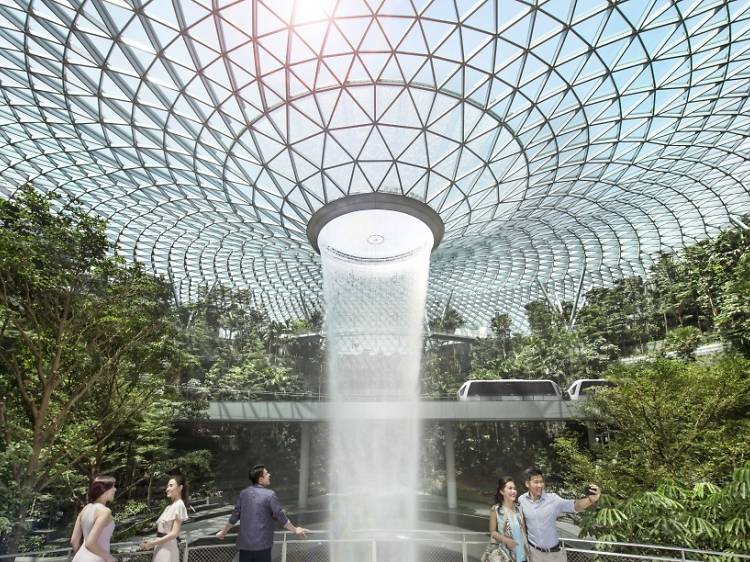 Photo: Jewel Changi Airport
If you haven't noticed, Changi Airport has a brand new terminal. The state of the art terminal has rightfully earned its name, Jewel. Housing an abundance of shopping options attractions and even the world's largest indoor waterfall, Jewel Changi Airport has something for both locals and tourists. From suspended trampolines to navigating your way through shops and boutiques, Jewel harmoniously mixes nature, fun and retail therapy all under one roof.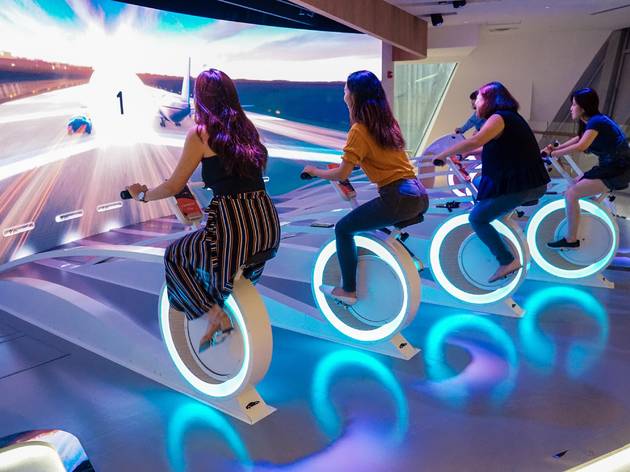 Photograph: Jewel Changi Airport
Experience Changi Airport in a whole new way at the Changi Experience Studio. Get involved in the number of interactive games that illustrates the work it takes to get Changi Airport working like clockwork. Race with a Boeing 747 or play instruments by moving your arms, the experience studio has activities fit for the young and the young at heart.
While aviation, retail therapy, and engaging leisure pursuits come to mind at the fast-paced lifestyle haven of Changi, there's also the activity of art appreciation that is best indulged in when you take your own time. From illustrious wall murals to metamorphosing ceiling pieces, our airport is speckled with arresting art displays that demand a second glance. Located at T1's Departure Hall is perhaps the airport's most popular Kinetic Rain, made up of more than 1000 bronze droplets that cohesively contorts into abstract patterns and other recognisable shapes, while T2 boasts a kinetic art installation called A Million Times at Changi, where the hands of over 500 clock faces spell out greetings and form other mesmerising cadences. Elsewhere, wired-formed birds hover over T4's Departure and Arrival hall and the scene of Singapore's hawker past is immortalised as wall murals along the underpass of T4.
See you on the other slide
Those four words should realistically have any sane person sprinting towards T3 (even if they're not in the airport). Changi's giant slide holds the title of being 'the world's tallest slide inside an airport' – not that we imagine there's a lot of competition. For a mere $10, you can ride this incredible feat of randomness. It's an absolute bargain if you ask us, plus all adults are allowed as well.
Airside
Transiting in Singapore but not willing to book a per-night stay in a hotel? Fret not, YotelAir has got your back, quite literally. The airport hotel accepts guests to stay a minimum of four hours in their 'cabins', equipped with everything you need to get that well-deserved rest before your next flight. Despite being open to the public, the hotel is ideal for transiting passengers.
2. Revel in Singapore's Peranakan heritage
T4 shows extra love to the colourful Peranakan culture at its Heritage Zone. Existing as a lounge area, the carpeted space is strewed with an assortment of plush furnishings, complete with power plugs for electronic devices, that lay against a statement wall, sporting a façade of shophouses seen in Katong and Chinatown. Made up of nine different panels reflecting architectural styles of Baroque, Rococo, and Modern Deco, the shophouse façade also conceals a LED screen where the digital theatrical performance Peranakan Love Story is projected on. Screened on schedule timings, it is not only entertaining to watch but also enlightening for travellers to learn more about this vibrant culture.
Bars are aplenty in Changi. But there's only one that allows you to whip up your own cocktail and that is at The Cocktail Bar, situated at T4's DFS Wines and Spirit store. Best to drop by after a shopping rampage at the duty-free zone, The Cocktail Bar allows you to get behind the bar and try your hand at cocktail making, featuring all the apparatus and ingredients to create your very own potent concoction. But if you rather, there's always a bartender on duty to whip up your choice of poison. From time to time, the bar will hold special showcases that cast the spotlight on selected spirits and guest bartenders to keep the spirit of cocktail always exciting for travellers in transit.
4. Gardens... and butterflies?
You wouldn't think an airport would be the ideal spot for a nature lover, but whoever said Changi was a normal airport? Singapore's crowning jewel of aviation has gone to great lengths to propagate our treasured City in a Garden image. Throughout Terminals 1, 2 and 3 you'll find five different gardens – the Cactus Garden (T1), Sunflower Garden (T2), Enchanted Garden (T2), Orchid Garden (T2) and the much talked-about Butterfly Garden (T3).
5. Go shopping even before the trip
No points for originality here, but Changi's 350-plus selection of shops which run the gamut from luxury goods to daily necessities is not to be sniffed at. Head to the Wines and Spirits Duplex store in either T2 or T3 to pick out a special bottle from its full assortment of wines, spirits and tobacco. Pick up some souvenirs from RISIS' selection of fine orchid jewellery or, if you want to step out of the box, some natural Chinese remedies, tonics and supplements from homegrown Traditional Chinese Medicine (TCM) brand Eu Yan Sang. Don't forget to box up some holiday perfumes and scents for your trip and also stock up on the mags for that long plane ride.
6. Go to the cinema for free
A far cry from the usual televised entertainment you can expect in an airport lounge – think a hundred people pretending to be watching the news or some dodgy reality show on a tiny screen in a waiting area. This is a full-blown cinema, showing the latest box office hits replete with comfy seats. Upgrade! Just head to T2 or 3's transit area and you can't miss them.
Okay, they're maybe a little behind the times now – the PS3 and Xbox 360 are showing their wrinkles slightly at this point - but the gaming area is still awesome. With a robust selection of games, a Wii – which is in our opinion, ageless – and a LAN cafe, all available to use for free, this is a really neat little feature of Changi for the gamers. Nice one, airport.
8. Poolside fun at the airport
Move aside MBS, you're not the only one with a rooftop pool. That's right, Changi has a swimming pool and jacuzzi on the rooftop of T1. Airport, stop it, you're spoiling us. It's not entirely free, but for $17 mere dollars, you get to stretch out by the poolside and use the shower facilities, too, so we think it's a pretty damn good deal. There's also a 24-hour bar if you really want to pretend you're already on holiday. Remember to pack your bathers (and extra clothes) in your carry-on.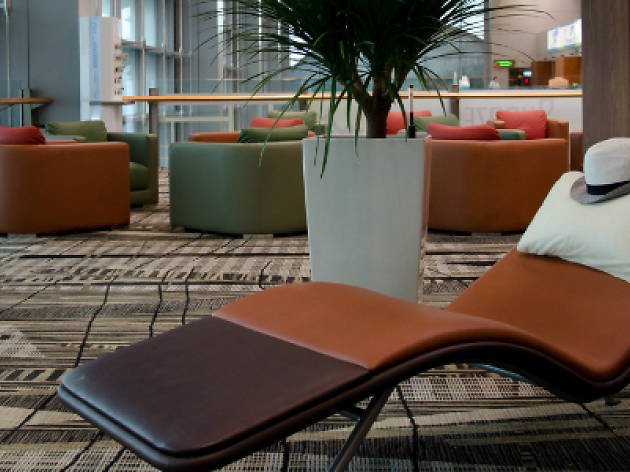 Airports, flying and everything associated with it are generally not conducive for anyone who fancies a good, long sleep. Our hero Changi, however, has risen above sleep mediocrity with its Snooze Lounges. It's actually comfortable and you can legitimately sleep there, instantly making it amazing. Fully reclining, butt-hugging chairs await throughout T1, T2 and T3's transit areas. We haven't even started on the leg massages yet...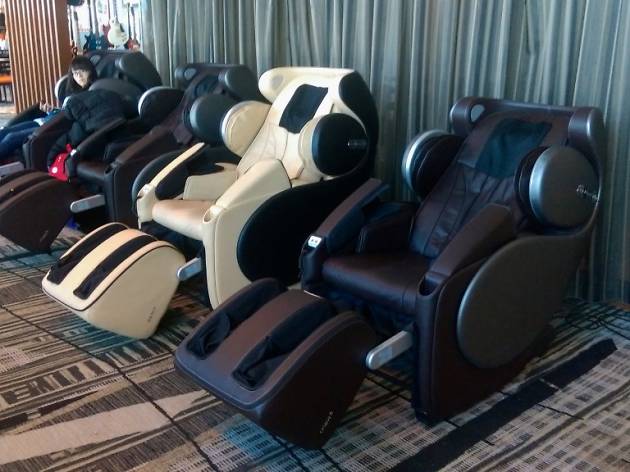 Okay, massage chairs are usually absolute junk that feel more like they're violating you than easing any stress. Not these puppies though. Found in T3, these are the Rolls Royce of massage chairs, they'll touch you like you've never been touched before. And they're free. Go ahead, bliss out but just don't miss your flight.
11. Do social media stuff
We don't just mean the humdrum of tagging yourself at the airport on your phone. No, Changi has the absolutely bonkers, but very cool 'Social Tree' in T1. A nine-foot interactive behemoth of touch screens, webcams and other technological sorcery. The idea is that you can use one of the eight touch screen photo booths to take and share your own snaps or video on the big screen then share with friends and family through email or social media. You can even save a copy of your image in the tree to reopen the next time you're at Changi.
Discover the best of Singapore
Whether you're planning for your first date, an anniversary or a regular date night out about town, here are our picks of the best value-for-money, romantically lit restaurants to wine and dine in Singapore.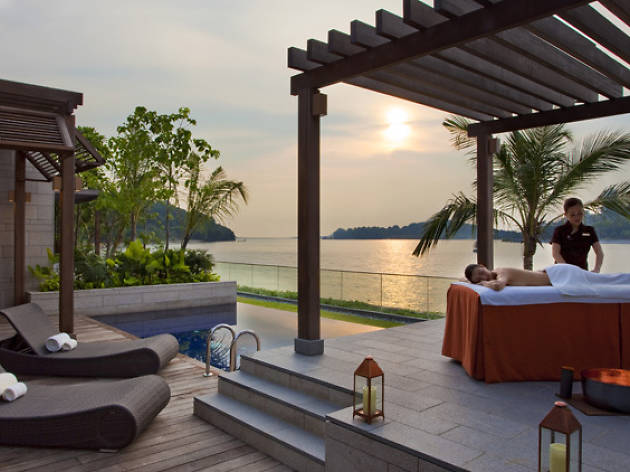 Your ultimate guide to the swankiest spas in Singapore.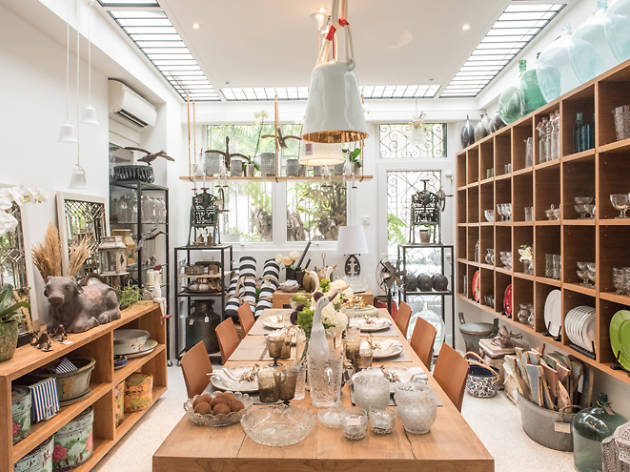 From boutiques to vintage stores to warehouses, we've picked out the best stores for fashion, homeware, food and more. Shopaholics, go wild.