Heads up! We're working hard to be accurate – but these are unusual times, so please always check before heading out.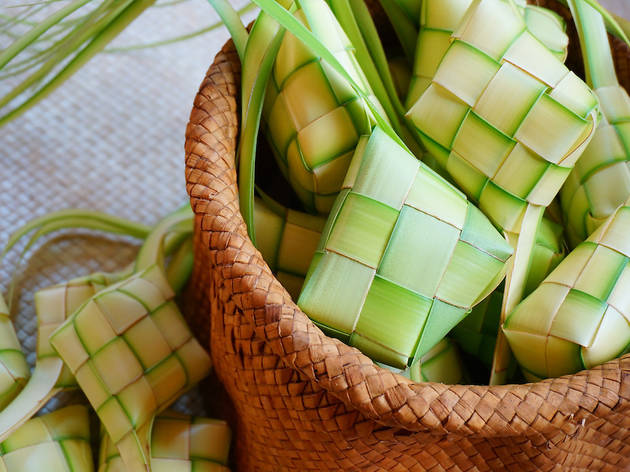 Guide to Hari Raya Aidilfitri in Singapore
As Ramadan approaches its final days, Muslims in Singapore gear up for the ultimate celebration – Hari Raya Aidilfitri
Congratulations – you've made it to the end Ramadan which takes place from April 23 to May 23 this year. This Islamic holy month sees Muslims around the world (except the sick, elderly, pregnant or menstruating) abstain from eating and drinking from dawn until dusk. This is all done while practising charitable deeds and acts of compassion as fasting doubles as a reminder of the sufferings faced by the less fortunate.
To mark the end of the fasting month, Muslims celebrate with the festival of Eid al-Fitr, also known as Hari Raya Aidilfitri or Hari Raya Puasa in Singapore, on May 24. Besides a massive feast (home-cooked or delivered), the religious occasion is a time for forgiveness and making amends.
How to spend Hari Raya during the circuit breaker
Due to the current situation, the Religious Islamic Council of Singapore (MUIS) recently announced that house visiting, even among family members, are not to be carried out during the circuit breaker period. Singaporean pilgrims are also advised to defer the annual haj pilgrimage to Mecca to 2021.
As mosques islandwide are closed during this period, Eid prayers will have to be performed at home. The takbir (communal prayer calls) will be broadcasted on the eve and morning of Hari Raya via platforms such as SalamSG TV's YouTube channel, the Facebook pages of MUIS and mosques, and Malay radio station Warna 94.2FM.
For everything Hari Raya, including the greetings, traditions, food, and even online events, check out our nifty guide and join in the festivities from home.
RECOMMENDED: Halal restaurants and cafés with delivery options in Singapore and local Muslim-friendly brands in Singapore
Greetings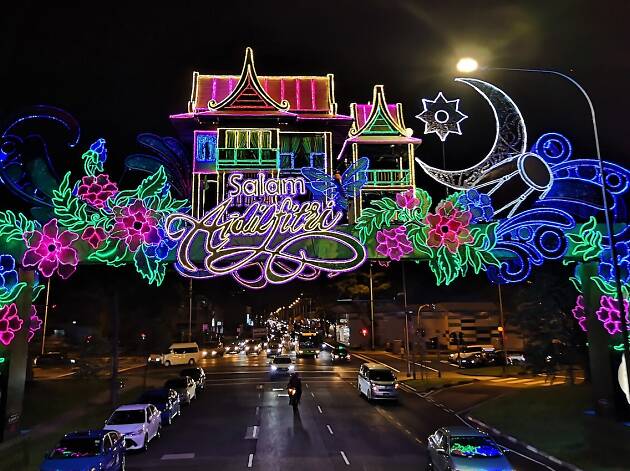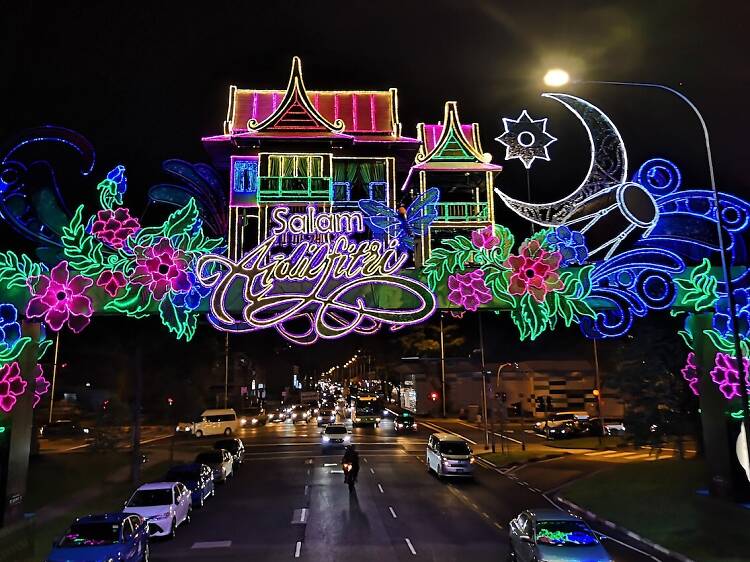 Contrary to popular belief, Eid al-Fitr is not the start of a Muslim new year. It falls on the tenth month of the Islamic calendar. Instead of wishing a happy new year, greet your fellow Malay-Muslim friend with "Selamat Hari Raya" which translates to "have a happy celebration." Follow this greeting with "maaf zahir dan batin" which loosely means "forgive me for all my wrongdoings" as it's also an auspicious day to seek forgiveness.
Alternatively, you can greet in Arabic. Don't get lost in translation – a simple "Eid Mubarak" will do. It's a common term used by both Arab Christians and Arab Muslims as a way to say "happy holiday." Muslims all over the world also use it for Eid al-Adha besides Eid al-Fitr. A close translation of the greeting would be 'celebration' (Eid) and 'blessings' (Mubarak).
Traditions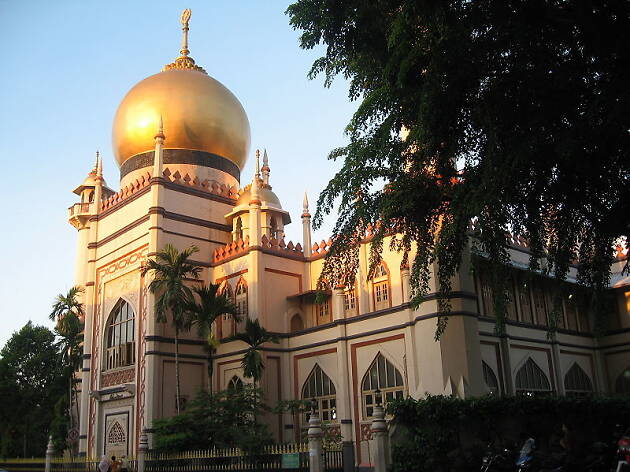 Photograph: Terence Ong
Since mosques islandwide are closed during the circuit breaker, Eid prayers are to be performed at home. Prior to the new norm, the day starts with an early morning prayer at the mosque. Mosques all over the city are filled with worshippers from various walks of life. Some even spill out into the streets, and with everyone praying in one direction in synchrony, it's really an awe-inspiring sight to see.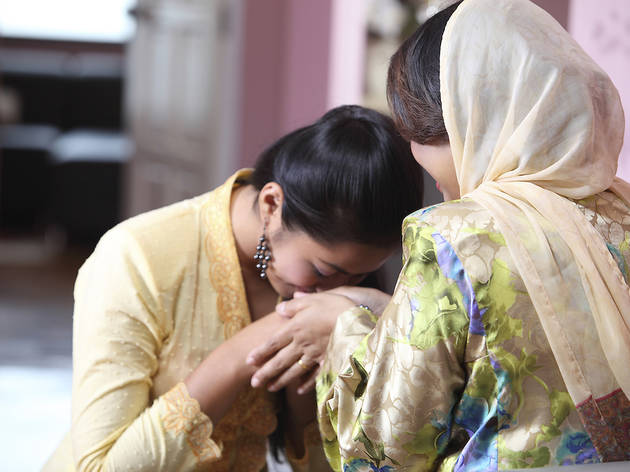 Photograph: Shutterstock
Hate to break it to you, but house visiting is not allowed during the circuit breaker. While houses are less kecoh ('noisy' in Malay) this year, families and friends can still catch up via video calling platforms such as Skype, Zoom, Houseparty, FaceTime, and more. However, this includes the process of getting your parents and grandparents to adjust their cameras before asking them forgiveness. This emotional affair usually sees the younger person giving salam (a type of handshake where one kisses the back of the hand) while asking the elder for forgiveness for all his or her wrongdoings. You can also do so with other relatives and friends – sans kissing the back of the hand.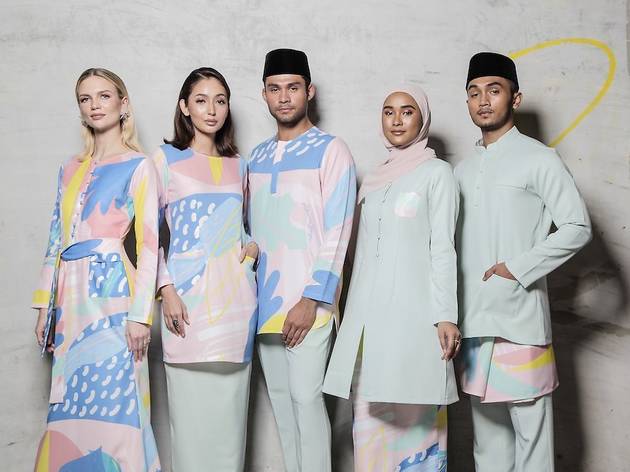 Photograph: Adrianna Yariqa/Pinography
It's unlikely you'll see pockets of families rocking the traditional Malay outfits in the same colour this Hari Raya, but that doesn't families can't style out the tradition in the living room. It's a cultural tradition observed by families to symbolise unity. Plus, it doesn't hurt to get all dressed up in matching outfits for that annual family photo, or for that Zoom gathering. From minimalist to frou-frou, outfits range from traditional silk baju kurung to modern lace kebaya. These are usually paired with a songket, a luxe fabric made from silk or cotton. Otherwise, hand-dyed batik is preferred. Check out the local Muslim-friendly brands we've bookmarked for our Hari Raya threads.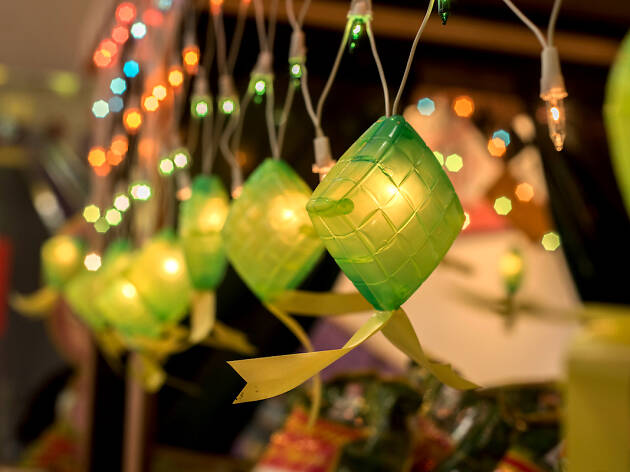 Photograph: Shutterstock
What comes after a major spring cleaning? Decorating meticulously. Humble abodes are elevated with bright green home accessories, as well as crescent moons and star motifs as these elements are highly associated with Islam. Some homes keep things extra lit with colourful fairy lights hung by the windows and balconies. Can you feel the festivities in the air?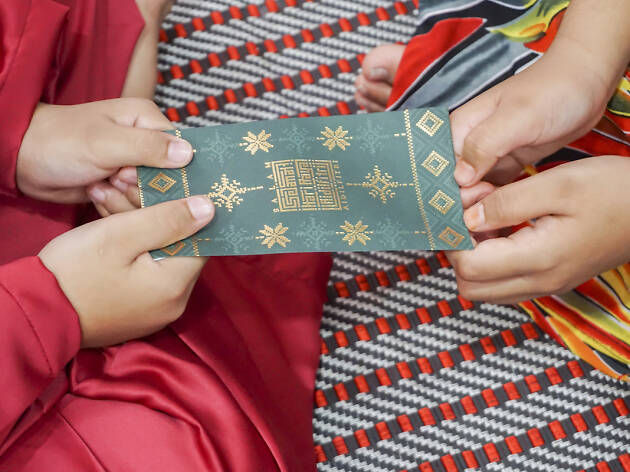 Photograph: Shutterstock
Here's the best bit: getting 'em moolah. Similar to the Chinese hong baos (red packets), green packets filled with cash are given to tots, tykes and teens by working adults. But if your looks take a couple of years off your age, then consider yourself lucky. Alternatively, work that charm if you're really determined to score some green packets (it works, sometimes). Practise minimal contact this time by sending (or receiving) your Hari Raya dollars via a bank transfer.
Food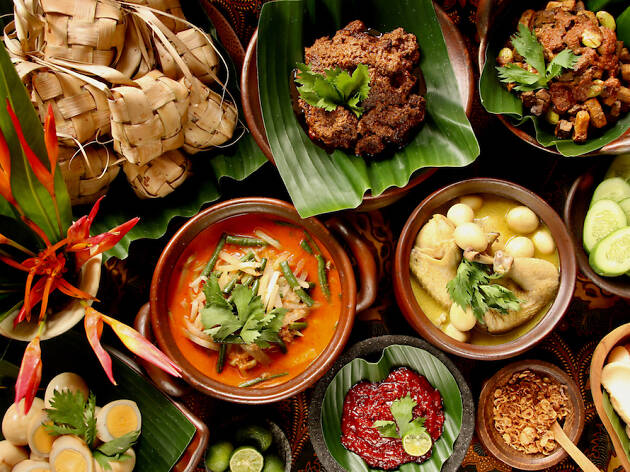 Photograph: Shutterstock
Without a doubt, the star of the show is the ketupat, a diamond-shaped rice dumpling wrapped in a woven coconut leaf. It's also the main symbol of many Hari Raya decorations in Singapore. A work of art, the ketupat is peeled open once it's cooked and is best served with the spicy beef rendang or the satay peanut sauce. You can also have it soaked in the rich sayur lodeh (vegetables in coconut milk) and topped with serunding (spicy fried coconut flakes) and sambal goreng pengantin (a spicy meat stir fry) for the extra kick. If you're not planning to cook, order from these halal restaurants instead.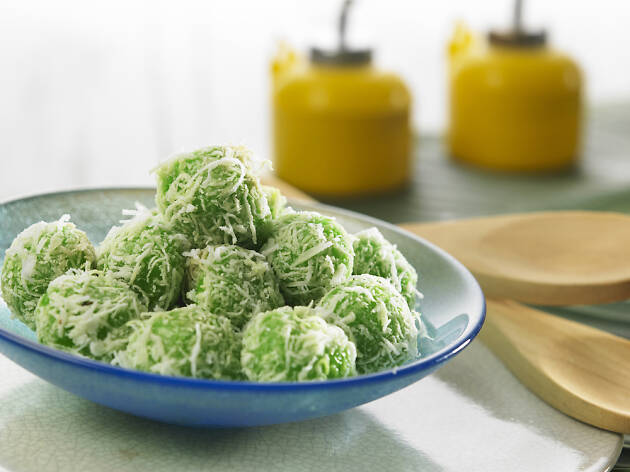 Photograph: Shutterstock
Got a sweet tooth? Then you won't be able to resist the dessert spread. Indulge in traditional kuehs such as the ondeh-ondeh, a chewy green ball with liquid palm sugar in the middle that explodes in your mouth upon every bite. Others include the peanut-flavoured kueh makmur, the layered kueh lapis, and the all-time favourite: pineapple tarts. If you see something new on the table, be adventurous and take a bite. It might be the next moreish treat you can't get enough of. While you're kueh buying, be sure to support local home-bakers and their sweet treats.