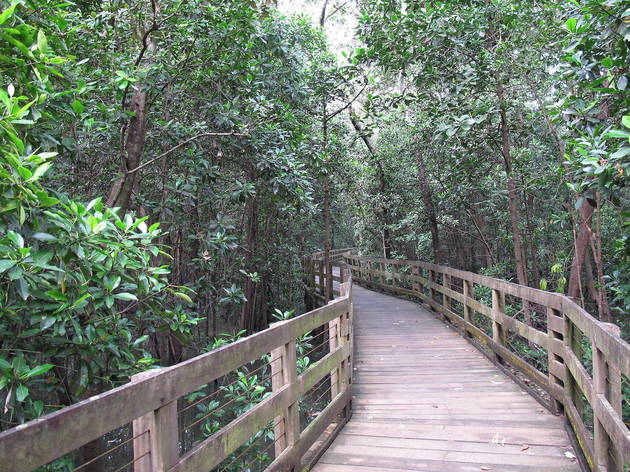 The ultimate guide to Pasir Ris
Journey to the far east of Singapore for some fun under the sun at the beach, mangrove forest, and massive water park
Take a one-way (MRT) trip to the far east of Singapore, and you'll find more than just the beach, chalets, and army boys. Historically, Pasir Ris dates back to 1844 when it was first mentioned in land surveyor John Turnbull Thomson's map as 'Passier Reis'. This could have been derived from the words 'pasir' (sand in Malay) and 'hiris' (to shred or slice in Malay), which could reference the white sandy beachfront.
Like many neighbourhoods, it was once a kampong before it made way for residential estates and recreation areas such as Downtown East and Wild Wild Wet. But even after its modern makeover, this tranquil side of the city remains a breezy escape for laid-back locals and nature lovers.
RECOMMENDED: The ultimate guide to Jurong and the ultimate guide to Tampines
Drink
Nothing beats chilling at this 'friendly neighbourhood bar' by Pasir Ris beach. Booze-wise, it has everything including blended Scotch whiskey, single malt whiskey, wine, bourbon, gin, tequila, rum, and vodka sitting on its shelves. Otherwise, couple your ice-cold beers with Western grill faves such as the signature Georges burger, beer-battered fish and chips, and barbecue chicken. Enjoy it all with the cool sea breeze, occasional live band or sports screenings, and if you're feeling a lil' competitive, hit up a friendly game of pool with your buddies after a meal.
Besides offering watersports experiences, Adventure Paddlers also spearheads this seaside bar which makes a breezy escape from the hustle and bustle of city life. The beach house has a large selection of beers, spirits, and even coffee for you to enjoy under the moonlight. As for quick bites to go with your drinks, it has salads, sandwiches, mac and cheese, and buffalo wings on the menu. The bar also has darts, pool and foosball table for some friendly games with your mates.
Try to hit a bullseye after a couple of drinks – we dare you. This forest themed café/bar takes darts to a whole new level with 18 Dartslive2 electronic dartboards lining the walls of the 2,200-square-foot space. However, it doesn't play games when it comes to booze – there's a cut-off time at 10.15pm. Nonetheless, Happy Hour runs until 8pm for its draught beers and bottled beers, but if your poison is wine, soju, cocktail, or housepour, those are available over the counter too. There are also non-alcoholic drinks including the classic kopi, as well as bar bites like korean chicken, nacho cheese chicken, and cheese tofu if you need to refuel for the next throw.
Shop
Need a fresh pair of spectacles? Look no further than the local eyewear brand Owndays. It offers a simple price system from $98 to $198 with frames in over 1,500 styles, including in-house brand lines. Expect them fitted with high index aspheric lenses that come with UV protection and dust-resistant coating. After getting your eyes checked and paying for your chosen pair, you'll only have to wait around 20 minutes until your glasses are completely processed and ready to wear – talk about fuss-free.
All about green living, this lifestyle store is a one-stop-shop for everything from quality houseware and kitchen supplies with playful designs to innovative office stationery and fashion accessories. You'll even find sustainable wares for your zero-waste journey as the brand takes pride in its eco-friendly practices and practical substantiality through its product innovation. With its eye-catching designs, you won't be able to resist grabbing a shopping basket for your fill.
More neighbourhood guides