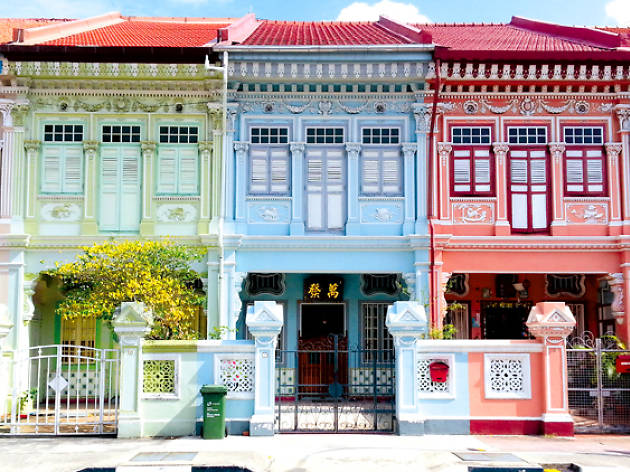 The ultimate guide to Joo Chiat and Katong
The best things to do, eat and visit in Joo Chiat and Katong, a charming corner of eastern Singapore that's rich in Peranakan culture and heritage
Joo Chiat and Katong have gained popularity over the years for their blend of Instagram-worthy Peranakan shophouses, delectable cuisine, and indie retail stores. Named after philanthropist, Chew Joo Chiat, this charming corner in the east of Singapore was once a small village of seaside retreats for the wealthy. It's since been revamped into a residential suburb surrounded by shops and eateries.
Declared as Singapore's first Heritage Town in 2011, this East Coast enclave still holds timeless treasures and insight into the rich Peranakan cultural heritage of the 1950s. Today, most of Joo Chiat's multi-ethnic influences are most evident in its architecture, dining options, and activities.
RECOMMENDED Creative spaces in Katong and Joo Chiat and the best restaurants and cafés in Katong
Where to eat and drink at Joo Chiat
What to do and where to visit at Joo Chiat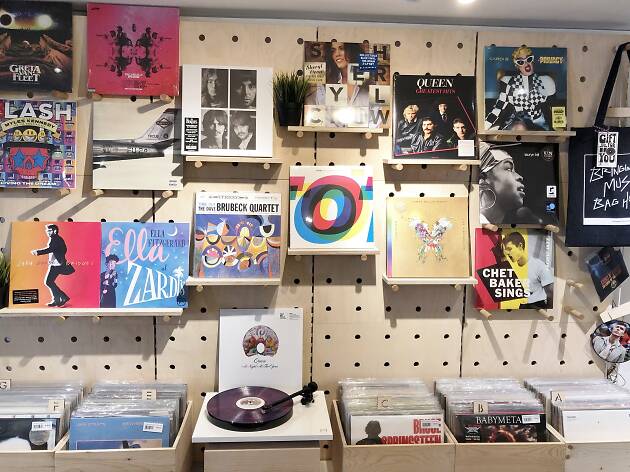 Nestled along Joo Chiat Road, Retrocrates is the ideal place for music-lovers to relax, unwind, and crate-dig in a leisurely manner for all genres of music, old and new. The independent record store offers a range of turntables as well as a large library of new and pre-loved vinyl records for sale. The second-floor shophouse – complete with sofas, cushions, and rugs – allows for customers to get comfortable and immerse themselves in the music.
It's lifestyle needs galore at Cat Socrates. Like the original establishment at Bras Basah, its east-side branch offers a cornucopia of unique home décor, books, trinkets, bicycle accessories, craft and paper paraphernalia. Discover lifestyle goods such as notebooks, bags, pillows and mugs whimsically fashioned by local designers. Bring home aesthetically pleasing wooden furniture, magnets or tote bags with Peranakan tile or cat print designs. There's also a range of books and magazines published by local writers and illustrators to discover. Keep a look out for the resident cat shopkeeper Zoo-Zoo – if he isn't waiting to greet you by the door, he might be resting in his bed by the window.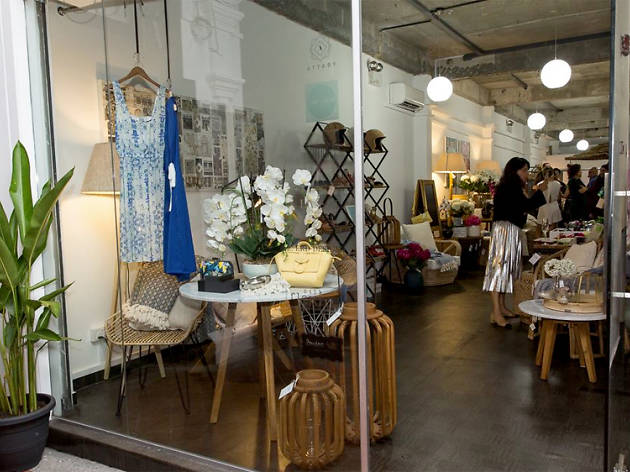 Browse Elyse and I's collection of whimsical beach totes and pouches at this new multi-label boutique. Hand-embroidered palm trees, pineapples and watermelons that scream summer adorn the front of these bags. Other brands in-store include Australian gemstone jeweller Elverd Designs, menswear label Hanway and Louise Hill Design's artworks.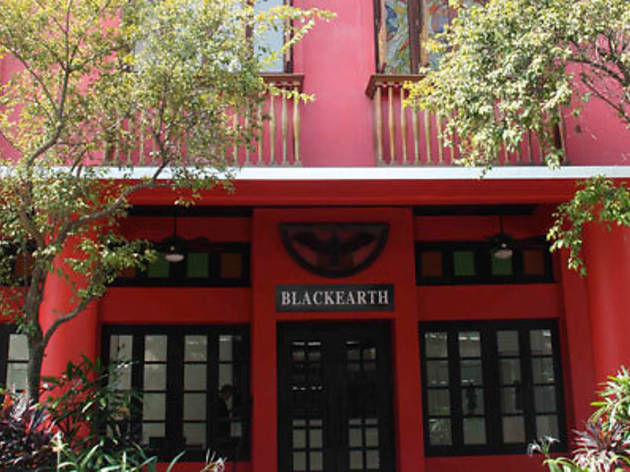 Located in charming Joo Chiat, Black Earth Art Museum specialises in oriental art such as calligraphy and traditional Chinese ink and wash. Owner Ng Ngeng Hee also likes to champion both Singaporean and East Asian artists so head to this bright red building to pick up one-of-a-kind pieces.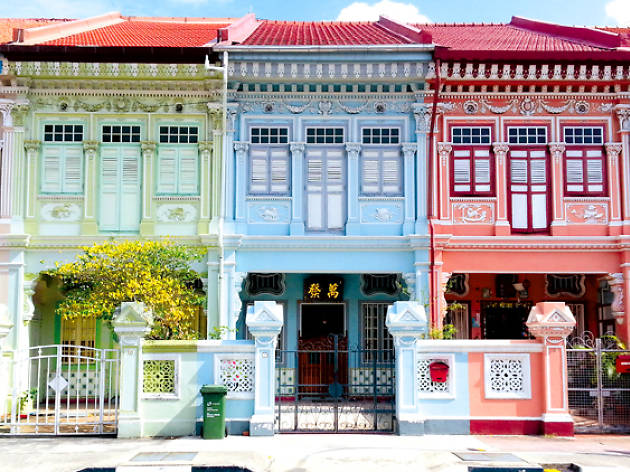 Made popular on Instagram, this row of colourful houses on Koon Seng Road features picturesque two to three storey terrace houses marked by their distinct traditional Peranakan style. Built in the 1920s and 1930s, the homes were mostly inhabited by Peranakan families until the 1970s. Formerly known as Lorong E East Coast, the road was renamed after Cheong Koon Seng. Cheong, was the elder of two sons of Cheong Ann Bee, a wealthy merchant from Malacca, and one of the first thirteen students of Anglo-Chinese School. Check out these vibrant homes that each have their main pastel hue. It's a popular spot for many including professional architecture photographers, tourists and fashion models.
Other cool neighbourhoods to check out