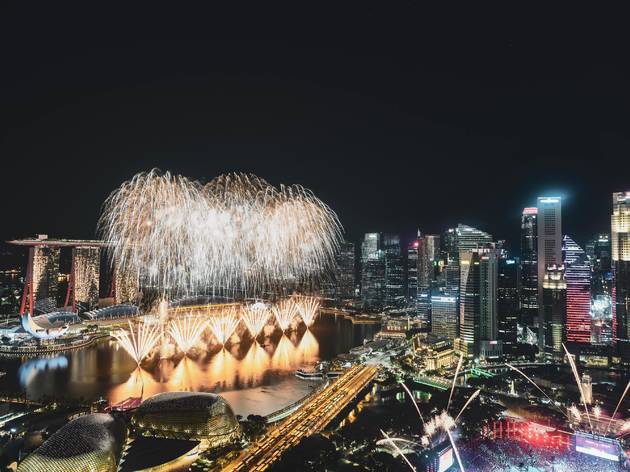 The best things to do in Singapore in December 2021
Congrats, you made it to the last month of 2021. Now end the year in style with Christmas events, NYE fireworks, and more
It's lights galore in Singapore as we approach two major end-of-the-year events: Christmas Day and New Year's Eve. The city has no shortage of Yuletide and NYE events – both online and offline – to welcome the new year with a bang. Even if you're not getting into the festive spirit, we've got plenty of events that don't involve the tinsel trappings of Christmas.
RECOMMENDED: The definitive guide on things to do in Singapore
From the same people behind Future World, this art installation brings to life sixty-nine works from the William Farquhar Collection of National History Drawings within the museum's Glass Rotunda. Look forward to roving animals, digital flora and seasonal weather in an expansive forest created by Japanese digital art collective teamLab, which seamlessly unfolds into a a virtual and visual landscape, immersing visitors in the story of Singapore's journey from its colonial past to its present-day modernity.
Singapore is littered with businesses that have stood the test of time. Behind every business lies a treasure trove of stories we don't often think about when we drop by the neighbourhood tau sar piah shop, or dabao our favourite chicken rice. The National Heritage Board (NHB) is launching its Street Corner Heritage Galleries scheme, as part of its efforts to strengthen partnerships with communities and raise awareness of and foster deeper appreciation for heritage in everyday spaces. Working closely with local shop owners with at least 30 years of history in selected precincts, NHB will co-create "mini-museums" that showcase the stories and heritage of the respective businesses and trades. These galleries will be located on-site and display historical documents, photographs and artefacts that tell the stories of these shops. From March 2020, Street Corner Heritage Galleries will kick off with five community stakeholders within the Balestier precinct – Loong Fatt Tau Sar Piah, Loy Kee Best Chicken Rice, Lim Kay Khee Optical and Contact Lens Centre, Lam Yeo Coffee Powder Factory, and Sweetlands Confectionery and Bakery. By 2020, the scheme will be subsequently rolled out in four other precincts – Kampong Gelam, Little India and Kreta Ayer/Chinatown and Geylang Serai – by 2022.
If you have passion for the written word, check out the National Library's latest permanent exhibition, The News Gallery: Beyond headlines. Located on level 11 of the National Library Building, the exhibition is divided into five zones and features original copies of Singapore's earliest newspapers and a fun, fake news-busting game for the whole family. Don't miss the interactive exhibits, which draws from NLB's rich collection of over 120 Singapore newspaper titles published since the 1820s.
More things to do in Singapore