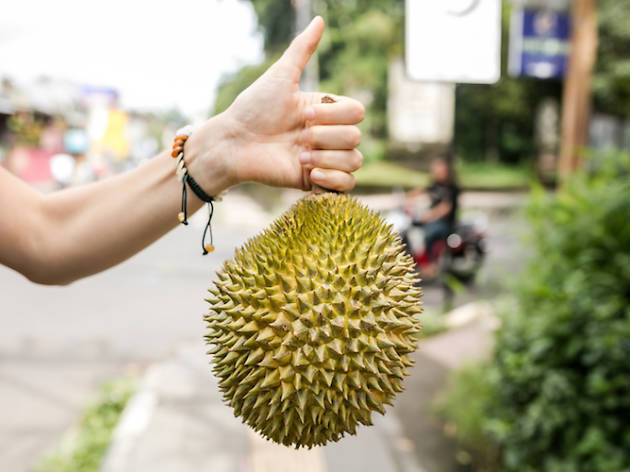 Your ultimate guide to durian in Singapore
It's durian season! Here are the types of durians available, how much they usually cost and where to buy them in Singapore
If you think that Singapore only has two seasons – hot and hotter – you're not wrong, but we'd much prefer thinking of it as durian season and no-durian season instead. The bumper crop usually arrives in July and lasts till September, but it seems like we've been #blessed with a bumper crop in June due to a supply glut from Malaysia.
Prime your stomachs (and throats) because this season, durian prices are a fraction of what they typically would be. There have even been reports of shops selling Mao Shan Wang durians from a mere $10. So instead of gravitating toward mainstream favourites like the D24, switch things up a bit by giving some lesser-known varieties a go.
Ganja
This durian variety typically has a round and ball-like exterior and its flesh is often compared to butter – which speaks to how smooth and creamy it is. Ganja durians are also bitter and put up a tough fight against perennial favourites like D24 and Mao Shan Wang. From $8/kg.
D24
Even though this is one of the more expensive durian varieties out there, it's good value for money given how small the seeds are. Bite into its dark yellow flesh to see why it's such a crowd pleaser – it's the perfect balance of sweet and bitter. D24 durians are also sometimes referred to as Sultan durians. From $11-18/kg.
XO
XO durians have an extended fermentation period, lending them an alcoholic aftertaste. Don't be alarmed if the flesh looks like it's gone bad – it's meant to be watery and suspiciously soft. From $12-$18/kg.
Hong Xia (Red Prawn)
Its vibrant orangey-red flesh is sticky, intensely sweet and highly pungent – perfect for those with a sweet tooth but probably not our pick for those new to durians. Equally distinct is its name that translates to 'Red Prawn'. From $8/kg.
Mao Shan Wang (Cat Mountain King)
By far the most coveted durian variety in Singapore, the main novelty of indulging in Mao Shan Wang (MSW) durians is that you won't know what to expect – its sticky-creamy flesh can be sweet, bitter or even bittersweet. From $10-$20/kg.
Wang Zhong Wang
Looking for something even better than MSW? Then you have to try Wang Zhong Wang, which literally translates to the king of kings. The triple-A grade MSW durians are set apart from the pack for its well-balanced bitterness and velvety smooth texture. From $18/kg.
Black Pearl
This Malaysian-bred durian is a pale greyish-yellow and is slightly bitter. As its name suggests, Black Pearl durians are rare and pricey. If you do manage to get your hands on them though, you'll be intrigued by how small their seeds are. From $17/kg.
Black Gold
Just like how Wang Zhong Wang durians are the highest expression of MSW durians, Black Gold durians are a grade higher than Black Pearl durians. It has the same greyish undertones in its flesh but a silky custard consistency that'll have you slurping up the flesh from its seeds. From $17/kg.
Mon Thong
Hailing from Thailand, Mon Thong translates to "golden pillow". True to its name, these durians are bright yellow and known for their creamy, custard-like texture. What's more, their mild yet sweet flavour makes them commercially sought after. From $14/kg.
Xiao Feng
Easily identifiable by its elongated oval husk, this varietal of durian has pale yellow flesh and small seed. It's fibrous but creamy and has a slight bitterness – think of it as a poor man's MSW. From $10/kg.
The best places to buy durian in Singapore