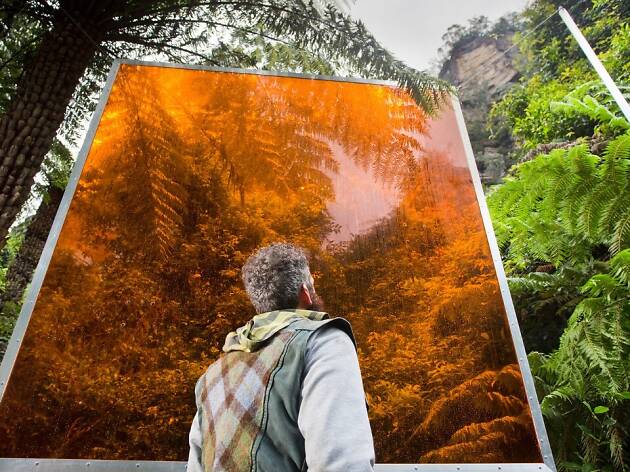 Eight artworks to see in Sculpture at Scenic World 2019
Head to Katoomba and check out our picks of the best works in the annual open-air art show
Descending down into the Jamison Valley on the Scenic Railway at a nerve-wracking 52° angle while the Indiana Jones theme blares through the speakers is one of the essential Blue Mountains experiences. But the journey down the world's steepest railway gains extra appeal every April and May when a clutch of outdoor artworks awaits you at the bottom.
Now in its eighth year, Sculpture at Scenic World brings the work of 25 Australian artists – plus two from Finland – to the forest floor, forming a 2.4km art walk along the Scenic Walkway Boardwalk.
This year's pieces are an evocative bunch that make effective use of the rainforest setting, whether suspended from the trees, positioned on rocks or secreted behind bushes. Here's Time Out's top eight picks to watch out for when visiting Scenic World.
The exhibition continues until May 12.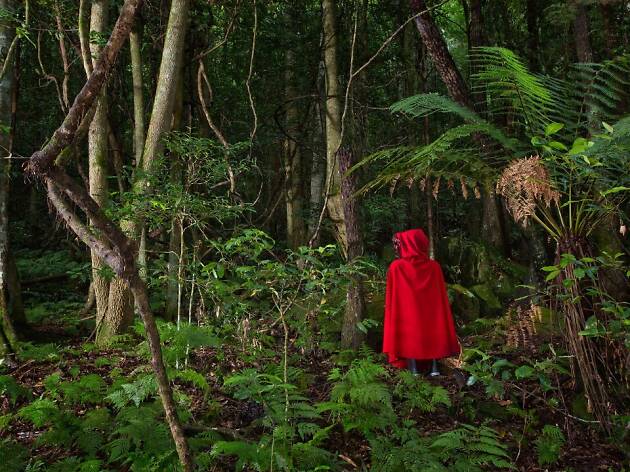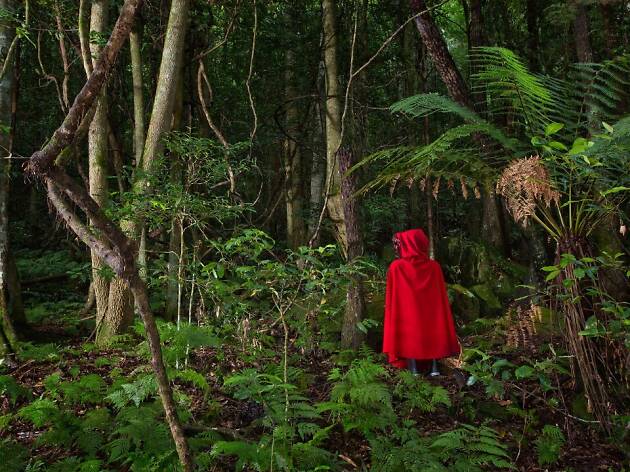 Photograph: Keith Maxwell
1. Damian Castaldi & Solange Kershaw, 'Into the Woods Red Mountain Hood'
The small figure cloaked in red is standing some distance away. She is standing eerily still – but not entirely still. She has a basket on the ground next to her containing… well, something unexpected.
If you've ever been a little bit freaked out by the solitude of bushwalking then this artwork is just the thing to give you the willies. Evocative of characters from scary movies like Us, The Village and Don't Look Now, this Little Red Riding Hood is no victim but rather a figure of mystery and dread.
We expect a lot from Sculpture at Scenic World, but one thing we did not expect was to get a good old fashioned scare, and that's why this one is our pick of the bunch in 2019.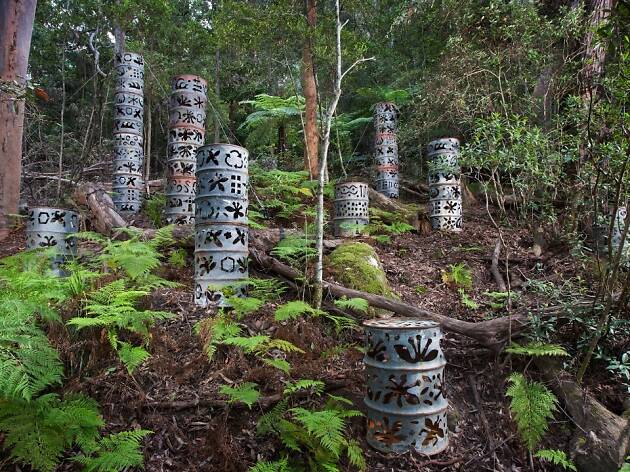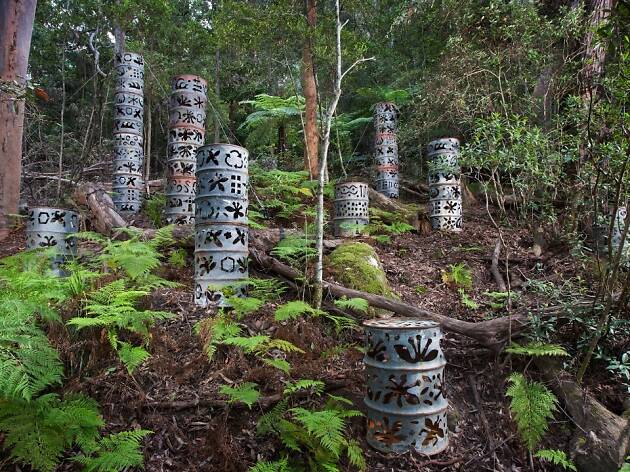 Photograph: Keith Maxwell
2. Heidi McGeoch, 'Iron Clad'
The 44 gallon drums in this artwork were used to store honey, and bee motifs have been cut out of the steel. The artist has arranged them like monuments upon a slope, and they seem somehow to belong there, with colouring that matches nearby gum trees. They could be hives, or burial poles, or stumps. It's a beautiful and impressive piece.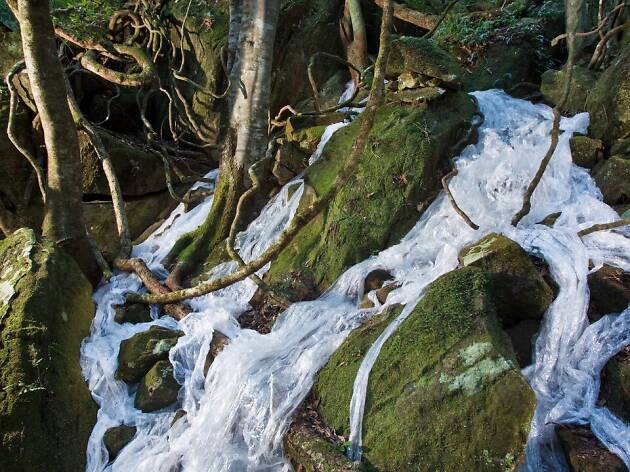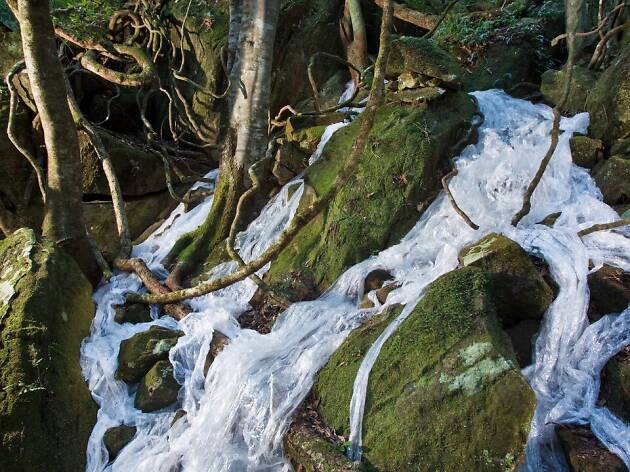 Photograph: Keith Maxwell
3. Elizabeth West, 'Cascade'
Tangles of plastic have been arranged on a rocky hillside to imitate the path of water gushing downhill. It looks like a delightful waterfall, but it also looks like an ugly expanse of discarded trash. The genius of Elizabeth West's piece is that it's both at the same time. Looking at it, you can practically hear the roar of the falling water, even as you feel the urge to clean it up. It's one of several entries this year with environmental themes (and in case you are wondering, Sculpture at Scenic World has a 0% ecological footprint).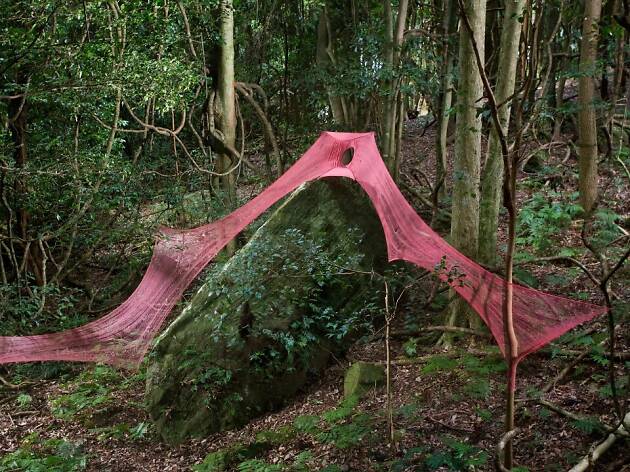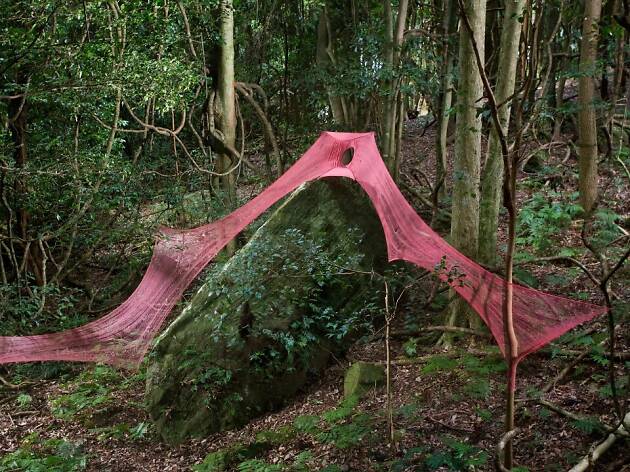 Photograph: Keith Maxwell
4. Kate VM Sylvester, 'In Every Tee'
Sylvester has painstakingly de-threaded two T-shirts to turn them into great spider's web-like forms, stretching over a boulder and between trees. These elastic, dynamic shapes are meant to raise questions about clothing waste and the environment (the fashion industry is the second biggest polluter in the world, second only to oil). She also wants to draw attention to the intricate human work that goes into the creation of something as quotidian as a T-shirt.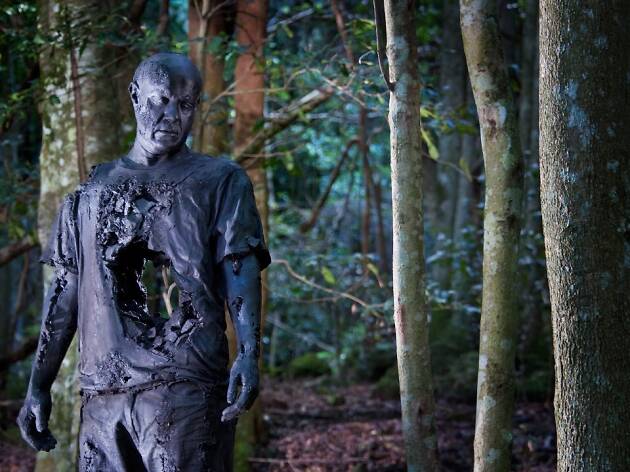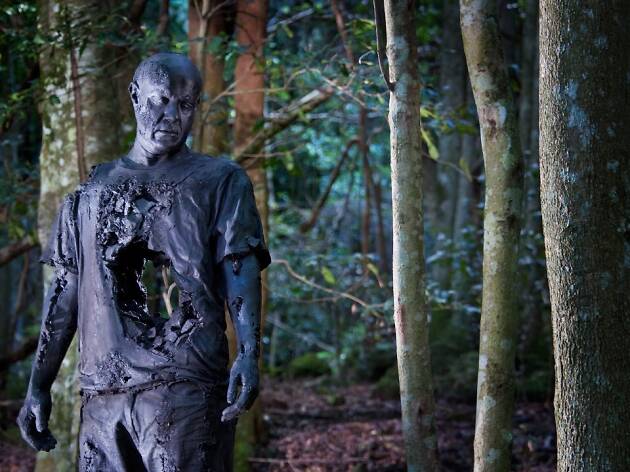 Photograph: Keith Maxwell
You can see the dark figure of a man standing on a rock as you approach along the boardwalk, but it's only when you're up close that you can see the jagged hole in his torso. He's a man made of coal, and he's collapsing from the inside. Scenic World is built on the location of a former coal mine, so the work is responsive to its environment, but the message about the deadly addiction to fossil fuels is as plain as the trees you can see through the unfortunate figure's chest cavity.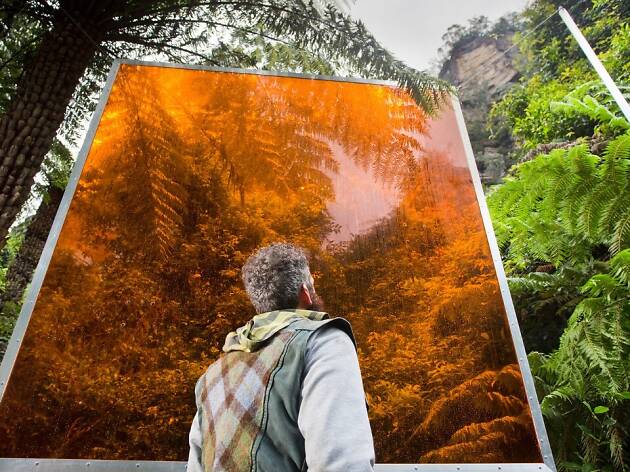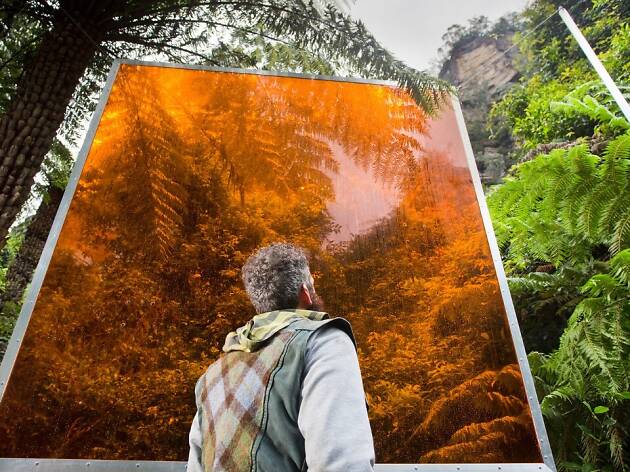 Photograph: Keith Maxwell
6. Elin & Keino, 'Blue Blue Mountains'
Orange is the opposite of blue on the colour wheel, which is why the Finnish duo Sandra Nyberg and Heini Nieminen have suspended two large transparent squares of orange perspex on opposite sides of a stretch of boardwalk. The perspex contains small holes, through which the foliage appears as blue. The work is a simple intervention of harsh geometry and colour theory into a natural space that provokes ideas about perception and nature.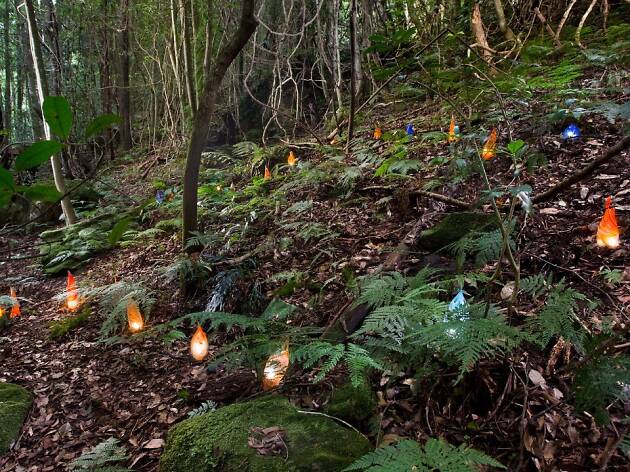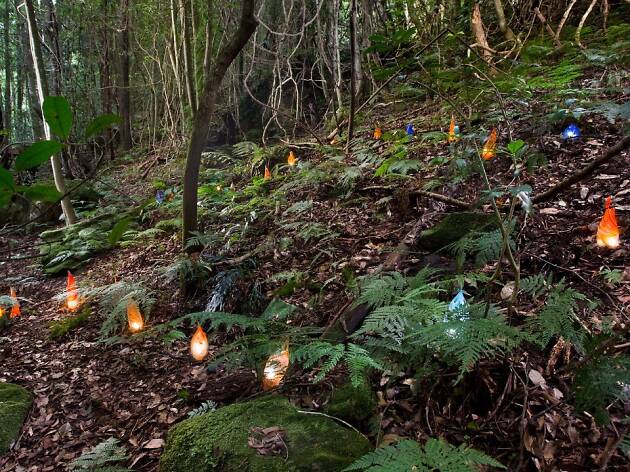 Photograph: Keith Maxwell
7. Kayo Yokoyama, 'Kitsunebi/Foxfires'
Across a short gully and through some trees, a cluster of lights twinkles in the darkling bush. It's the work of Japanese-born artist Kayo Yokoyama, who's referencing the mischievous forest spirits of Japanese legend who delight in misleading and disorienting humans. The presence of fire within an Australian bush context is not without is sinister connotations, lending the installation a disturbing quality.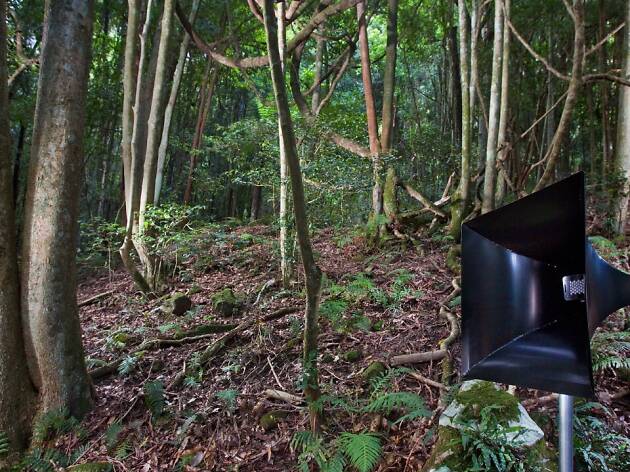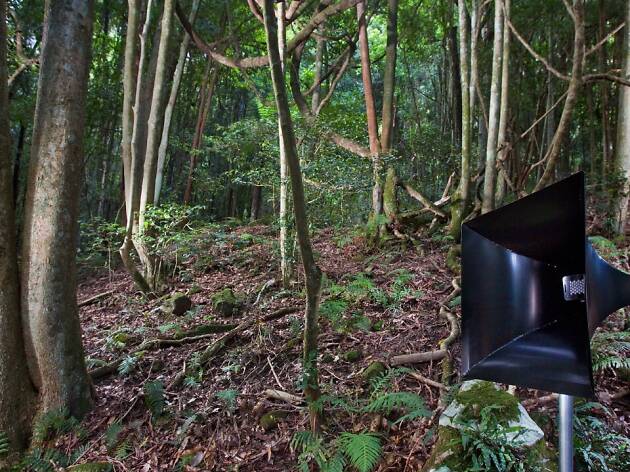 Photograph: Keith Maxwell
8. Mitchell Thomas & Bronwen Williams, 'The Odds of Egress'
This one you don't so much see as hear. The artwork is a directional speaker cone projecting forest noises that you cannot detect unless you are standing directly within the beam of sound being projected. The effect is uncanny, a reminder of the limits of human perception, and it encourages you to pay more attention to what's audible around you.