Pipilotti Rist: Sip My Ocean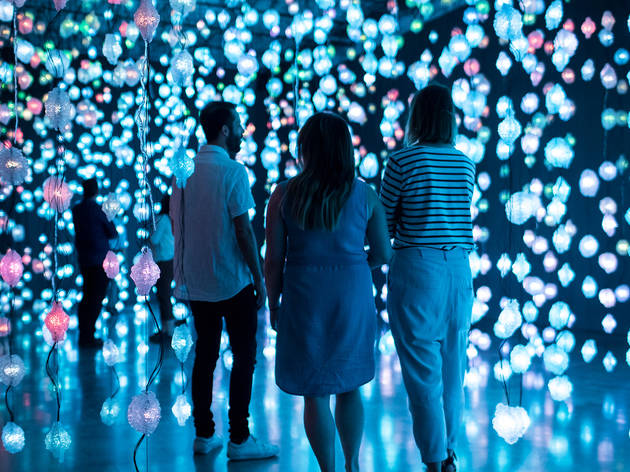 1/6
Photograph: Ken Leanfore
Pipilotti Rist 'Pixelforest Mutterplatte' (2016) at the MCA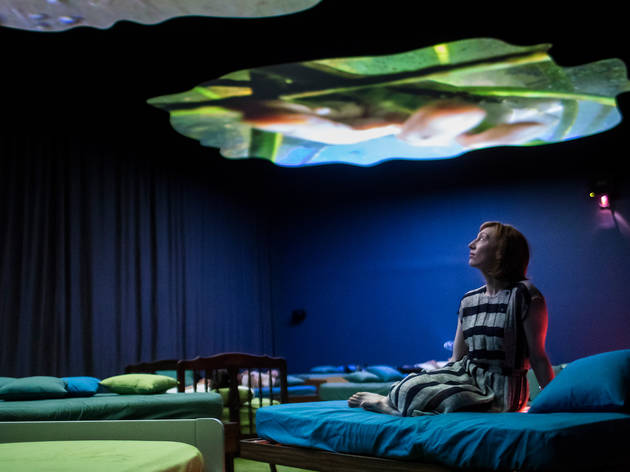 2/6
Photograph: Ken Leanfore
Pipilotti Rist '4th Floor to Mildness' (2016) at the MCA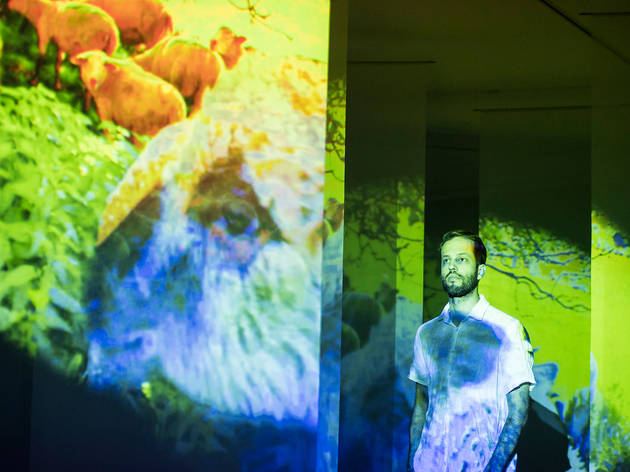 3/6
Photograph: Ken Leanfore
'Administrating Eternity' (2011) at the MCA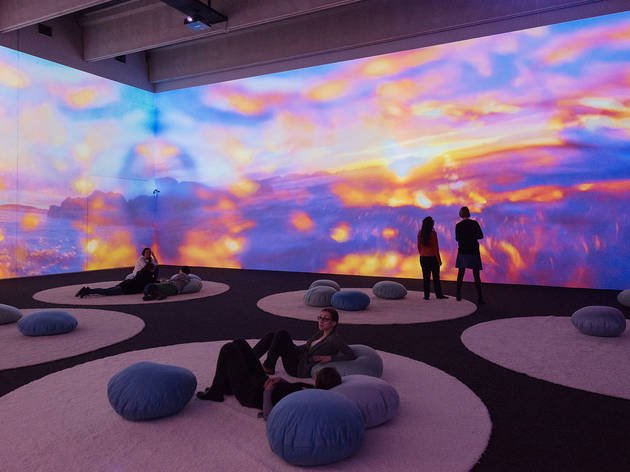 4/6
Photograph: Lisa Rastl
Gnade Donau Gnade2 (2013–15) at Kunsthalle Krems, Austria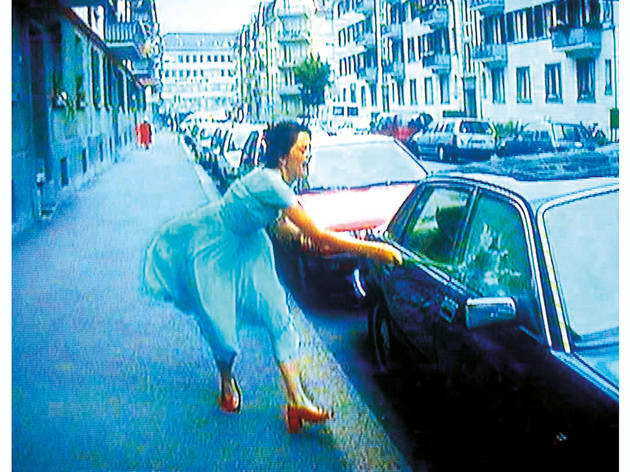 5/6
Image (c) Pipilotti Rist
Still from 'Ever Is Over All' (1997)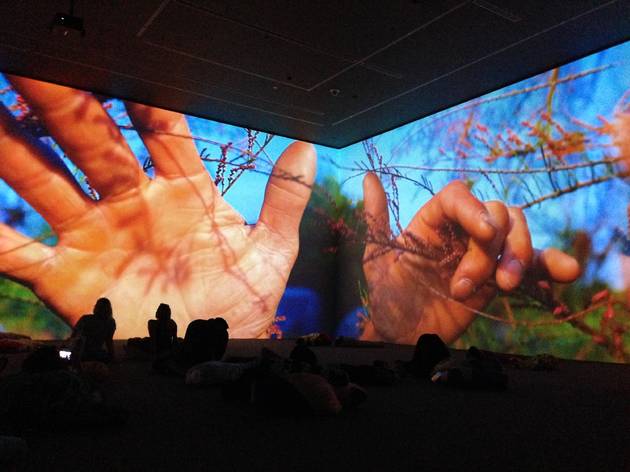 6/6
Mercy Garden Retour Skin installation view at Museum of Contemporary Art Australia for Biennale of Sydney 2014
Time Out says
Dive into the joyful, colourful, ecosexual world of Swiss artist Pipilotti Rist this summer at the MCA
By popular demand, Pipilotti Rist: Sip My Ocean will be open until 9pm on February 7, 8, 14, 16, 17 and 18.
You don't have to make a choice between the beach and the gallery this summer: head to the Museum of Contemporary Art and you can submerge yourself in a video aquarium of supersized nature and underwater scenes, or lie beneath lily pads, as if on the bottom of a giant pond. These are just two of the works in their summer exhibition Pipilotti Rist: Sip My Ocean, curated by the MCA's Natasha Bullock.
Read our guide to five must-see works in Pipilotti Rist: Sip My Ocean.
Below we dip into this pioneer of video art and "evangelist for happiness".
Who is Pipilotti Rist?
It's tempting to draw a line between Rist's childhood and the art she makes. She grew up in a small village of the Rhine Valley, surrounded by nature, with Protestant parents – a doctor and a teacher – and a happy chaotic household of five children; born Elisabeth, she was nicknamed after the spunky Swedish child heroine Pippi Longstocking. It's surely not drawing a long bow to say this is conducive to Rist's almost evangelical dedication to celebrating the body, nature and happiness.
It's equally tempting to draw a line between the launch of MTV in 1981 (when Rist was 19) and both her decision to study video at Basel's School for Design, and the grainy, pixelated aesthetic and musical homage of her early video works. Mid-art school she joined all-female Swiss art rockers Les Reines Prochaines; and by 1997, in her mid-thirties, she made her mark internationally at the Venice Biennale, with the video 'Ever Is Over All' (to which Beyoncé's 'Hold Up' video paid homage almost 20 years later).
What does she care about?
Colour, nature, the body, technology – and dissolving the boundaries between these things. Rist describes herself as part of a larger movement that "fights for colour", but she argues that in fact "I'm not more colourful than life is – we are just already used to seeing images that have less colour, because we are so fearful that otherwise the white skin will look tinted. If Africa had developed celluloid or video, it would have looked different."
Her work
There's a happiness and simple joy to Rist's works; they celebrate nature and the body in an almost naive way – gender is fluid, nudity has sensuous rather than sensual connotations (a notable exception being her 1992 video 'Pickelporno'), and human and nature appear symbiotic, part of the same fabric.
Her recent video and projection works are deployed in immersive environments – such as the room installation 'Mercy Garden Retour Skin' (shown at the MCA as part of the 2014 Biennale of Sydney), in which viewers can sit surrounded by a kaleidoscopic display of supersized nature. The effect is psychedelic – a suggestion that's aided and abetted by the large floor cushions and the invitation to take your shoes up, kick back and relax.
It wasn't always so mellow, however; Rist started with single-channel video works that were altogether more 'spiky', with a feminist and almost punk sensibility. "She talks about how she wanted to embrace hysteria, be proud of exploding into millions of pieces," says Bullock. "These early works – such as 'Pipilotti's Mistakes' (1988) and 'I'm Not the Girl Who Misses Much' (1986) – are very much about an exploration of female pleasure and hysteria."
Visitors to Sip My Ocean will be able to see how Rist's work has changed over time, moving somewhat chronologically through the exhibition. "Her interests have become more about a 'mildness' with one's self," says Bullock. "It's less hysteria… the emotion is less transparent. She creates these spaces where people can lie on beds, lie on the floor, walk through net curtains – and there's this instant 'togetherness' in our appreciation of the work. There's always a little edge to it, however," she adds.
Rist will present an ambitious new large-scale environment as part of Sip My Ocean: an entire apartment, in which visitors are bathed in projections. "The whole room will come alive," says Bullock.
Sip My Ocean is part of the Sydney International Art Series, which within the last two years has brought Grayson Perry and Tatsuo Miyajima to the MCA.
See who's at the AGNSW this summer – and check out our hit list of the best art to see in Sydney this month.
Details