TWT Creative Precinct Block Party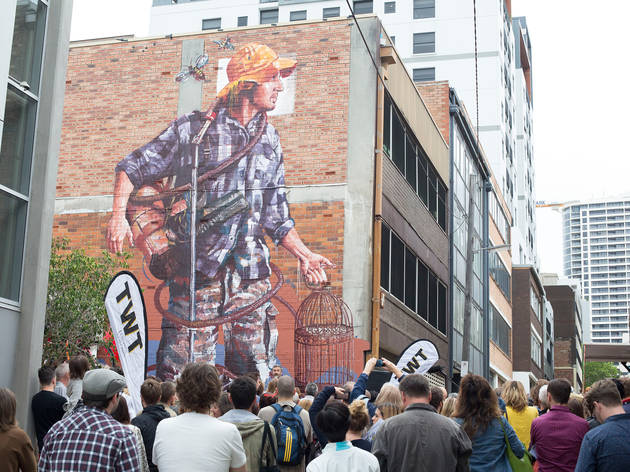 St Leonards' arts hub is throwing a free party of open studios, exhibitions, performances, music and workshops
Head to downtown St Leonards on the last night of Art Month Sydney to check out the artists, creatives and businesses within one of Sydney's largest creative workspace precincts – home to around 70 creative types drawn from visual arts, performance, music and film.
The Block Party is a chance to see what these artists, performers and creators do – from live music to installations and exhibitions, performances, and workshops with artists. This year's party even includes roller racing, an art market where you can buy work and get your portrait done, dance performances, a puppet show and a chocolate hunt for kids (sorry, grown-ups).
As part of the event, Korean-born Australian artist Sophi Odling will unveil a mural in Atchison Lane that she's been working on in the lead-up to Art Month. It joins works in the precinct by Beastman, Jodee Knowles and Fintan Magee.
Established in 2014, the TWT Creative Precinct is an initiative of property developers behind the T1 apartments in St Leonards, who gave over space adjacent to the development for the use of small arts organisations and creative industries.
The precinct is managed by artist-run-initiative Brand X (who previously managed the Queen Street Studios project on Broadway), and is home to ME Art Space, cre8tiv studios, Bsidesound, Kind Of gallery, The Photography Factory, Brand X, PLATFORM72 and Cicli Spirito.
Check out our hit list of the best things to do in Sydney this weekend.