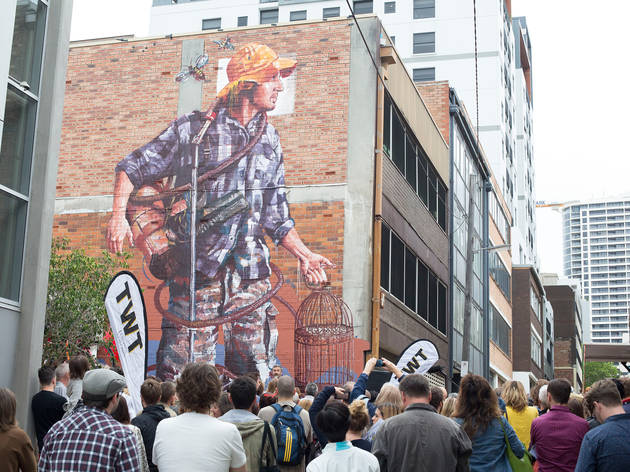 1/2
Mural by Fintan Magee – TWT Block Party 2014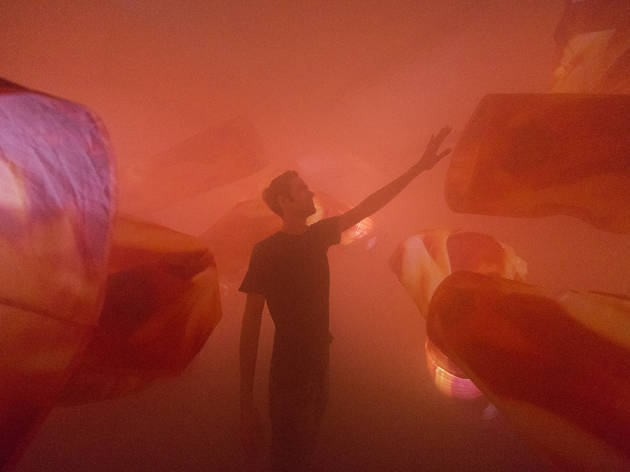 2/2
William Mansfield 'Inferno' (2016) installation view at Firstdraft
St Leonards' arts hub is throwing a free party of open studios, exhibitions, performances, film screenings, music and workshops
Head to downtown St Leonards this Friday night to check out the artists, creatives and businesses within one of Sydney's largest creative workspace precincts – home to around 70 creative types drawn from visual arts, performance, music and film.
The Block Party is a chance to see what these artists, performers and creators do – from live music and short film screenings to installations and exhibitions, performances, and workshops with artists.
Highlights include an open studio with Michaela Gleave, the chance to see William Mansfield's 'Inferno' installation (first seen at Firstdraft gallery in May 2016), a crochet workshop with artist Tina Fox, and a '90s games party at the Lonely Kids Club store, to celebrate the launch of their new range (read: you can play N64 with Mario Kart and Smash Bros).
To mark the occasion, street artist Brad Eastman – aka Beastman – was commissioned to create a two-storey high mural in Atchison Lane, which will be unveiled on the night.
Established four years ago, the TWT Creative Precinct is an initiative of property developers behind the T1 apartments in St Leonards, who gave over space adjacent to the development for the use of small arts organisations and creative industries.
The precinct is managed by artist-run-initiative Brand X (who previously managed the Queen Street Studios project on Broadway), and is home to ME Art Space, cre8tiv studios, Bsidesound, Kind Of gallery, The Photography Factory, Brand X, PLATFORM72 and Cicli Spirito.
Check out our hit list of the best things to do in Sydney this weekend.