Bartender of the Year: Time Out Bar Awards 2018
He's the ultimate co-pilot for a good night out in Sydney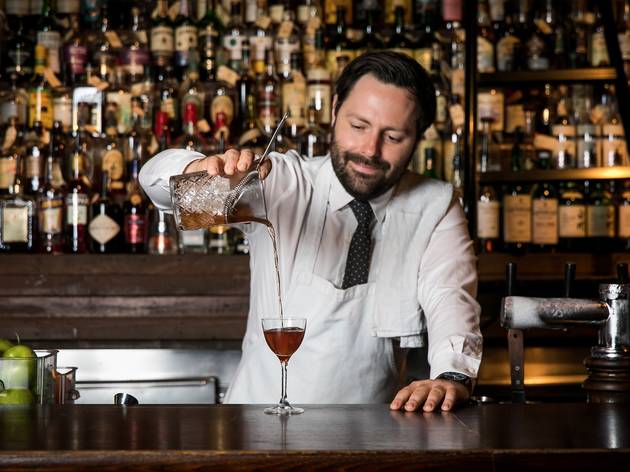 Winner: Stuart Morrow, the Baxter Inn
If you didn't know the name already, you'll certainly recall the face from some of your hazier nights down at the Baxter Inn. Stuart "Chewy" Morrow is exactly the sort of spirit guide you want when you're ready to do some serious drinking, or even just some light-hearted boozing on your way home.
The Baxter Inn is famous for their service. They're the kind of establishment that ensures no shaky new starter will whisk you glass away before you've had your last sip, or play silly buggers with your whisky-to-water ratio. The bartenders here are forged in the fires of a maxed-out crowd every night of the week, and the result is an unique alloy of banter and bar craft.
The key to Baxter Inn is to get in early, or much later, get a good lean on up at the bar and outsource the hard choices. When you're being served by someone like Morrow, who has clocked 16 years in the bartending game and four years at the Baxter Inn, you don't have to think too hard; just make sure you have spending room on your card and see where the night takes you.
An overbar tour of the great Scotch regions is a given, but it's worth making them do more than pop corks. Heck, you don't even need to go near a barrel-aged spirit when they'll mix you up an Alaska – a potent mix of gin, Yellow Chartreuse and orange bitters. It's as refreshing as a walk around a glacier.
But it really is the banter that brings people back. Sydney has come a long way over the last ten years since our very first Time Out Sydney Bar Awards. There're a lot of places doing good drinks, but according to Morrow, the art of chat is the secret ingredient: "A guest may come back for a great drink, but they will come back time and time again for good conversation."


We also love...
Thor Bergquist, PS40
He might share his name with a Norse god, but in spirit he's more a Willy Wonka of cocktail creativity.

Paul Hammond. Bulletin Place
It's no easy feat changing the menu every single day, but Paul Hammond is the guy with his hand on the tiller, keeping this fruit-forward cocktail bar on an even keel.
Rachael Merritt, Jangling Jack's
They call her the Scottish Wonder, and there's no denying that Rachael Merritt has the goods when it comes to banter and bartending.
Adrian Sanchez, Jacoby's
He's the cheery captain of Sydney's favourite holiday bar, as happy to sling you a serious Daiquiri as he is filling a plastic clam shell with the full tiki flavour rainbow.
See all the winners from the Bar Awards
All the best cocktail bars, wine merchants, neighbourhood boltholes, party palaces and snack suppliers that took out the top gongs at this year's Time Out Sydney Bar Awards.