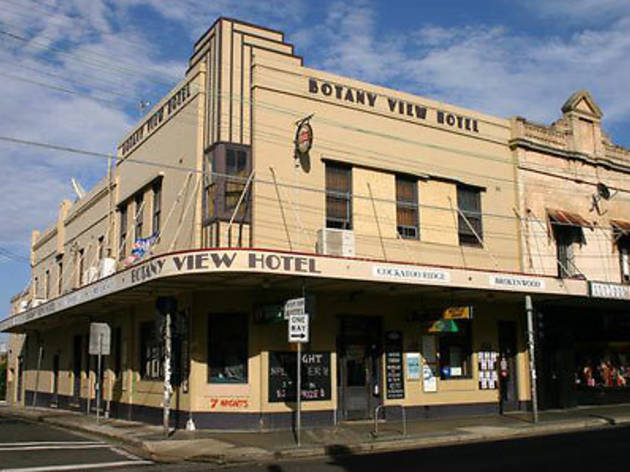 A country-style pub in the Inner West is sticking to its guns
We're not saying that the old ways are always better, mostly because we're not octogenarians yelling at the kids on our lawn, but there's no denying that many of the best elements of a local pub were perfected long ago. The non-negotiables are fresh beers in cold clean glasses, tunes, trivia and a solid counter meal. Bonus points are awarded for a little open-air terrace for alfresco bevvies, a beer list that embraces the old ways but doesn't fear the new wave of craft breweries, and a super-chill attitude. That's a top score for the Botany View then.
This old boozer is hidden down on South King Street by the crossroads of Newtown, Erskineville and St Peters, and there's no denying it's a bit of a diamond in the rough – but it never lacks for company. The counter meals here are a big part of the Botany View's appeal. They're outsourced to Darley Street Bistro, and they do really solid work. You order separately at the kitchen window in the very centre of the pub and then choose your home base. Perhaps the well-worn front bar is your speed? Or maybe you've brought the whole crew for dinner and drinks – that's when the big tavern tables upstairs come in handy. But the most popular spots are out on the terrace.
On Thursdays trivia is hosted by Newtown identity Reta (you may know her from the Marly trivia on Wednesdays); on Fridays they are all about the raffles; and on the last Sunday of every month they host a blues jam session, which is a bit of fun. Of course, all of these activities are best accompanied by a frosty brew – either an old flame like Cascade, Carlton and Reschs, or a new love from the craft catalogue like an Akasha, Shark Island, 4 Pines, Batch, Willie the Boatman, Shenanigans or Merchant Brewing Co beer. Better yet, grab a $16 tasting paddle. What you want in an old pub is good food, great beer and friendly vibes, and the Botany View delivers in spades. That's why we love it.
Venue name:
Botany View Hotel
Contact:
Address:
597 King St
Newtown
2042