Try these exclusive cocktails in the CBD over summer
The best bars in the city are celebrating Aussie spirits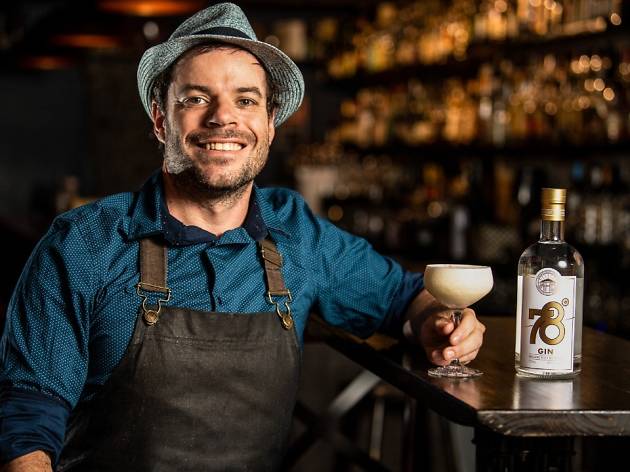 Forget after-work sessions – did you know that some of the best bars in Sydney's CBD are open on Sunday? And with all the end-of-year catching up and Christmas shopping taking you into the city on weekends, it's good to know there are good places opening their doors.
In a patriotic vein, these three bars – Old Mate's Place, PS40 and Burrow Bar – will be celebrating Aussie spirits by offering special cocktails throughout summer and beyond. Get into them on a warm Sunday arvo, or anytime before the end of the year.
Time Out's Bar of the Year 2019 is a lush oasis on a rooftop in Clarence Street. It's hard not to feel optimistic up here, even though scientists agree that in the not-too-distant future we'll be processing insects for our protein needs. So with that in mind, co-owner Dre Walters has come up with a cocktail called Forward Thinking that combines the lime and coriander flavours of Something Wild Green Ant Gin from the Adelaide Hills with a shiso, green apple and snow pea reduction, verjuice, and John D Taylor's Velvet Falernum, served in a large rocks glass and garnished with ants and micro shiso. If you're dropping by on a Sunday the hours are 2pm to 2am.
There is no bar in Sydney embracing the mad craft of cocktail experimentation as whole heartedly as the team at PS40, nor any having as much fun doing it. Inspired by Adelaide's famous South African eatery of the same name, Michael Chiem's special Africola cocktail takes Mr Black cold brew coffee liqueur and adds PS40's own Wattle Cola and warm coconut foam. Why would you even think of having an Espresso Martini? Sunday hours are 6pm to midnight.
This hidden basement bar in a narrow room off a city laneway is a place to meet the crew and loosen the collar with a cocktail list that isn't taking itself too seriously. For summer, 78 Degrees Gin forms the cornerstone of owner Bryce McDonough's out-of-this-world More Silk than Saturn cocktail. A spin on tiki favourite the Saturn, it mixes up orgeat, falernum and lemon passionfruit butter with the Adelaide Hills small batch gin for a fruity, smooth summer tipple. Get down there on a Sunday from 4pm to midnight.