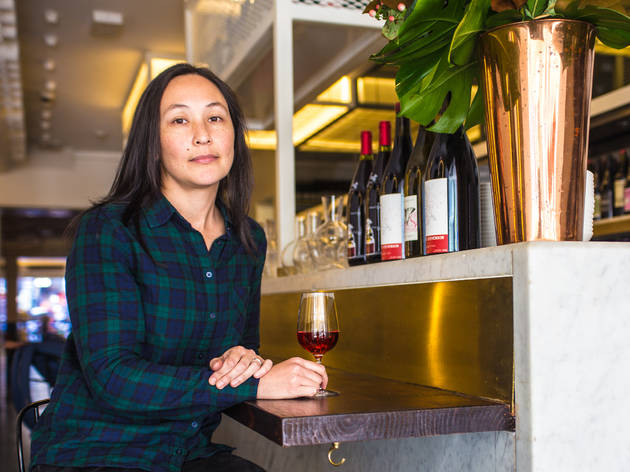 Why Sydney is loving natural wine
Low intervention, organic, biodynamic and additive free wine making is on the rise, with more and more Sydney venues showcasing natural wines on their menus. Time Out's Bars and Pubs Editor investigates, with a glass in hand
If we were going to pin our happiness on any one scientific discovery, it would probably be fermentation (sorry antibiotics, you're good too). Without fermentation we wouldn't have yoghurt, bread, beer, sauerkraut, cheese or wine, and that's a world we have no truck with.
Thanks to industrialisation these products are all widely available now, but mass production can also eliminate many desirable qualities and flavours in our food and drink. This is where the natural wine makers come in. They are producing wines with as little human intervention as possible, and the results are down right delicious.
Just ask sommelier Katrina Birchmeier (above), who used to pack the wine list at Tasmania's Garagistes (RIP) with natural drops long before it was the done thing, and is now responsible for the wine list at Darlinghurst's Bar Brosé, which is 95 per cent natural wines.
"Ultimately wine is not synthesized in the sense that it's all made from grapes, but there's different levels of additives and different ways of making wine that make some less natural and some more natural," explains Birchmeier. "It's not just the wine making, but the framing – natural wines are from organic or biodynamic farms so you've got healthy soil, sustainable growing practices, no chemicals. On the wine-making side of things you'd be looking at wines that are made with natural yeast."
This last point is key for natural wine fans, as wild yeasts are considered part of the terroir. According to Professor Eileen Scott, an expert in wine and viticulture at the University of Adelaide, we can thank the accumulated nutrients on the grape's surface – from the berry as well as from passing insects, soil particles in dust and other environmental sources – for these wild yeasts. This nutrient supply allows growth of species of Candida, Kloeckera, Pichia, which are needed to turn the young grape juice (must) into wine.
Preservatives are also frowned on for the same reasons. "There is a sort of a vibrancy that exists because you know these wines are still alive in many ways – they haven't been doused with sulfur, it is a preservative but it also kills a lot of vibrancy of wine." Says Birchmeier, and she's not alone in her opinion.
Mike Bennie is co-founder and co-director of Rootstock Sydney, an annual festival dedicated to biodynamic and artisan wines, and a vocal supporter of more natural methods. "We give a shit about free range eggs, we give a shit about single origin coffee, we hit up farmers markets on weekends, and all those things are really important in wine as well. Rootstock Sydney was really about bringing to people's attention that all of this goes together and that we should be drinking better too," he says.
"What you see with natural wine production is wines that feel purer to drink, have more vibrant aromatic and flavour profiles, wines with natural acidity that is vivacious, more refreshing and ultimately feels a bit more nourishing."
Luckily for us there are now plenty of opportunities to drink natural wines in Sydney.
It's appearing on more menus across the city, but it also means competition for the wines is growing. "Back when I had Garagistes I could buy three dozen of something that now you get an allocation of 6 bottles. And that's just in the last six years," says Birchmeier.
"Sometimes we'll have a wine for a couple weeks and that's it. It breaks my heart. Selling the last bottle of a favourite is really hard."
Where to drink natural wine in Sydney
The popularity of natural wine is on the rise in Sydney, so when we chatted to Katrina Birchmeier and Mike Bennie about why people are loving low intervention, organic and biodynamic wines they also told us their favourit Sydney spots to drink the good stuff.
Best selling Time Out Offers