Sydney's Night Noodle Markets are back at Hyde Park from Oct 6-23 as part of Good Food Month. This year's hawker-style market will be cash-free, like Chippendale's Spice Alley, which should mean less time waiting in lines. To help speed things up even more, we've picked out the five dishes you should try when the markets open on Thursday, including smoky chicken skewers from Hoy Pinoy and soft shell crab buns from House of Crabs.
1. Pork belly or chicken skewers from Hoy Pinoy
There's three ways you can tell if Hoy Pinoy is around: first is the smoke which rises from the Filipino-style charcoal barbecues; secondly, you'll see people wielding the oversized skewers like meaty swords; and finally you'll see a very long snaking line. It's one of the most popular stands at the NNM, so you'll most likely have to queue for a skew, but the smoky chicken thigh or juicy pork belly numbers are worth the wait.
2. Roti canai from Mamak
Go for this old favourite from one of Sydney's much loved cheap eateries and you won't regret it. Pronounced like 'chan-eye', roti canai has buttery soft layers of pastry cooked crisp on the outside and doughy in the middle, which is perfect for mopping up curry sauce. They're also doing a Nutella-topped one if you've got a sweet tooth.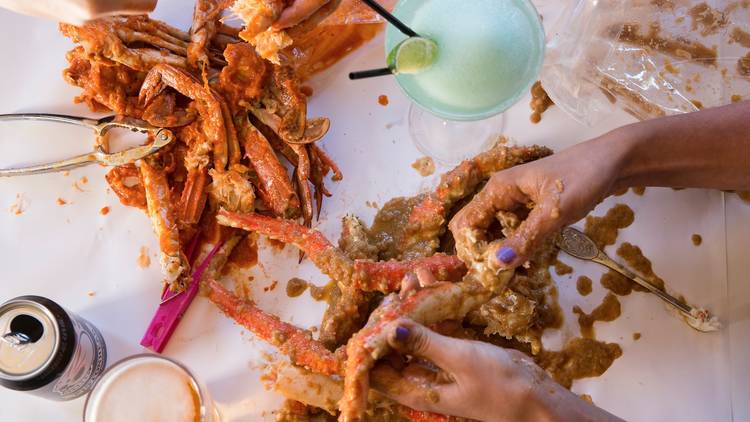 Surry Hills' home of crustaceans will be making its Noodle Markets debut this year, dishing out soft shell crab in a crisp Vietnamese bun. Fun fact: soft shell crabs aren't a species – it's any kind of crab which has recently molted their exoskeleton, so the new one is nice and soft.
4. Gua Baos at Mr Bao
They're a favourite at the Brewery Yard and Bondi Markets so expect queues for these handheld Japanese Taiwanese fusion snacks. Pillow-soft buns sandwich a meaty filling like crisp pork belly or chicken karaage, plus crunchy pickled veggies, fresh herbs and seasoned mayo.
Last year it was the ramen burger; this year we're predicting the buzz will be around the Raindrop Cake. Time Out tried one overseas, and it reminded us of a breast implant. It has a watery-jelly consistency which is sprinkled with kinako – a soft soy bean flour – and treacle-like brown sugar syrup.
The Night Noodle Markets are found at Hyde Park until October 23.