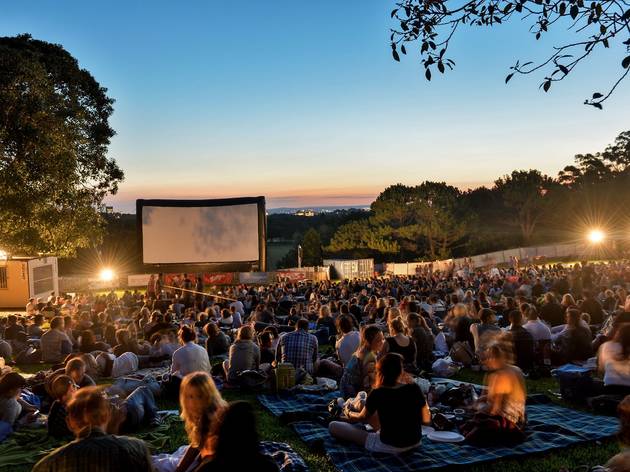 It's back! Movies under the stars in Centennial Park will make you realise why you love Sydney again
Moonlight Cinema returns to Belvedere Amphitheatre in Centennial Park for the 2017-2018 season, with 21 advanced screenings, 25 recent releases, and a bunch of fan favourites.
A red-carpet advanced screening of Three Billboards Outside Ebbing, Missouri is a highlight of the Moonlight season. From filmmaker Martin McDonagh (In Bruges), the film is both black comedy and searing drama about a small-town mum (Frances McDormand) who goes to extremes in the name of justice.
Jessica Chastain's new flick Molly's Game, a Cold War love story between a sea monster and a mute cleaner The Shape of Water, and the anticipated comedy Pitch Perfect 3 are other highlights. Awards contenders in the program include the inspirational Breathe, Winston Churchill biopic Darkest Hour and Spielberg's stop-the-presses drama The Post.
Australian movies in the season include Stephan Elliott's comedy Swinging Safari, Warwick Thornton's western Sweet Country, and Shane Jacobson's latest comedy, The BBQ. Retro favourites Dirty Dancing, Back to the Future and Love Actually will screen at the bargain price of just $13 a ticket.
Family films include an adventure into the Land of the Dead with Mexican fantasy Coco, the big-hearted children's classic Ferdinand, and another squirrel season in The Nut Job 2: Nutty by Nature. On Saturday December 16, bring your favourite Teddy Bear down to Moonlight for the world's biggest Teddy Bear's picnic and an advanced screening of Paddington 2. Family passes to select G and PG rated films at Moonlight are just $50.
As always the Moonlight Cinema food truck and bar can supply you with comestibles, but you're welcome to BYO food and drinks too.