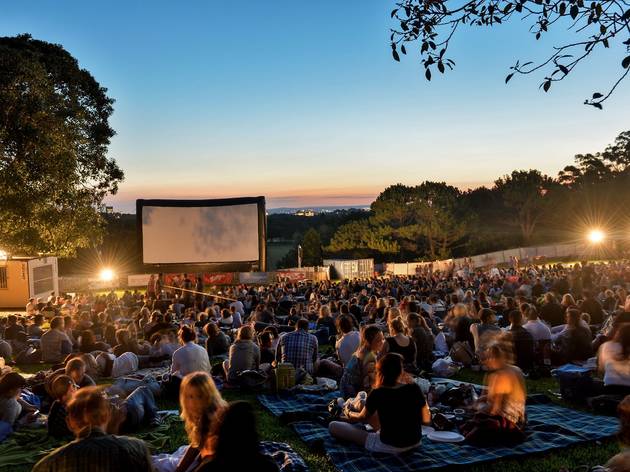 It's back! Movies under the stars in Centennial Park will make you realise why you love Sydney again
There's nothing quite like a film under the stars in the beautiful surrounds at Belvedere Amphitheatre in Centennial Park. Settle back with friends and family for a movie and as always, the Moonlight Cinema food truck and bar can supply you with comestibles, but you're welcome to BYO food and drinks, too.
This summer's programming has the usual mix of acclaimed Oscar hopefuls, kids' favourites and retro screenings to satisfy the nostalgic urges. Time Out is especially looking forward to The Favourite – the new film by the director of The Lobster that portrays the outrageous rivalry of two cousins in the court of England's Queen Anne in the 18th century, with Olivia Colman, Rachel Weisz and Emma Stone.
Green Book follows a distinguished African-American pianist (Mahershala Ali) as he's chauffeured through redneck southern towns by a tough white New York City bouncer (Viggo Mortensen) in 1962.
Mary, Queen of Scots pits Mary (Saoirse Ronan) and Elizabeth I (Margot Robbie) against each other in a struggle for the throne of England. Meanwhile balls-out Will Ferrell-John C Reilly comedy Holmes and Watson has the former Step Brothers playing an idiotic Sherlock Holmes and Dr Watson, to Ralph Fiennes' supervillain Moriarty.
Widows promises to knock your socks off: Viola Davis and Elizabeth Debicki star in crime thriller about widows banding together to pull off their late husbands' big heist. The director is Steve McQueen (Shame, 12 Years a Slave).
We can also recommend Gaga and Bradley Cooper in the stunning A Star is Born; Joel Edgerton's directorial triumph Boy Erased, about 'gay coversion therapy'; refreshing comedy Crazy Rich Asians; clever family film Smallfoot, about a tribe of yeti who refuse to believe humans exist; and we'll throw in a shout-out for Richard Curtis's immortal Christmas romcom, Love Actually – because we're really just softies at heart.
Tickets to all screenings up till the end of January are now on sale.