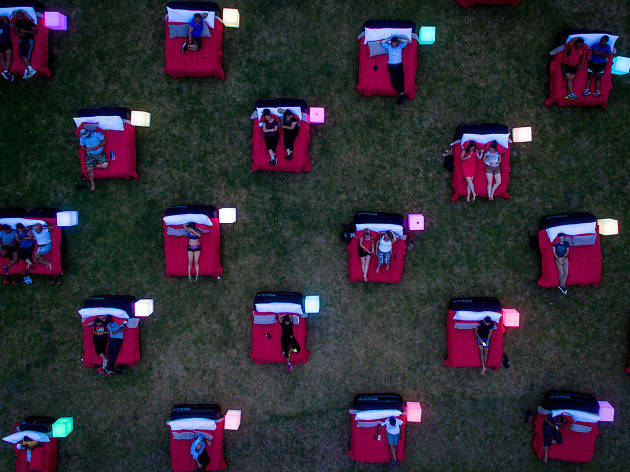 The outdoor bed cinema concept returns in 2017
Q. The summer won't last forever, movie fans, so what will you do for your outdoor cinema fix when autumn draws in?
A. You'll head to Parramatta Park for the triumphant return of outdoor bed cinema, now under the name Mov'in Bed.
Crawl under the blankets with a glass of wine and settle in for another beautifuly curated season of movies you actually want to see as opposed to just the latest stuff the studios are pumping out.
Multi-award-winning international movies such as Mustang, The Age of Shadows and A Royal Affair are part of the season. Beloved animations from Japanese director Hayao Miyazaki will screen too (Spirited Away, Princess Mononoke).
On Classic Sundays, expect two of Steven Spielberg's best (ET and Jurassic Park) as well as the David Fincher chiller Seven (a must-see), The Lord of the Rings: The Return of the King and Disney's The Lion King.
Kids' nights offer The Secret Life of Pets and Zootopia, and acclaimed supernatural shocker The Conjuring 2 will have adults cowering under the covers.
Highlight films of 2016 will screen including mulitple Oscar-winner The Revenant, Arrival and The Jungle Book.
Be speedy though if you're up for this, as there are just 150 beds per night (accommodating up to three people – cosy).