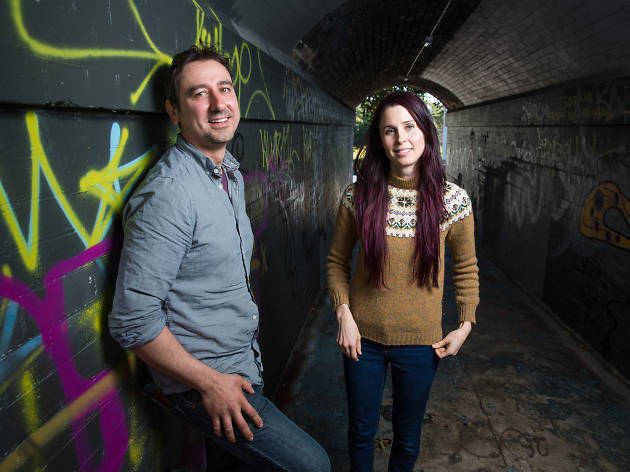 SUFF's co-directors enlisted a living legend of illustration to design the poster for their tenth outrageous festival
Sydney Underground Film Festival reaches a milestone this September, celebrating ten years of extreme, marginal and adventurous filmmaking.
From taboo sex to drug binges, from conspiracy theories to occult mania, from surreal comedy to the furthest reaches of horror, SUFF has screened it all – and then some.
This year, co-directors Stefan Popescu and Katherine Berger have programmed a fitting line-up of movies old and new featuring such auteurs of the outré as John Waters, David Cronenberg and Todd Solondz, along with tributes to Tommy Wiseau and Brian De Palma.
The short film sessions are back as usual, focusing on kinky sex (Love/Sick), real-life stories (Reality Bites), mind-blowing surrealism (LSD Factory), weird Australian films (Ozploit), and what-the-hell-were-the-filmmakers- even-thinking? (WTF Shorts). This year, the most astonishing short films from the past decade of SUFF will be rescreened in a session called SUFF Blast from the Past.
Another special event this year is called the Saturday Morning All-You-Can-Eat Cereal Cartoon Party. Come in your pyjamas, eat sweet cereals and settle in for two hours of retro cartoons from the '40s to the '80s, along with retro commercials.
In a design coup, the poster for this year's SUFF has been drawn by Ralph Steadman, the legendary UK illustrator who has worked with Hunter S Thompson, Frank Zappa and many more counterculture icons.
"Every year we pretty much say how cool it would be to get Ralph Steadman to do the festival key art," Katherine Berger tells Time Out.
"Being our tenth year – with a bit of extra pressure too come up with something memorable – I literally just tried a number of email addresses. Amazingly, a pretty sappy email about how it would be a dream come true if he could do the artwork reached him! A living artistic legend like that responded – short and sweet – but happy to do it. Farkin' amazing!"