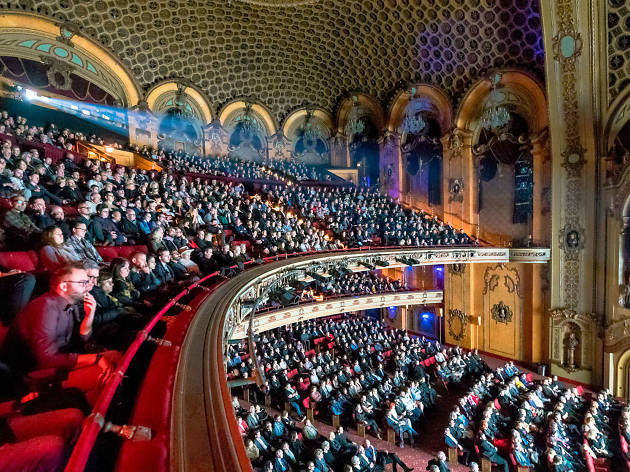 The best Sydney Film Festival movies you can still get tickets to
Be quick though – they're going fast
Sydney Film Festival is here and there are plenty of reasons to be super-excited. But, bubbow – many of the hot ticket movies are nearly or completely sold out. Relax: we're here to tell you which of our 60-odd top picks still have a few tickets left to selected screenings. See below, divided into categories. This is as up to date as we can make it on Wednesday June 5 – we'll update it later in the festival.
Too late the the party? Check out what's on at the Melbourne International Film Festival in August.
#metoo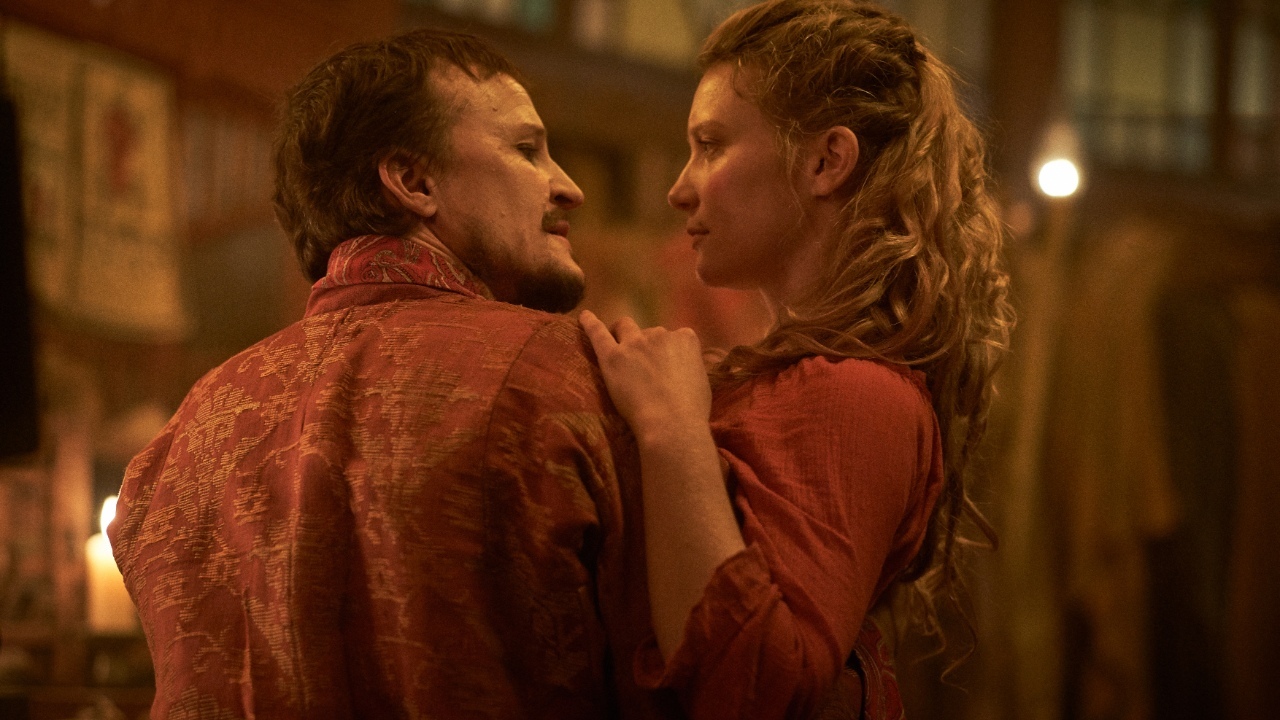 Judy and Punch. Photograph: Supplied
Divine Love
This Brazilian drama portrays the troubled nation eight years from now as a repressive state where sex and religion are intrinsically intertwined. Book tickets.

God Exists, Her Name is Petrunya
A downtrodden woman stands up for her rights and against the mob in a feminist parable from Macedonian director Teona Strugar Mitevska. Book tickets.
Judy & Punch
The debut feature for Australian actor Mirrah Foulkes is a deranged feminist revenge tale about a pair of puppeteers (Mia Wasikowska and Damon Herriman) in a mythical town called Seaside. Book tickets.
Leftover Women
This documentary explores the plight of unmarried women in China, stigmatised for being single, and the phenomenon of 'rent-a-boyfriends'. Book tickets.
Maiden
The first all-female crew to compete in the famous Whitbread Round the World yacht race shattered sexist attitudes over 30 years ago. This inspiring documentary follows the entire saga. Book tickets.
The Nightingale
Jennifer Kent's searing follow-up to The Babadook is a period revenge piece in which a young Irish convict (Aisling Franciosi) in Van Diemen's Land goes in pursuit of a British officer (Sam Clafin). Book tickets.
The Souvenir
Tilda Swinton stars alongside her daughter, Honor Swinton Byrne, in a widely acclaimed coming-of-age story from director Joanna Hogg about a shy student who becomes involved with an untrustworthy man (Tom Burke). Book tickets.
Untouchable
This documentary chronicles the fall of Harvey Weinstein and features interviews with several women who accused him of sexual misconduct, including Roseanna Arquette and Paz de la Huerta. Book tickets.
Visionary women directors
Animals. Photograph: Supplied
Animals
Australian director Sophie Hyde helms a story of friendship and feminism in which two party-hard friends in Dublin (Alia Shawkat and Holliday Grainger) deal with pressure to settle down. Book tickets.
Bedevil
Artist Tracey Moffatt filmed this extraordinary 1993 feature film, a trilogy of supernatural tales, on stylised studio sets. It's eerie, bizarre, the first feature film ever directed by an Indigenous woman, and screening in David Stratton's retrospective of Australian women filmmakers. Book tickets.
Blinded by the Light
Director Gurinder Chandra made a star out of Keira Knightley with her 2003 film Bend It Like Beckham. Her inspiring new film is about a Pakistani British teenager whose life changes when he discovers the music of Bruce Springsteen. Book tickets.
Booksmart
The directorial debut for actor Olivia Wilde is a coming-of-age comedy about two 'good' girls who decide to cut loose on their last day before graduation. Book tickets.
The Cheaters
Also screening in Stratton's retrospective, The Cheaters is a 1930 silent film directed by Paulette McDonagh, about an embezzler and his daughter (Paulette's sister, Marie Lorraine). Book tickets.
Cléo from 5 to 7
The late Agnès Varda was a towering figure of the French new wave who frequently explored how women are perceived in society. The festival will screen ten of her best movies, including this 1962 film about a young woman waiting for the results of a medical test. Book tickets.
Dirty God
A young woman scarred after an acid attack (played by burns victim Vicky Knight) adjusts to life with her new appearance. Book tickets.
High Life
Robert Pattinson, Juliette Binoche and André 3000 star in a peculiar and kinky sci-fi movie for director Claire Denis, playing astronauts on board a doomed deep-space mission. Book tickets.
Ladyworld
A natural disaster traps eight teenage girls in a house, and things go south, Lord of the Flies-style, in Amanda Kramer's film featuring a raft of new young talent including Uma Thurman's daughter Maya Hawke. Book tickets.
Love Serenade
Shirley Barrett's darkly hilarious film won the Camera D'Or in Cannes in 1996, and is screening in David Stratton's retrospective. It depicts two smalltown sisters (Miranda Otto and Rebecca Frith) who compete for the affections of an oily radio DJ (George Shevstov). Book tickets.
Truth to power
O Lucky Man! Photograph: Supplied
Marighella
Narcos star Wagner Moura, who played Pablo Escobar, has made this film about the author who took on Brazil's police state in the late 1960s (the country's current authoritarian president, Jair Bolsonara hates it). Moura will be in attendance. Book tickets.
Official Secrets
This true-life thriller stars Keira Knightley as the British whistleblower who leaked information about the invasion of Iraq and faced prison for it. Book tickets.
O Lucky Man!
Lindsay Anderson's surreal 1973 epic stars Malcolm McDowell (A Clockwork Orange) as a young coffee salesman whose misadventures across England deconstruct the mores of capitalist society. It's a bizarre classic, screening as part of the All Night Cine Move-in marathon. Book tickets.
The Public
Emilio Estevez's film concerns homeless people taking over Cincinatti's public library to shelter from the bitter cold and has an ensemble cast including Taylor Schilling, Alec Baldwin and Michael Kenneth Williams. Book tickets.
Sorry We Missed You
The timely new drama by British veteran protest filmmaker Ken Loach is about a working-class family struggling under the gig economy. Book tickets.
XY Chelsea
The makers of this intimate portrait of whistleblower Chelsea Manning were granted exclusive access to Manning and her diaries and were influential in securing her pardon from President Obama. Book tickets.
Asylum seeker issues
Hearts and Bones. Photograph: Supplied
Hearts and Bones
Set in Western Sydney, Hearts and Bones stars Hugo Weaving as a war photographer who befriends a Sudanese refugee with whom he is connected by a photograph that threatens to destroy them both. Book tickets.
Manta Ray
An intriguing Thai movie involves a Rohingya refugee rescued by a Thai fisherman whose place he assumes after his mysterious disappearance. Book tickets.
Sanctuary
Khaled is an Iraqi-born Dutchman who worked as an interpreter for the Coalition Forces during the Second Iraq War who has been looking for a safe place to live for ten years. He didn't find it in Australia – surprise, surprise. Book tickets.
Racism
Skin. Photograph: Supplied
Angelo
This film acerbically tells the story of Angelo Soliman (Makita Samba), a Nigerian slave who rose through the ranks of Austrian society in the 18th century. Book tickets.
The Final Quarter

The Final Quarter documents AFL champion footballer and Indigenous leader Adam Goodes' public call-out of racism against him. Book tickets.
In My Blood It Runs
In Maya Newell's documentary, ten-year-old Aboriginal prodigy Dujuan is a healer, speaks two Indigenous languages, and is a great hunter, but is being failed by the Australian school system. Book tickets.
Skin
Erstwhile Billy Elliot Jamie Bell plays a skinhead whose decision to reform himself requires the painful removal of the racist tattoos that cover his body. Israeli director Guy Nattiv won an Oscar this year for his short film on a similar topic. Book tickets.
Music
Her Smell. Photograph: Supplied
Amazing Grace
In 1972, Aretha Franklin performed two concerts at the New Temple Missionary Baptist Church in Los Angeles, which the late filmmaker Sydney Pollack filmed. After 46 years the film has finally been completed with the blessing of Franklin's estate. SOLD OUT.
The Chills: The Triumph & Tragedy of Martin Phillipps
NZ band the Chills nearly became huge at the same time as REM and the Pixies, but were beset by appalling luck. This doco centres on the mercurial frontman and his attempt to reboot the band 20 years later – Phillipps is planning on attending the screening. Book tickets.
David Crosby: Remember My Name
Rave reviews are bolstering this portrait of the ageing hippy and lynchpin of the Byrds and Crosby, Stills & Nash, who has a wealth of incredible anecdotes from the 1960s. Book tickets.
A Dog Called Money
PJ Harvey fans will flock to see this documentary that follows Harvey during the recording of the 2016 album The Hope Six Demolition Project. Book tickets.
Her Smell
Elisabeth Moss plays a strung-out trainwreck of an indie rocker in the early 1990s facing the decline of her career. This film also wins the award for best movie title in the festival. Book tickets.
Miles Davis: Birth of the Cool
A portrait of the great jazz trumpeter includes early photos, home movies, recording sessions artworks, and manuscripts, along with interviews. SOLD OUT.
Mystify: Michael Hutchence
Richard Lowenstein (Dogs in Space) has made a documentary about the about the late INXS lead singer using a wealth of rarely-seen footage. Book tickets.
Yesterday
What if you were a struggling singer-songwriter who woke up in a world where nobody had heard of the Beatles, and whenever you played one of their songs people were blown away by your songwriting talent? The festival will end on June 16 with the Australian premiere of this hotly anticipated Danny Boyle movie featuring a screenplay by Richard Curtis (Four Weddings and a Funeral). Book tickets.
Fascinating docos
The Elephant Queen. Photograph: Supplied
Anthropocene: The Human Epoch
Humanity's shocking crimes against the planet play out in this agonised documentary, from the slaughter of elephants in Kenya to German villages turned into coal mines. Book tickets.
Apollo 11
A thrilling doco about the 1969 moon landing screens on the brink of the event's 50th anniversary. Book tickets.
Diego Maradona
Academy Award-winning filmmaker Asif Kapadia's new documentary is a portrait of the famous soccer player. Book tickets.
The Elephant Queen
Narrated by Chiwetel Ejiofor, this nature documentary portrays female leadership in the animal kingdom in the figure of Athena, mother of an elephant herd in the African savannah. Book tickets.
Eternity
Lawrence Johnston's poetic 1994 Australian documentary Eternity, about the man who walked the streets of Sydney for decades writing 'Eternity' in chalk everywhere, has been restored and will screen in SFF 2019. Book tickets.
Hail Satan?
A witty and intelligent documentary portrays the Satanic Temple in the US, a church that believes Satan represents rebellion rather than evil. Book tickets.
It Started with a Stale Sandwich
To mark the 50th anniversary of Kaldor Art Projects, Samantha Lang's documentary tracks how Kaldor has brought innovative art projects to our shores. Book tickets.
The Miracle of The Little Prince
This documentary is about one of the world's favourite books, Antoine de Saint-Exupéry's The Little Prince, and the book's role in the preservation of Indigenous cultures and their endangered languages. Book tickets.
Picture Character
Where did emojis come from? Find out in this documentary about the difficulties of creating a new language :) Book tickets.
Horror & thriller
The Dead Don't Die. Photograph: Supplied
The Dead Don't Die
A deadpan comedy from veteran indie filmmaker Jim Jarmusch (Only Lovers Left Alive), The Dead Don't Die is has a cast of iconic Jarmusch actors Bill Murray, Adam Driver, Chloë Sevigny, Tilda Swinton and Tom Waits. SOLD OUT.
Endzeit – Ever After
This German zombie film from director Carolina Hellsgard depicts the journey of two female friends in a world where nature has unleashed a zombie plague in order to purge itself of the human plague. Book tickets.
The Golem: How He Came into the World
This 1915 German Expressionist silent movie concerns a rabbi who creates a clay golem brought the life with a demonic spirit to defend the Jews. It will screen accompanied by an original live score from electronic music producer Lucrecia Dalt. Book tickets.
I Am Mother
In this Australian-made sci-fi thriller, Rose Byrne plays a robotic mum who is raising a teenage girl (Clara Rugaard) in the wake of an obscure apocalyptic event. Their solitude is broken by the arrival of a blood-drenched woman (Hilary Swank). Book tickets.
In Fabric
A stylish horror-comedy from UK director Peter Strickland (The Duke of Burgundy) concerns a deadly designer dress that kills everyone who wears it. Marianne Jean-Baptiste (Secrets and Lies) stars with Julian Barratt and Gwendolyn Christie. Book tickets.
Monos
Teenage bandits living rough with a hostage lose their link to a command structure and go rogue in a Colombian thriller depicting the madness of child soldiering. Book tickets.
Parasite
The new film by Bong Joon-Ho (Snowpiercer, Okja) comes direct from winning the Palme D'Or in Cannes and is reported to be a tragicomic family thriller. SOLD OUT.
The Wind
This psychological horror piece takes place in a frontier log cabin where a lone woman (Caitlin Gerard) struggles to hold onto her sanity in a place where the wind never stops howling. Book tickets.
Queer
Pain and Glory. Photograph: Supplied
Pain and Glory
Spain's filmmaking doyen, Pedro Almodóvar, has made a thinly disguised autobiographical drama summing up his own life and work, starring Antonio Banderas as an ageing filmmaker. Book tickets.
Portrait of a Lady on Fire
The Cannes Best Screenplay and Queer Palm winner is a period drama about the romance between a female painter and her model. Book tickets.
Suburban Wildlife
Shot on just $4,000 of donated money, this film by AFTRS graduate Imogen McCluskey follows four queer friends growing up in Sydney's outer suburbs. Book tickets.
The White Crow
Ralph Fiennes directs a biopic about the brilliant and temperamental ballet dancer Rudolf Nureyev (Oleg Ivenko) and his sensational defection from the USSR in 1961. Book tickets.