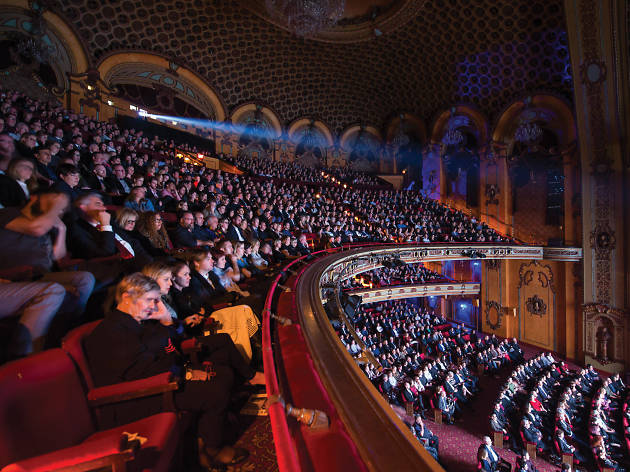 Time Out says
The 66th festival kicks off on June 5
The Sydney Film Festival returns on June 5 with more fascinating, thrilling and entertaining movies you won't find at the multiplex.
As always the State Theatre will be the epicentre of the action, with screenings also occurring across the CBD, Newtown, Cremorne, Randwick and Western Sydney.
Some just-announced highlights include Michael Winterbottom's new film The Wedding Guest, which stars Dev Patel as a contractor employed to kidnap a woman on the eve of her marriage.
Robert Pattinson, Juliette Binoche and André 3000 star in a peculiar and kinky sci-fi movie for director Claire Denis, High Life, playing astronauts on board a doomed deep-space mission.
Two documentaries are bound to cuase a stir. The Final Quarter documents AFL champion footballer and Indigenous leader Adam Goodes' public call-out of racism. Meanwhile, the 40-years-in-the-making Amazing Grace utilises never-before-seen footage shot by Sydney Pollack of a 1972 performance by Aretha Franklin. The legendary live show was recorded for Franklin's Grammy Award-winning album Amazing Grace.
PJ Harvey fans will flock to see A Dog Called Money, a documentary that follows Harvey during the recording of the 2016 album The Hope Six Demolition Project.
Oscar-nominated German epic Never Look Away, by Florian Henckel von Donnersmarck (The Lives of Others), will bow at SFF ahead of its general release on June 20. Inspired by the life of painter Gerhard Richter, it's about how German history impacts upon an artist's life.
Tokyo-based Australian comedian Chad Mullane plays Christ as a tiny doll in Jesus, a quirky comedy by 22-year-old Japanese filmmaker Hiroshi Okuyama.
In Fabric is a stylish horror-comedy from UK director Peter Strickland (The Duke of Burgundy) about a deadly designer dress that kills everyone who wears it. Marianne Jean-Baptiste (Secrets and Lies) stars with Julian Barratt and Gwendolyn Christie.
Intriguing Thai movie Manta Ray involves a Rohinga refugee rescued by a Thai fisherman whose place he assumes after his mysterious disappearance.
The Miracle of The Little Prince is a documentary about one of the world's favourite books, Antoine de Saint-Exupéry's The Little Prince, and the book's role in the preservation of Indigenous cultures and their endangered languages.
Lawrence Johnston's poetic 1994 Australian documentary Eternity, about the man who walked the streets of Sydney for decades writing 'eternity' in chalk everywhere, has been restored and will screen in SFF 2019.

David Stratton's annual series of classic films returns with Strats presenting ten great Australian movies by women directors. Highlights include Jennifer Kent's terrifying The Babadook (2014), Shirley Barratt's hilarious Love Serenade (1996) and Tracey Moffatt's extraordinary Bedevil (1993), but if we had to pick just one to see it would be the 1930 silent movie The Cheaters directed by Paulette McDonagh, about an embezzler and his daughter.
The 23 best films in last year's Sydney Film Festival – Time Out critics' picks.
Details