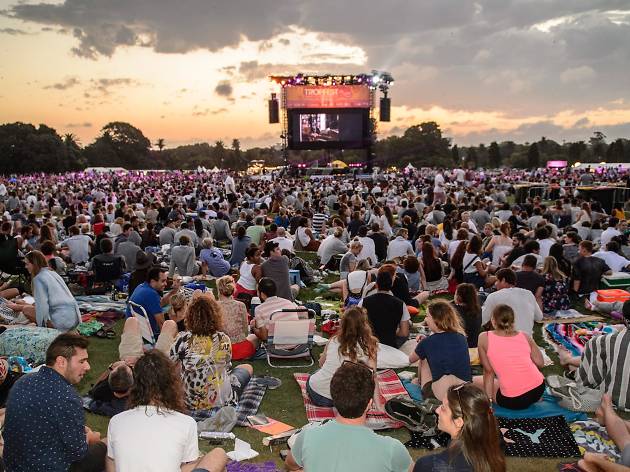 Tropfest is back in Parramatta Park with Susan Sarandon, Tim Minchin and 16 compelling short film finalists
Oscar winner Susan Sarandon (Dead Man Walking) heads the Tropfest jury this year as the world famous short film competition hits Parramatta Park for another year.
Sarandon, star of The Rocky Horror Picture Show and Thelma and Louise, will be joined on the jury by Garth Davis (director of Lion), Jennifer Peedom (director of Mountain), Rachel Griffiths (Aussie acting legend) and Logie award-winning Indigenous actor Rob Collins (Cleverman).
The one and only Tim Minchin will be among the musical performers at the event, which will be hosted by Triple J's Zan Rowe and comedian Susie Youssef.
The day's events begin at 10am at Event Cinemas Parramatta with Trop Jr – 17 short films by filmmakers 15 years and under. Things then move to the Crescent in Parramatta Park from noon, with the Tropfest Food Village opening for business.
At 4.30pm there will be screenings of the top three Trop Jr films. At 5.25pm the 15-piece Latin orchestra Cumbiamuffin will perform, and at 6.30pm will be a performance by rising R'n'B star Thandi Phoenix.
From 8pm begins the main event – the screening of the 16 Tropfest finalist films. Then the judges retire to deliberate and Tim Minchin hits the stage at 9.15pm. At 10.45pm the winners will be announced.
Tropfest 2018 finalist films
'The Last Time I Saw You' – a young Afghani asylum seeker stands up to school bullies.
'Regime' – a woman is driven to literal madness during the Syrian civil war.
'Last Man Standing' – a compelling documentary on Australia's last remaining motion picture processor, Werner Winkelmann.
'Rash Decision' – concerns a hilarious sexual health mix-up.
'The Life I've Seen' – an uplifting reflection of a Perth grandmother's life well lived.
'Boys Don't Cry' – Trop Jr 2017 winner Nick Ward makes his debut in the main competition with a call for awareness on male mental health.
'I'm Still Here' – an animation that documents a lover's farewell message at the world's end.
'Mi País, Tu País' – from California, this film explores prejudice against the Latin American community, and stars Gloria Laino (American Horror Story).
'Combination Fried Rice' – New Zealander comedian Urzila Carlson plays an overzealous conspiracy nut.
'Rock Bottom' – loudmouthed bugs take shots at Australian yuppies.
'Don't Rain on My Parade' – a day in the life of everyone's worst enemy.
'Paper Cut' – a comedy-thriller about a rogue printer from Aussie TV star Virginia Gay (Winners and Losers).
'Smooth' – Sydney's answer to La La Land, a musical, poses the ever-important first date question: what would Ryan Gosling do?
'Cannot Predict Now' – Jess prepares to move out of her childhood bedroom as her little sister Emily prepares to move in.
'Two Piece' – Ava is on the way to the beach with her mum Kelly and her little brother Wally, but she needs to find a new swimsuit.
'Phenomena' – a psychological thriller about Emma, a young woman who begins to see a second version of herself.
All 16 finalists utilise the 2018 Tropfest Signature Item, 'rose'. Prizes include: a shiny new Equinox LTZ valued at over $45,000; $10,000 cash courtesy of Kennedy Miller Mitchell; and a film immersion course and week of meetings in Los Angeles, with agents, studio executives and other industry professionals courtesy of the Motion Picture Association.
The easiest way to get to Tropfest is to get a train to Parramatta Station and walk the 1.2km to the Crescent.
Remember to to bring a bottle/s of water (there will also be cold bottles of water sold on site); sunscreen; a hat; food (or buy from food vendors throughout the park); booze (please drink responsibly); and a picnic rug.