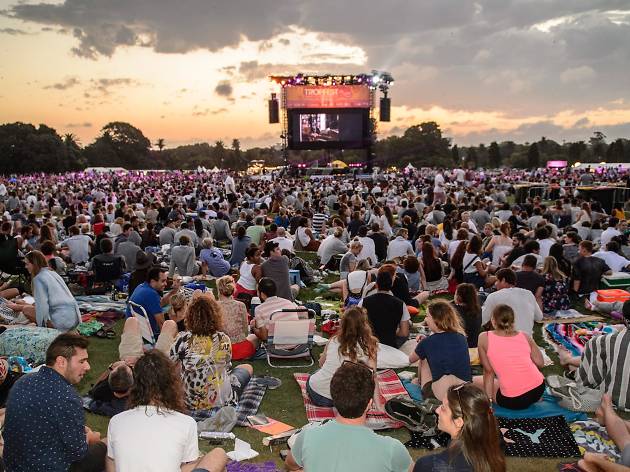 Here are ten things that are different about Tropfest in its landmark 25th year
It's at Parramatta Park, obvs.

The train to Parra takes 23 minutes – look for the Pineapple Express signage at Central Station – and it's then a 15-minute walk to Parramatta Park. You can also take the ferry.
It's on Saturday night, not Sunday night.
So you can kick on afterwards. May we suggest here.
You can now reserve a good spot without arriving early.
For $49 you can buy a spot in the Pineapple Patch, which includes a good view of the screen, a chair, access to the bar, and the opportunity to pre-order a picnic hamper – book through Ticketek.
The Tropfest Signature Item this year is 'pineapple'.
Entrants had to make sure there was a pineapple in their film. (The TSI ensures the films were made specially for Tropfest.)
The 16 films are half by women, half by men.
"Over the past 12 months, we've made a major effort to attract women to enter Tropfest – with help from people like Lucy Liu and producer Bruna Papandrea – so it's incredibly exciting to see that effort pay off," says founder John Polson.
The films screen from about 7.30pm and are:
'Accomplice' by Michael Noonan
'Another Olga' by Cecilia Rumore
'The Beekeepers' by James Dewhirst-Prineas
'The Birth' by Sarah Hatherley
'Can't I Sh#t In Peace?' by Julia Morris
'Diary of a Youtuber' by Holly Hargreaves
'Everyting Criss' by Olly Sindle
'Going Vego' by Christopher Burke, Mikey Owen, Hannah Bath
'Love, Steve' by Alex Roberts
'Meat and Potatoes' by Arielle Thomas, Ellenor Argyropoulos
'The Mother Situation' by Matt Day
'Mutonia Burnout' by Eugene E Nrg
'Passenger' by Catherine Mack
'Talc' by Jefferson Grainger
'The Wall' by Tristan Klein
'Wibble Wobble' by Daphne Do
Rose Byrne is the Jury President.
Recently reinvented as a Hollywood funnywoman, Byrne presides over a panel of judges including directors Dr George Miller (Mad Max) and Rachel Perkins (Jasper Jones); actor Sam Neill (Jurassic Park, Hunt for the Wilderpeople); and Australian-born movie producer Bruna Papandrea, who works in the US with Reese Witherspoon.
Justine Clarke heads the Trop Junior Jury.
The popular children's entertainer and actor joins young actors Angourie Rice (Jasper Jones) and Julian Dennison (Hunt for the Wilderpeople) and more to pick the best short film made by an Australian 15 years old or younger. The Trop Jr films screen at noon (NB at Event Cinemas Westfield Parramatta, due to the heatwave).
Oliver Stone is a Trop Jr finalist!
No, not that Oliver Stone. This one is an 11 year old.
Every previous winner of Tropfest will also screen.
This begins at 2pm. Live music throughout the arvo is courtesy of Hey Geronimo, Lime Cordiale and L-Fresh the Lion. So there's plenty to amuse early birds.
If public transport doesn't appeal you can Uber there.
Uber are the official ridesharing partner for Tropfest. They are creating personalised travel plans; safe pickup and drop off zones; and a chill out area for attendees to relax in.