The best outdoor cinemas in Sydney
You're spoiled for choice when it comes to watching flicks in the open air in this town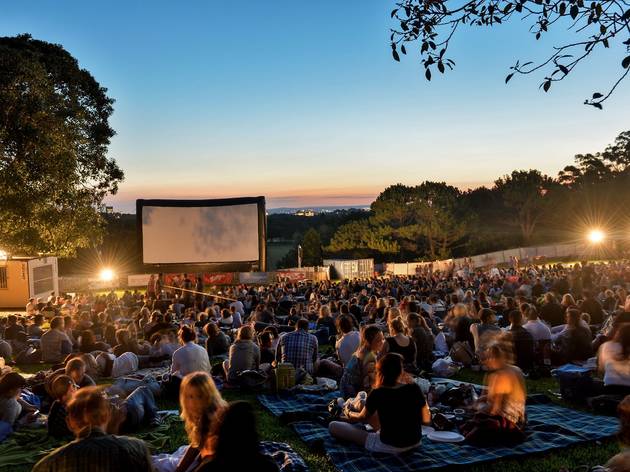 Do alfresco movies like an expert with Time Out's guide to the 2015-2016 summer season, from blockbusters to tear jerkers to real horror shows.
Flickerfest
Sydney's original outdoor film festival is 25 years young and attracts the best short films from around the world – not least because a win in one of the competition categories qualifies films for consideration for an Oscar nomination. Jan 8-17.
Highlights: The 2016 Flickerfest trailer goes down the Happy Birthday Mr President route with Marilyn (played by Abby Earl).
Hot tip: Keep an eye on the weather – it can be unseasonably cold down at Bondi with the wind coming right off the water. You may need to rug up.
Great news for fans of summer in Sydney. Your annual opportunity to catch up on all the movies you missed this year in the chilled-out surrounds of Centennial Park returns on Thursday December 1. Yes, it's nearly Moonlight Cinema time again – one of our favourite things to do in Sydney over summer. The Belvedere Amphitheatre will once again be the stage for that curious inflatable cinema screen, those comfy bean bags (always worth the cost of hire), the food truck and bar, plus a line-up of the latest movies, exclusive previews and a few timeless classics (what's the bet they play Breakfast at Tiffany's again? And so they should). As always, you can BYO food and drink and make a picnic of it. The season extends all the way through to April 2, 2017, and the first announcement of movies will be soon – check back here for details and critics' picks.
Read more
Movies by the Boulevard
This one's a good family night out (although one or two movies this year are a bit scary for younger children). It's free, and there's food and drink available, but bring your own picnic blanket. Pre-film kids' activities are happening on selected nights. Jan 2-17.
Highlights: Oddball; Inside Out; Jurassic World.
Hot tip: Pre-book your parking online or better still, come by train.
St George OpenAir Cinema
The most glam of the outdoor cinemas and a first-class summer date night is St George OpenAir. From your allocated seats in the stadium you can watch the screen rise up over the water, with the Opera House and Bridge as the backdrop. There's a big bar, and food available. Jan 7-Feb 19.
Highlights: Sicario; The Hateful Eight; Hail, Caesar!
Hot tip: Even in bad weather it's a fun night out – they'll provide you with free ponchos against the rain.
Ben & Jerry's Openair Cinema
This popular season now offers live music every day from 6pm before the movie (included in the ticket price). Sundays offer Sundae Sessions, with games on the lawn, up-and-coming local music acts and unlimited free Ben & Jerry's ice cream. Unlimited! Jan 14-Feb 21.
Highlights: Clueless; Thelma and Louise; The Revenant.
Hot tip: Gift vouchers are available – the solution to your Christmas/Valentine's quandary.
Sunset Cinema
Formerly known as Starlight Cinema, Sunset Cinema's program this year is disappointingly short on golden oldies but the hot new films are represented. A range of movie/snacking packages is available. Jan 21-Mar 19.
Highlights: Zoolander 2; Steve Jobs; Sisters.
Hot tip: It's right next door to revamped bowls club the Greens – get sharing plates and cocktails with great views then wander next door for the show.
Enjoy all the holiday movies like it's 60 years ago at Sydney's only drive-in cinema. It's been renovated to follow a 1950s theme, with diner food like hamburgers, hot dogs, shakes and banana splits served by staff in era-appropriate costume. Daily.
Highlights: Necking in the back seat and steaming up the windows.
Hot tip: If you want to enjoy the open air take the 'Gold Grass' option and sit in one of the deckchairs.
Read more
Cinema in the Square
World Square's retro outdoor silent cinema season has been announced and it's not bad at all. Jan 6-Mar 16.

Highlights: National Lampoon's Vacation; Gremlins.

Hot tip: You're surrounded by great food outlets so snacks are no problem. Din Tai Fung dumplings anyone?
Santa Fest Open Air Cinema
Unabashedly embracing the Yuletide theme, Darling Harbour is showing free retro Christmas greats ranging from the kitschy and sentimental to the tongue in cheek. Until Dec 24.

Highlights: Home Alone; Miracle on 34th St

Hot tip: Santa Fest has tonnes of great kid friendly fun in addition to this.
Surry Hills Outdoor Cinema
For the second year Heritage Park in Castle Hill is hosting its own outdoor cinema. Drawcards include Messina gelato, street-style food stall the Tuckshop, and a VIP package including complimentary blanket, deck chair and gold-dipped Gelato Messina choc top. Jan 15-Feb 14.

Highlights: The Revenant.

Hot tip: If you have a group of eight you can hire a VIP Bell Tent for $300.
More outdoor action...
What could be more romantic than a picnic packed for two and sweeping harbour views? Where else could you organise a long, lazy lunch for a big group of friends? Or, an impromptu dinner date alfresco? Cancel your restaurant booking and head to one of these top places to enjoy a picnic. We've called ahead to find out if there's parking, toilets and barbecues too. You can thank us later.
Read more