A brief history of drag in Sydney
Travel through a snapshot of our city's yesterqueer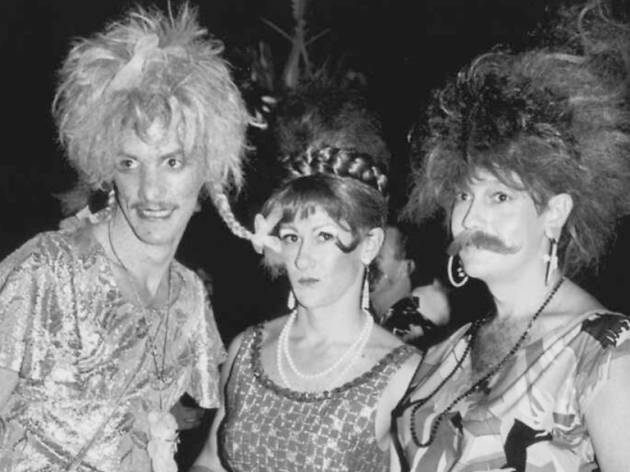 1835
Fifty lashes!
The convict Edmund Carmen is found wandering the streets after dark in women's clothing and is brutally punished with public flagellation.
1877
A Kelly girl
Steve Hart of the infamous Kelly gang wreaks havoc undetected by riding side saddle in a dress. This is later immortalised in paintings by Sidney Nolan.
Artwork: Sidney Nolan
1920s-'40s
Opening doors and closets
Cross-dressing is a celebrated part of entertainment and, though illegal in public and circled by violence, venues like the Diamond Horseshoe, Ziegfeld Club, and the Artists and Models Ball host regular drag shows.
Artists' Ball at the Sydney Town Hall 21 August 1922. Photograph: State Library of New South Wales
1950s-'60s
Send in the queens
A postwar boom of clubs and entertainment precincts births some of Sydney's seminal drag performers. Rose Jackson, Lea Sonia, Ken 'Kandy' Johnson, Ayesha, Carlotta, and Carmen emerge as dazzling queens.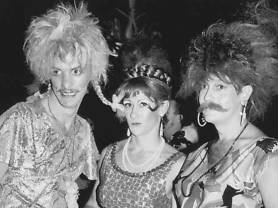 1970s
Club scenes and crime scenes
Sydney's queer party scene thrives, though its patrons are haunted by police brutality and draconian laws. Drag becomes more political than ever at venues like the Purple Onion and Patchs nightclub, and crystallises its high-glamour cabaret chops at Les Girls and Capriccios.
Sleaze Ball, 1986. Photograph: William Yang
1978
Taking it to the streets
Sydney's first Mardi Gras protests ongoing local violence and commemorates the Stonewall Riots – drag queens tear out of the clubs and on to the streets to join the fight. Sydney's queer party scene thrives, though its patrons are haunted by police brutality and draconian laws.
Nexus, Gay Mardi Gras, 1981. Photograph: William Yang
1980s
Spirit in the dark
Dawn O'Donnell adds the Imperial Hotel to her illustrious ring of LGBTQIA venues and the Inner West pub becomes the stage for notorious queens like Cindy Pastel, Pat Gently and Miss 3D. Many performers are tragically lost to AIDS.
Indigenous Performances and music for Queer Indigenous community members at the Imperial Hotel. Photograph: City of Sydney Archives
1990
Priscilla, prizes and prosthetic pricks
Sydney holds its first Drag Industry Variety Awards (DIVA); the film The Adventures of Priscilla, Queen of the Desert is released in cinemas; and Drag Kings perform alongside queens in the Inner West.
Drag Kings and Queens Perform at Furr Ball, 1999. Photograph: City of Sydney Archives
2000
The winner is Sydney...
Drag queens accompany the Olympic torch down Oxford Street to Barry Manilow's 'Copacobana' and sashay around the glitter-bombed arena during the Sydney Olympics Opening Ceremony.
Olympic torch relay and arrival in City of Sydney, 2000. Photograph: Grahame Edwards
2002
Kings take the throne
Drag King night Kingki Kingdom (later Queer Central), holds weekly court in Sydney and performers Sexy Galexy, Rocco D'Amore, John Dark and more strut their stuff. Male impersonating artists the Kingpins have a video work acquired by the MCA.
See a show today
From queens to kings and those who defy every label – here's how to get the most out of Sydney's famous drag scene.