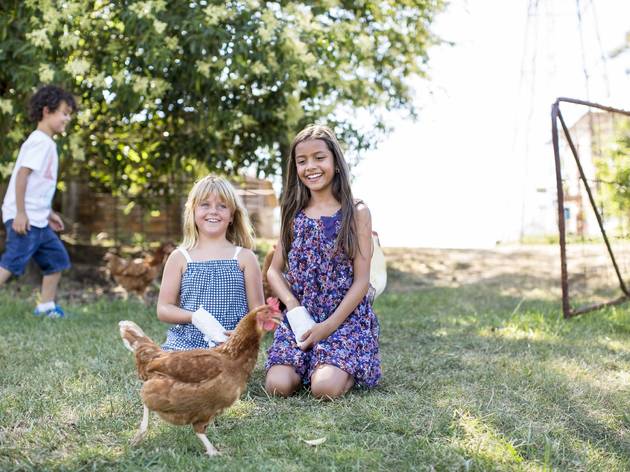 Looking for ways to entertain the little ones? Here's a list of what's on in Sydney for kids and families, from children's theatre shows to sports camps and events in the school holidays.
What's on for kids?
Shopping, Markets
Nepean Creative and Performing Arts High School, Western Sydney
It might be quite a trek to Emu Plains if you live in central Sydney, but the revamped format of the Westies Markets for 2019 could be a sign that the West knows best when it comes to fresh produce and even fresher style. The non-for-profit collective behind the market, the Westies, is all about showcasing the Penrith region while giving local growers and makers the opportunity to sell their products through an accessible event. They're aiming to create a lazy Sunday atmosphere, where you get to know the community rather than fight over the bargain bin. Visitors can expect homemade one-of-a-kind fashion items, live performances and all manner of edible treats at the Nepean Creative and Performing Arts High School in Emu Plains. Once popular monthly markets, they're now reducing their frequency to a quarterly set-up. They'll still run from 9am-2pm on the thrid Sunday of selected months, with even more expertly curated offerings.
Kids, Play spaces
Event Cinemas - Macquarie Megaplex, Macquarie Park
Taking the kids to the movies is a great family day out, but if they need to run off some of that choc-top sugar strength, cinema aisles aren't the best place to do it. So, silver screen giants Event Cinemas has come up with the perfect wriggly remedy, and they're test running the family-friendly experience at their Macquarie Fields complex. Event Junior is a dedicated space for kids under the age of eight, where they can race around slides, climbing nets and interactive digital games before, after or during the intermission of new release family movies. If there aren't any flicks your little rugrat wants to see, you can simply book a one-hour play session at the Event Junior jungle gym for $5, with free entry for caregivers. If you are in it for the storytelling action, book standard movie tickets and the kids can go wild in the ten-minute intermission, or whack on an extra 30 minutes of playtime for $5. They really get the needs of the young family here, and also offer comfy daybeds and bean bags instead of stiff straight back chairs, as well as a kid-friendly movie snack menu. And if your kidlets really dig it, you can book out the whole space for birthday parties.
Free family-friendly events
Make your own fun
Got a wriggly little one? Let them run off some of that energy at these parks and playgrounds that know how to entertain the real bosses of the household.