It's always a big moment when somebody makes their Sydney Opera House debut, but Lizzo's first gig in our city's sparkling jewel was next level. Just as her stardom was starting to explode, the flute-playing, twerking queen of body-positive bangers announced a one-night-only sideshow in the Concert Hall on January 6. It's a venue that only holds 2,100 people in front-on mode, so hordes of people hoping for tickets missed out (although you can still catch her at FOMO Festival this weekend).
We were among those lucky enough to be there, and it was a concert we're unlikely to forget anytime soon. Lizzo hurtled through an 80-minute set of her biggest hits with just a DJ and four fabulous backing dancers, while the crowd danced and screamed at ear-splitting volume for their new pop diva. She described the Opera House show as a dream come true several times, and the audience seemed to understand exactly what she meant. To be in the room where it happened and lift her along the way was an enormous thrill. Here's our rundown of all she taught us.
1. "This next decade should be about validating your emotions"
If you want to dance, dance. If you want to giggle, giggle. If you want to scream, scream. This was the direction she gave us at the start of her sermon (well, concert) creating a shame-free zone where everybody is celebrated: a celebration of body, a celebration of identity, and a celebration of doing things like a girl.
2. "I deserve to love myself as much as Lizzo loves Lizzo"
Most churches could learn a lot from Lizzo's brand of self-affirmation. At one point, she led the audience in a series of affirmations all about self love: "Everybody deserves to be loved. Everybody deserves self love. I deserve to be loved as much as I love myself. I deserve to love myself as much as Lizzo loves Lizzo."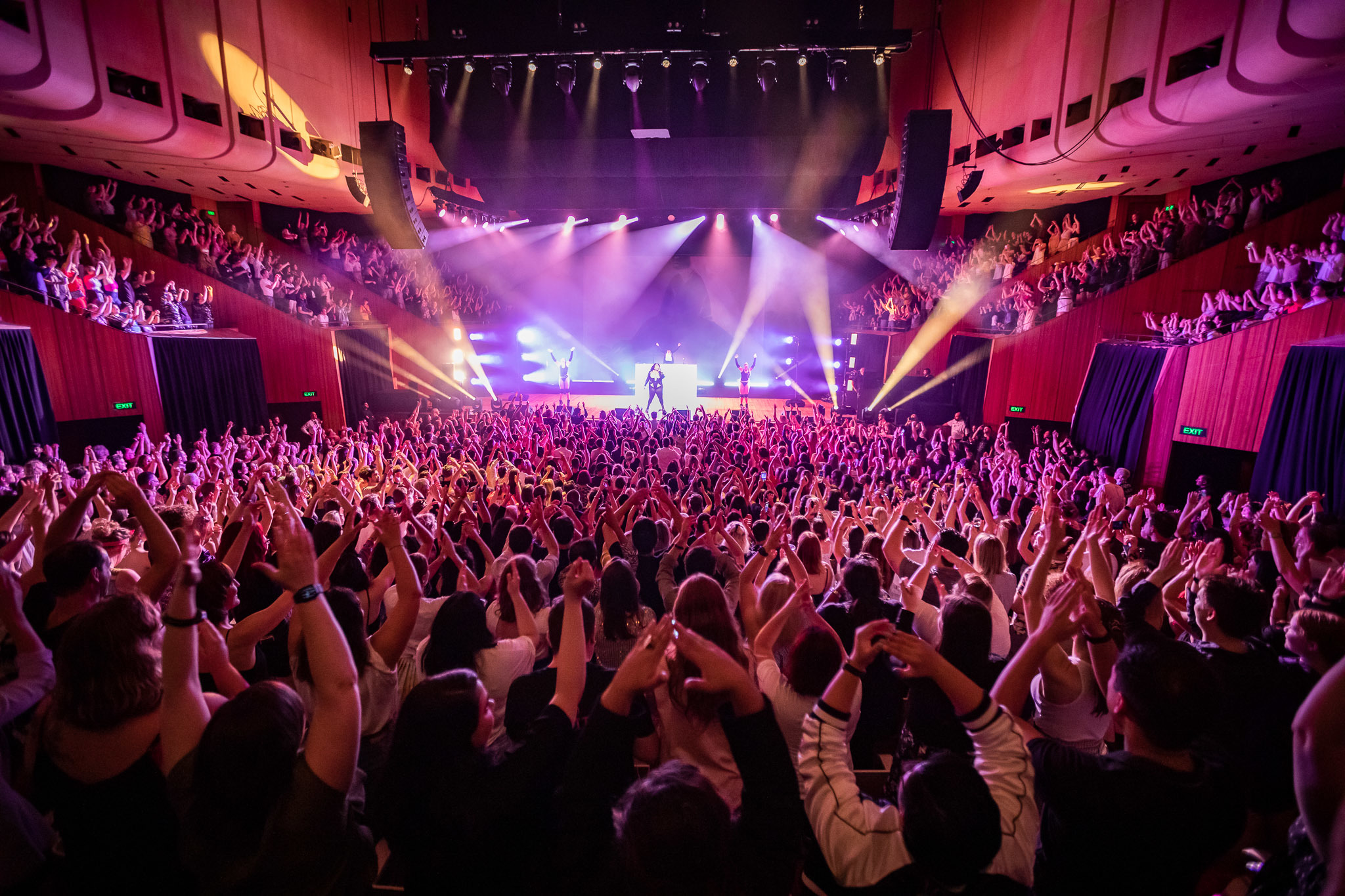 3. 2020 is the year of accepting compliments
From her eight Grammy nominations to a swag of rave reviews for her Cuz I Love You album, Lizzo has been feeling the love this year. So she knows exactly what you should do when an enormous compliment comes your way: graciously say "thank you", and allow that compliment to sink in.
4. Self love is about accepting yourself at all times – and a Tim Tam slam doesn't hurt
Lizzo is a veritable explosion of positive energy, but she took a moment to remind us that you can't always be up. When you have to contend with a world that will try to diminish you, self love becomes even more important: you need to have a safety net so you can have a soft landing and get back up again. Lizzo's safety net of choice when in Australia? A Tim Tam slam and a burger from Grill'd.
5. Affirm all gender identities
In 'Like a Girl', the second track from her breakthrough album Cuz I Love You, Lizzo sings "If you feel like a girl, then you real like a girl", a nod to affirming transgender women. At her Opera House concert, she took a moment of pause to draw this line into focus, adding "If you feel like a boy, then you real like a boy" and "If you feel like neither then bitch do you". Further to self-love and empowerment, the gospel of Lizzo denotes that in this new decade we are affirming and embracing the greater trans and gender nonconforming community.
6. No fuckboys are allowed in the 2020s
Enough said.
7. Stop and smell the roses when dreams come true
Lizzo told the crowd they were witnessing one of her dreams coming true, and it was a pinnacle of her career she'd never forget. As such, she took her in-ear monitors out over and over again to soak in the roar of the crowd. And of course, she took a moment near the end of the show to bring out her trusty flute, saying: "This was my dream to play my flute at the Sydney Opera House, but now that I'm standing here I don't know what to play." Thankfully she figured it out pretty quickly and gave us a taste of 'Juice'.
8. But remember to give back when you're on top
Australia's bushfire crisis is enough to move anybody to action, including Lizzo. She's been using her social media platforms to spread the word and had donation buckets for bushfire relief outside the venue. She also said she was using her position as an artist to stand up for the people and reflect the times we live in: "More than my heart going with you, I am with you. I am with you every step of this way, and won't shut up about it until we get these fires out… This is a global crisis, and the whole world needs to step up."
Check out our guide to Sydney's best festivals this summer and head to one of these gigs to support bushfire relief.