A chef's guide to seafood
Josh Niland shares his hot tips for buying, preparing and cooking seafood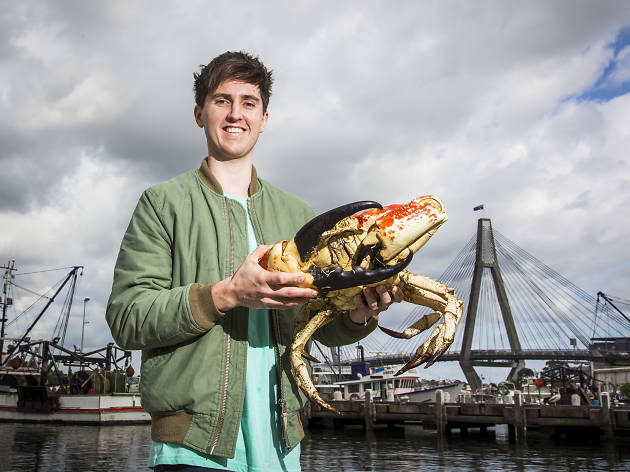 Josh Niland, head chef at Australian seafood restaurant Saint Peter, loves fish. But he also appreciates that cooking seafood is a bit of a dark art, so we joined him on a walk through the Sydney Fish Market where he gave us the low down on what to buy, when to buy it and what to look for when you want the freshest seafood in Sydney.
The golden rules for seafood
Want a behind the scenes tour?
If you want to catch fishermen at work, you've got to get up early. Sydney Fish Market runs almost-daily tours that start at 6.40am. Wrapped up warm, our group of six visitors meet outside Doyle's Restaurant where tour guide Alex gives us a briefing and a few impressive facts about the largest fish market in the Southern Hemisphere. For one, it's now considered the second most diverse seafood market in the world after Tokyo's markets. We enter the auction floor on the mezzanine level, where we can see buyers seated in front of three huge screens, jeering as a sale is completed. Alex jokes that the jeers might be because the young bidder paid too much and set the bar high for the other sales in that category. In any case, we're fascinated by the electronic Dutch auction system, which gives the buyers in the room just two seconds to make a decision. Sydney Fish Market has been using the Dutch auction system for over a decade and their data informs the cost of fish purchased on any week of the year. Auction prices start at $3-to-$5 above the data price per kilo and as the counter clicks at high speed, buyers in the room tap away on blue keypads at plastic desks and a sale is made before you can say 'medium blue swimmer crab'. Alex says it's significantly more efficient than a voice auction, and wasted stock is as low as 0.5 per cent on any one day.  We learn that there's 55 tonnes of fish out on the auction floor on this Monday morning, brought in by more than 1,000 suppliers
Book now
Read more