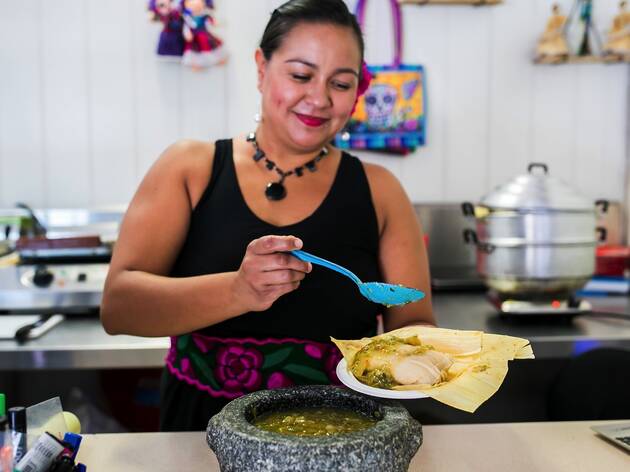 Best Cheap Eat: Time Out Food Awards 2019
Sydney's best Mexican street food resides in an unassuming deli in Dulwich Hill
Sure, the suburban high-street location doesn't scream Mexico City, but the curtain of colourful streamers might as well be a portal to where you'd rather be, a place where Spanish party tunes are cranking; a small fridge houses a refreshing rainbow of Jarritos soft drinks; sacks of dried chillis line the front counter; and a wire shelf holds imported delicacies like caramel sauce, adobo seasonings and canned tomatillos.
But it's what's coming out of the kitchen that has people queuing politely here on the reg. Rosa Cienfuegos is famous for her tamales, steamed hot pockets of white corn flour (masa) flavoured with chicken and sharp tomatillo salsa. Or maybe you want the earthier flavours of the mole version. Or for herbivorous snacking, there's one with beans. A liberal dose of green (mild) or spicy (red) salsa from the mortars on the bench is the winning play, and there's hot sauce to ratchet up the capsaicin-based endorphin rush.
If tamales don't bring you here, perhaps the tacos – double-wrapped in fresh tortillas – will, or nachos that strip away all frippery in favour of chilli con carne, nacho cheese, jalapeño slices and sour cream. And on your subsequent visit, cram your plate with gorditas and tlacoyos, the cactus salad and a slice of tres leches flan swimming in caramel sauce. This is not Mexican-lite, but it is delicious, affordable and authentic. While you're at it, take some frozen tamales away to steam at home – just so you can be reminded from the comfort of your couch why Rosa Cienfuegos' Tamaleria and Mexican Deli is our 2019 Best Cheap Eat award winner.
Best selling Time Out Offers