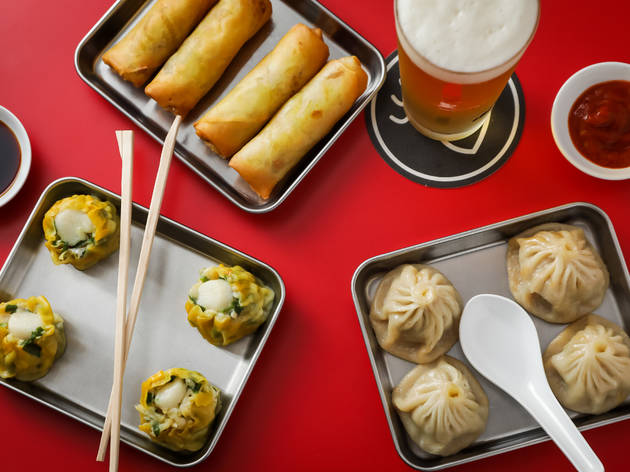 1/10
Photograph: Anna Kucera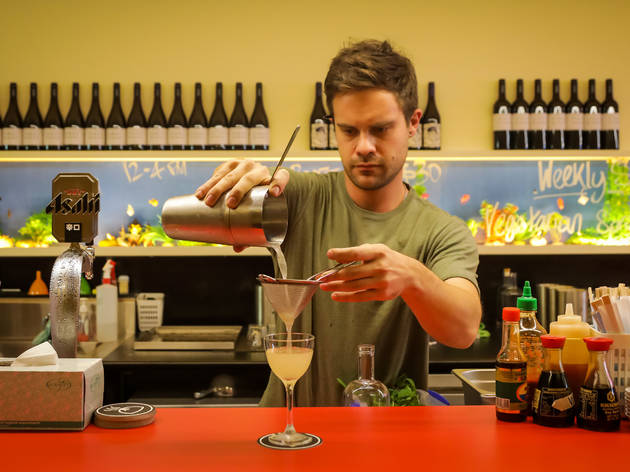 2/10
Photograph: Anna Kucera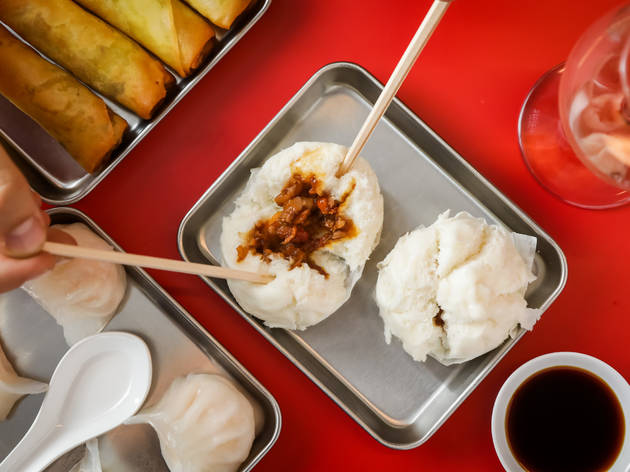 3/10
Photograph: Anna Kucera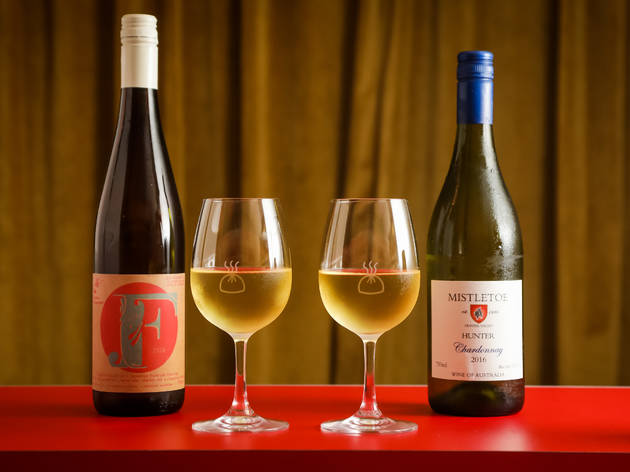 4/10
Photograph: Anna Kucera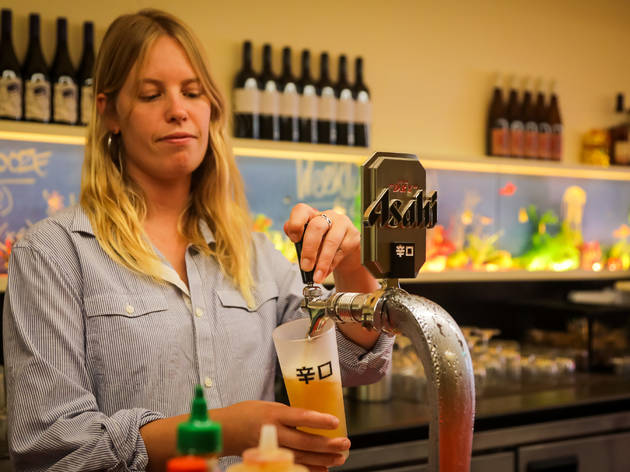 5/10
Photograph: Anna Kucera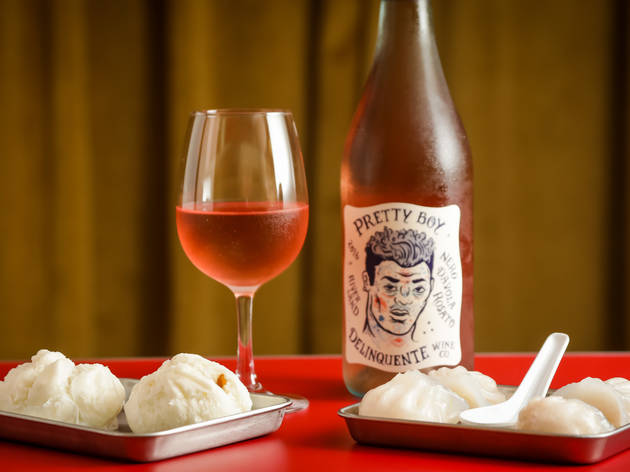 6/10
Photograph: Anna Kucera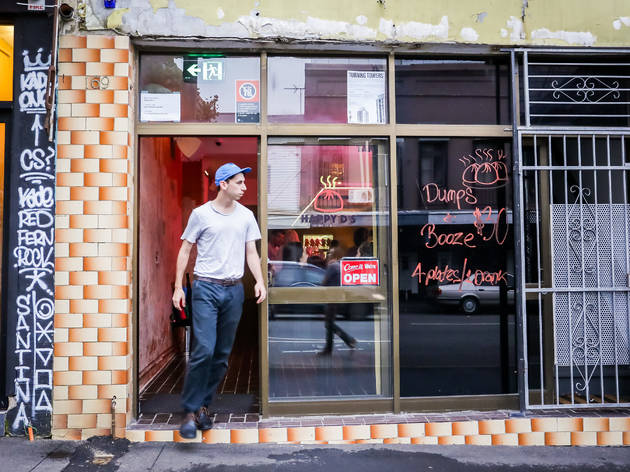 7/10
Photograph: Anna Kucera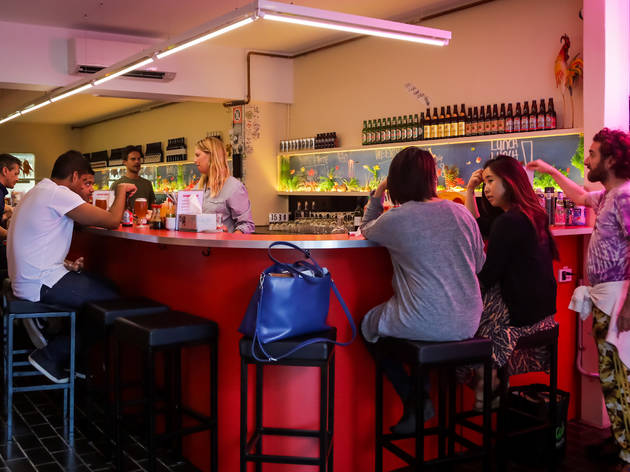 8/10
Photograph: Anna Kucera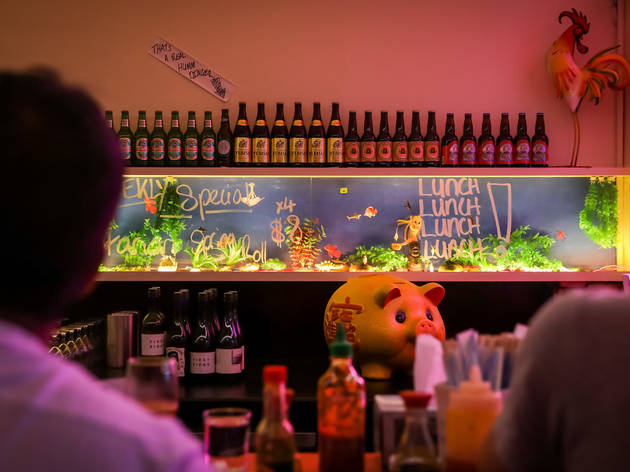 9/10
Photograph: Anna Kucera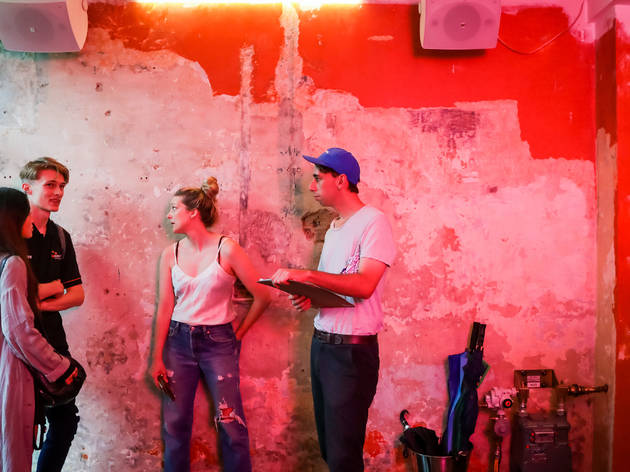 10/10
Photograph: Anna Kucera
Time Out says
D is for dumpling at Redfern's fun-times, neighbourhood restaurant and bar
With a knife and fork in hand, anything, technically, can be a share plate – even a pie – but without question the best sharing food is dumplings. Those hot little flavour pucks come individually wrapped for optimum snacking efficiency, plus they shine brightest when paired with booze. And the one thing Redfern was missing since cheap Chinese eatery Wah Fung closed was a dumpling bar, and now they have one.
Happy D's is run by Andrew Watts, but his mum Debra is the owner and the one putting her years running a yum cha catering company to good use as the boss of the kitchen at this 20-seat restaurant.
Don't be rolling with a massive squad here: the only seating is along the bar so a pair is the winning hand, especially as the dumplings come in either twos or fours. The pork soup dumplings are a popular order, but they clock in at the chewy and sturdy end of the spectrum when compared to the famous silky thin Din Tai Fung numbers. We'll take another serve of scallop and chives hugged by a tender siu mai-style wrapper.
The barbecue pork buns get the soft white dough-to-pork filling ratio spot on – they're more a two-bite affair here and it works so much better that way. Any dumpling party can get a bit pork heavy, so break it up with the tender chicken dim sum, or if you don't eat meat there's a mushy option as well as soft crescents stuffed with tofu and spinach.
Obviously there's Kikkoman soy and the same bottles filled with vinegar on the countertop, and since not everyone is the kind of masochist who squeezes on sriracha like it's ketchup, there's sweet chilli for gentle spice and a chilli oil if you like a subtle burn. These are the kinds of little details that make you want to become a regular.
It may be a dumpling bar but that doesn't mean they're about to sling any old plonk over the counter. They've got a red, a sparkling, and a rosé that tastes like strawberries from South Australia's small batch producers Delinquente (said like del-in-kwen-tay), but we could roll all night with the bone dry Hunter Valley chardonnay from Mistletoe. The riesling by the glass is also a certified crowd-pleaser – dry whites and light reds is what they're pouring across the board.
If you want to sink beers they've got Asahi on tap and more Asian brews in bottles, but we want another go at the jalapeño and cucumber Margarita that is short, sharp and balanced, with only a gentlemanly amount of heat. In fact, we'll take two while we stare into the fake aquarium that lines the back bar and decide if we like the tiny plastic orca, the mermaid doll or the lobster best.
It's starting to feel like Redfern gets all the nice things. They are home to our favourite inclusive art party bar, an ace gelataria, a tops independent radio station and the best shoe repair guy in town. Now that they can add a dumpling bar to the brag box we're seriously considering a move to south Sydney – up the Rabbitohs.
---
Details
Address:
169 Regent St
Redfern
2016

Contact:
Opening hours:
Tue-Fri noon-3pm, 5-10pm; Sat noon-10pm; Sun noon-8pm
Average User Rating
3.5 / 5
Rating Breakdown
5 star:

1

4 star:

0

3 star:

0

2 star:

1

1 star:

0
I too am a Redfern local, and I fully disagree with Simon's review. I can confirm this place is pretty, pretty, pretty great and the service was excellent! Fun times and cutie pies behind the bar. We're all lucky to live in Redfern- sounds like Simon doesn't like avocados very much either.
Disagree with this review. As a Redfern local I look for the new spots and love to jump on board and I am enjoying the new openings. However as a dumpling place this fell short. 10 dollars a plate is 4 dollars too much and for 15 you get three plates at the nearby dock who delivers equally delicious dumplings but without the dumpling bar label. As nice as the dressed down look is some plates of dumplings and beers set us back 65 dollars. An increase in dumpling quantity or a slight shift in price would see this place move from a 2 to a 4 but at this point you cannot compare it to "cheap and cheerful"