Legend Award: Time Out Food Awards 2016
Paying tribute to two inspirational, influential figures on the restaurant scene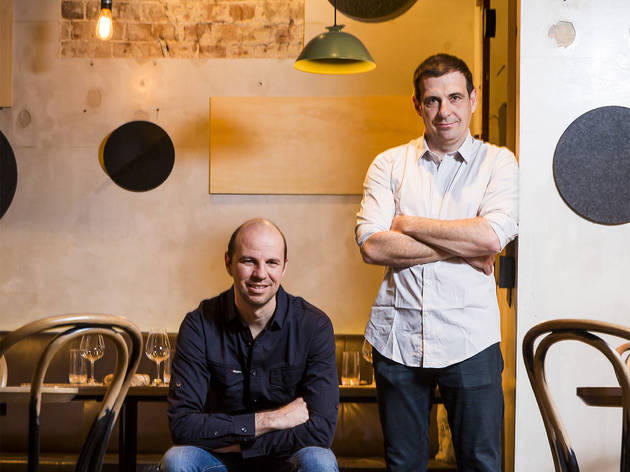 Winners: Brent Savage and Nick Hildebrandt
Can you imagine a Sydney restaurant world where chef Brent Savage and sommelier Nick Hildebrandt, didn't exist? It would be like a clunky, unadventurous pair of old moccasins: just not worth the bother. OK, that's probably a bit harsh, but what this restaurateur twosome has contributed to the Sydney dining scene shouldn't be underestimated.
We're talking one of our best upscale restos, Bentley; we're talking the ultimate brestaurant (bar/restaurant – keep up), Monopole; and we're talking Yellow: the home of Sydney's best brunch, and some of the most exciting, innovative food this city has ever seen. Yellow is also the restaurant that went veggo this year, and with exhilarating results: we bumped it up a notch to five stars, because with the focus of a meat-free menu, the food actually got better. If that's not legendary, we don't know what is.
Take a dish of kohlrabi and enoki mushrooms that we recently ate there. Crunchy ribbons of the earthy radish decorated a base of nubbly enoki, atop a vegetable consommé that was thick, viscous and deeply umami. Paired with a textural, savoury, skin contact Pecorino from Italy, it was one of the best combinations we've had in ages.
And that's the thing about these two: it's not just about the food. Hildebrandt is Sydney's most groundbreaking sommelier. His dedication to small batch, minimal-intervention wines means that the wine lists at all of his restaurants sit at the best in town. Whichever venue you go to, you can expect to be surprised and challenged by truly remarkable drops. When we were last at Yellow, we were served a mineral-rich riesling that had been created especially for the restaurant in Austria. Those are the sorts of relationships Hildebrandt has developed over the years, and why he is unbeatable as a somm.
Whether you go in for breakfast, brunch, lunch or dinner at Yellow, a cloudy, funky, orange-toned glass of Hildebrandt's wines will only make the experience more gratifying. Alongside Savage's slow-cooked onsen eggs with ham hock consommé (they still do meat at brekky) and tender, deeply-flavoured, salt-dusted liquorice bread, that's our perfect Sunday morning right there.
Savage and Hildebrandt have made Sydney a better place to eat and drink. In fact, with their creativity and gusto, they've made it possible for other restaurants to throw a wild card or two on their menus too. They were doing vegetable-focussed eats and natural wines long before it was hip. They are legends who keep on getting better, year on year. And we think it's about time we thanked them for that.