Where to break fast this Ramadan
From dusk till dawn, these Sydney eateries have specialist menus for Suhoor and Iftar this Ramadan
During the holy month of Ramadan Muslims fast from sunrise to sunset. Suhoor begins by waking up and preparing a meal to last the day of fasting (and we've included places that cater for an early feed too). For Iftar, families gather to break their fast and enjoy a meal together. From dates and water to buffets and banquets, here are a few places that offer special opening times for all to enjoy, whether you're up early for manoush to start your day or feeling ravenous at Iftar.
Need a late-night feed? These are Time Out's go-tos for a late night bite.
RECOMMENDED: The best Malaysian restaurants in Sydney.
Where to break fast this Ramadan
Volcano's offers a special buffet and banquet menus for the holy month of Ramadan at all their venues. You can order from a two-hour buffet that includes pizza, pasta and salads, as well as desserts and hot drinks. If you're not up for cooking during the week, they have a special Iftar banquet for week days in Bankstown and all week in Parramatta. Mon-Thu 5pm; Fri-Sun 5-7pm. $24.95-$49.95. Until Jun 4.
Efendy Balmain offers a set daily Iftar menu for Ramadan. Break your fast and start your Turkish feast with soup, dried fruits, olives, pastirma, cucumbers and tomatoes. Indulge in Adana kebaps, mini spiced-lamb lahmacun, roasted vegetables and Bannockburn chicken thigh kebabs. They also have special dessert platters accompanied by Turkish tea and coffee for afterwards. Daily from 5pm. $58. Until Jun 4.
Armani is celebrating its tenth year, so they're pulling out all the stops for their Iftar menu, which features Mediterranean and Middle Eastern dishes. Break your fast with steaks, prawn cocktails and Adana kebabs. Book ahead for this one as the team prepares the halal certified banquet during the day and tables usually book out. Daily from 5pm. $39.99-$69.99. Until Jun 4.
Photograph: CC/Durant Weston
Opt for an early breakfast or grab a pastry for Iftar. If you're hanging for a good old Aussie meat pie, this is the place to pick one up. Gourmet Bakehouse has a selection of beef, chicken and vegetable pies topped with mashed potatoes, mashed peas and gravy. They're open 24/7 – ready to satisfy your cravings at any time of the night. 1145 Botany Rd, Mascot 2020. 02 9669 3044.
For the month of Ramadan, Kazbah in Darling Harbour features a special Iftar menu. Indulge in fresh fruit, nuts, dips and bread before diving into Kazbah's mezze platters filled with falafel, chicken shish taouk with toum, fattoush salad and garlic potato hara. Wash it all down with rose and pomegranate mocktails and Laban, which is fermented buttermilk that has been churned. Don't forget the baklava and mamoul for dessert – and kick back with a shisha while you're there. Daily from 5pm. $59. Until Jun 4.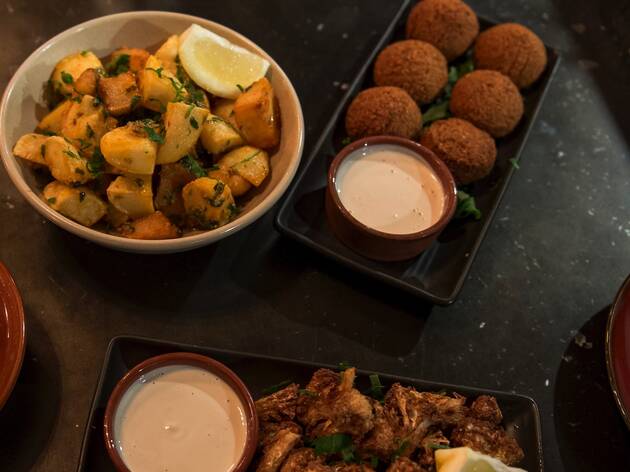 With restaurants in Alexandria, Wollongong, Penrith and Greenacre, Al-Aseel is easily accessible for delicious Middle Eastern cuisine. Their Iftar menu this Ramadan features traditional hummus, fattoush and shish tawook. If you want an intimate dinner in your own home, Al-Aseel has a catering service specifically for Ramadan which can be delivered. Daily from 5pm. $25-$45. Until Jun 4.
Photograph: CC/Charles Haynes
Break your fast with a traditional Lebanese meal overlooking the beach. With Iftar happening at sunset, why wouldn't you want a gorgeous view to accompany your feast? Their Iftar set menu includes traditional dates, lentil soup and traditional kibbe nayeh, which is raw mince infused with spices, often served with olive oil and mint leaves. Follow up with a mixed plate of chicken and kafta skewers. Daily from 5pm. $25-$45. Until Jun 4.
If you're looking to break your fast with some friends, Titanic is definitely the right place. From Iftar to midnight, you can dine on Middle Eastern and Italian cuisines with some shisha on the side. The Iftar buffet menu includes pasta, pizza, traditional kibbe nayeh, mansaf, kefta and different main meals on offer every day. Daily from 5pm. $20-$40. Until Jun 4.
Eat well without blowing the budget
There's a host of restaurants around Sydney serving up tasty food at prices that won't leave your wallet empty.
Best selling Time Out Offers