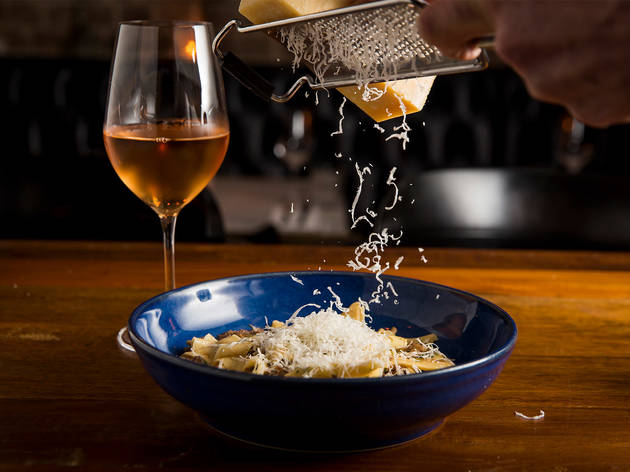 The best late-night dining in Sydney
Got a hankering for a midnight snack? These are Time Out's go-tos for a late night bite
It's ticking over to a shameful hour, and you've smoke-bombed from the party in search of sustenance. Is it fried chicken you're after, that fail-safe absorbent of sin and too many cocktails? Or maybe you've been working late, and you're looking to redeem a day of fluorescent-lit corporate drudgery with the perfect plate of spicy noodles? Or maybe you've landed in the city late and you just want to sink into a steamer of pillowy dumplings, soft and plush and... mmm, sleep... Before you hit the hay, though, here are the spots you'll find what you're craving, way up late.
Recommended: the best cheap eats in Sydney.
The best late night dining in Sydney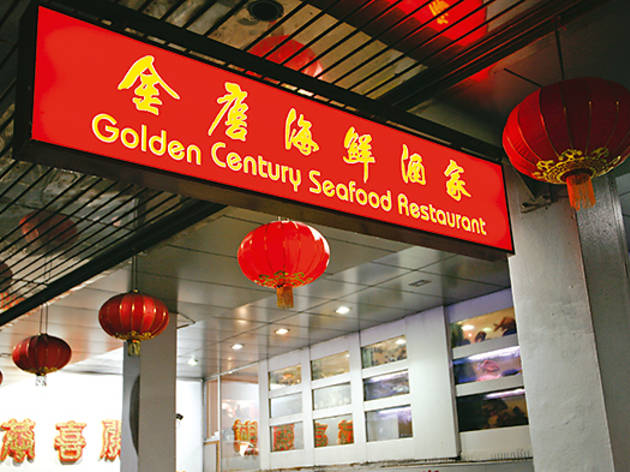 You can't really call yourself a Sydneysider unless you've sat down to a late-late dinner here. It's one of the few places you can sit down to a freshly pressed white table cloth and order plates of pippies, fried squid, sticky, burgundy-hued barbecue pork and steamed prawn dumplings. Oh, and it's open until 4am, making it the beloved port of call for every hospo worker and band in this city in the early hours.
If the thought of attending any social gathering in Paddington suddenly seems appealing when you remember that you could swing by the orange neon-signed storefront of Indian Home Diner on your way home, you're not alone. It may not look like much, but this Oxford street joint is fashioning 'kebabs' out of butter chicken, chana masala and samosas stuffed into rolled-up naan until 3am most nights. It's fairly uninterested in being 'authentic', and there isn't a more satisfying late-night feed.
You'll forget what time of day or night it is when you descend the staircase at this subterranean French restaurant in the centre of the glass-walled office buildings of the CBD – so it's lucky that it's open until 1am every night (except Sunday that is, when it doesn't open at all). Decked out with a baby grand and lush, velvet furnishings, Hubert the perfect place to go when you're peckish for a late-night snack, but you don't want the night – or the vibes – to end.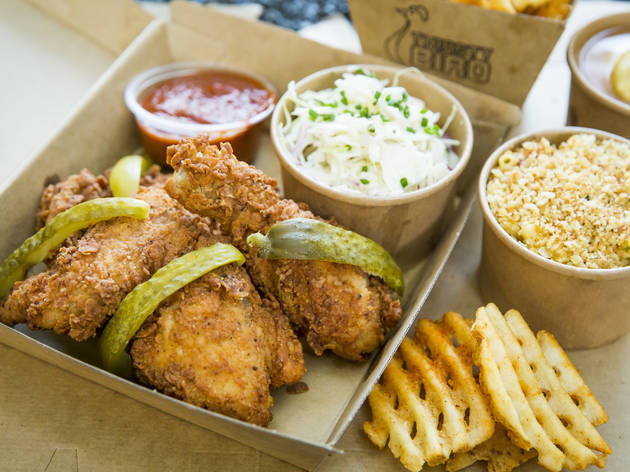 This neon-lit diner is open until 1am on Fridays and Saturdays, so you can get your fried chicken fix in Potts Point all the way until then. Thirsty Bird specialises in Southern-style fried chicken tenders, crisp and served with spicy sauce. But if carbs are the food group you're after, grab a burger: the Stinger comes with fresh slaw and cheese, and you'll get pineapple and bacon on your Big Kahuna. Vegetarian tag-alongs? All sorted, courtesy of the katsu eggplant burg.
There aren't many places in the city where you can sit in a cosy, inviting booth with warm lighting and plated food this late, but at Big Poppa's on Oxford Street, you're getting the 8pm treatment all the way until 3am. Upstairs, there's a little restaurant at street level, all dark wood and classic vibes, but head down below and you'll find a moodily-lit bar almost double the size. Nibble on cheese platters and (actually good) glasses of wine after a late adventure on Oxford Street – you deserve it.
Sweet, juicy, soy sauce chicken, barbecue pork bao and roast-duck congee go down well after midnight. Maybe even better than they do before midnight. Located on Dixon Street, this Haymarket staple stays open until 2am every night of the week. It's low-lit, buzzy and will excite you into ordering too much: but never fear, because XO noodles travel well. Just get the rest to take away – your morning-after self will thank you.
This isn't just a charming city boozer with rooftop views – it's also got a short and sweet menu that stays up late with its drinks. Pick from a curated list of meats and cheeses until 2am, or from the handful of Philly cheese-steaks on offer – the classic squishy roll with slices of beef, onions and a whole lot of melted cheese is prime comfort food.
This fiery Thai spot is open until midnight Fridays, Saturdays and Sundays and 11am on other nights). Known for its 'lava' level tom yum noodles, it's the original hot spot from Somporn Phosri. Swing by if your late-night cravings are more spicy soup than kebab-related, and get a taste of Isaan cuisine in the heart of Haymarket's Thaitown.
At this little slice of Spain in the CBD, the kitchen only closes when the bar does and that happens to be at midnight Thursdays to Saturdays. Get pintxos to nibble with your after-after-work drinks: think jamón on crisp bread, whipped salted cod, grilled chorizo and whole sardines. And if you're looking to keep the party going? Try the short drinks for all the fun of a cocktail, without all the regret: a cute 100 ml Negroni or Martini should give you something to do with your hands until close.
On weekends, this late-night Oxford Street sandwich shop is absolutely packed with party people desperate for hunks of roast pork and shards of golden crackling on a chewy white roll with pickled carrot, cucumber and as much chilli as you can handle. Until 1am on Fridays and Saturdays (it closes at a more respectable hour on weekdays), come here to get your hands on all things crackling.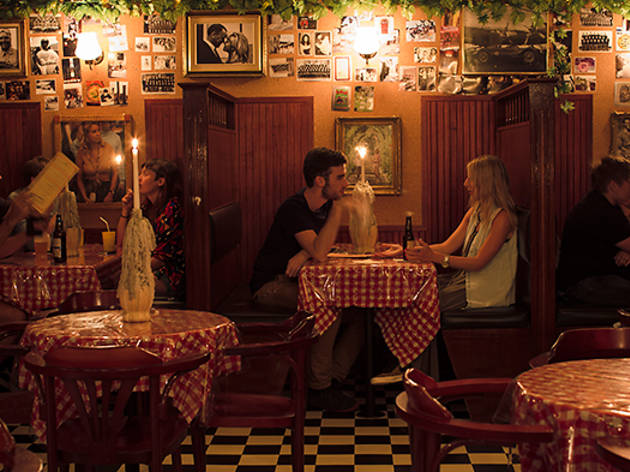 The heart of the CBD isn't where you'd expect to find an underground heavy metal pizza party, but Frankie's doesn't really go in for the expected. Head here for late night rock, pizza and tinnies – and an eclectic crowd that reflects the centrality of the area, from corporates who've just clocked off, regular beer mongers, teens looking for a night on the town, and couples arcing up over the pinball machines. It's open until 3.30am every night.
Get this popular Taipei night market staple on Sydney's own Liverpool Street – queuing at this tiny shopfront feels as close to actual street food as this city's going to get. Hot Star fries up large (like, really large) chicken schnitzels to order, as well as chips and mushies. It's no-frills – and here, seating is considered a frill, so best to grab your chicken and go. It's open until 12.30am most nights, and 2.30am on Fridays and Saturdays.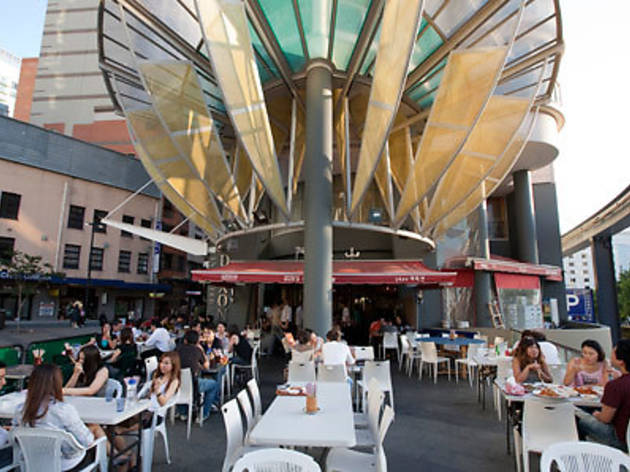 Open until 2am every night except for Sunday, this sprawling outdoor courtyard is a go-to after dark in Haymarket. Be plied with baskets of soy-flavoured fried chicken and Korean beers, as well as Arisun's signature black bean noodles and generously portioned hot pots. They'll cater to your most self-pitying, indulgent cravings – they haven't been going since 1942 without cause.
This fast, fun and bustling spot on Enmore Road dishes out hot plates of Pakistani food until midnight every night of the week. The fish fry here is criminally underrated – and it's served steaming hot and for not a whole lot of buckaroos. It's also perfectly sitauted near Enmore Theatre, if you're looking for a post-gig feed.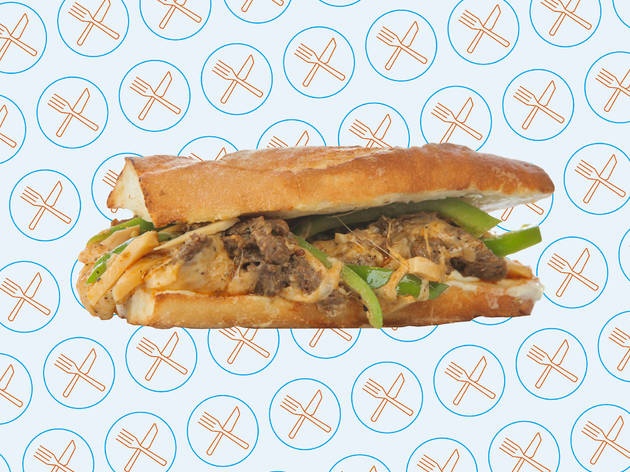 Photograph: Shutterstock / Time Out
Grease, meat, cheese, all rolled up. The Philadelphians might have invented it, but there's a strong showing for the Philly cheesesteak here in Sydney. Get them at this food truck near Central Station and very accessible from the city – where you'll also find a range of pizzas from classics like the Margarita and pepperoni styles, along with more inventive pies topped with eggplant and rosemary potatoes.
Hungry at a more respectable hour?
This is the Time Out EAT list, our picks for the best places to dine in Sydney right now, from hot newcomers to time-honoured institutions, ranked by our expert local editors. We're looking for fun, flavour, creativity and value for money at every price point. So yes, of course, you'll find a fine diner inside the Opera House here, but you'll find neighbourhood pizza, hole-in-the-wall Thai and lunch-only ramen, too – and that's what makes our city such an awesome place to get watered and fed. Bon appétit!

Best selling Time Out Offers