The best late night dining in Sydney
Got a hankering for a midnight snack? These are Time Out's go-tos, for a late night bite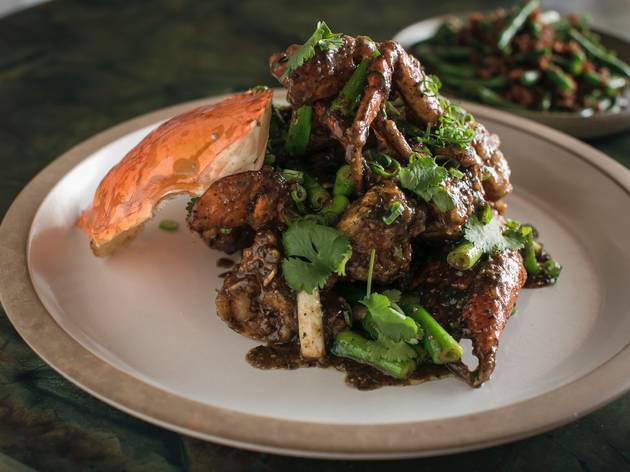 Sometimes you've been out on the tiles and need something to soak up the booze, or maybe you've been working late and need something to soothe your soul in the wee small hours. Whatever you're after, here's where to eat late in Sydney.
19
If it's late-night food you're after, then you want Hot Star – Taiwanese-style fried chicken served in a paper bag on Liverpool Street. What started off as a popular Taipei night market staple has now hit the inner city and it's as close Sydney's ever come to actually having street food.
Read more
16
Ah, GC, and your wall of fish, crabs and sticky abalone sticking to the sides of the tanks like edible suckers. All of this, of course, is available all day. What you want to do is grab the congee menu, which is available from 10pm till four am.
Read more
11
Juicy Lucy is a chicken shop, with a South East Asian bent. Order 'Aunt Lucy's seasoned chicken'. It's been brined overnight with Sichuan pepper, cassia bark (like cinnamon), cloves and coriander seeds, making it super tender. It comes whole, halved or quartered, stuffed with garlic rice that hums with the aromas of those spices, layered with the deeply umami flavours of a slowly cooked chook. It's roasted on the rotisserie rather than in the Southern-fried style, upping the moisture levels even further. What it lacks in crispness it makes up for in caramelisation.
Read more
10
This just in. You can get a Mary's-style burger at the Unicorn Hotel until 2am. Paddington has never looking so inviting for a big night out.
Read more
9
Late into the wee small hours you can head to this celebrated Paddo pub for plates of hot chips and the best gravy in town. Don't think. Just do it.
Read more
8
The heart of the business district is not where you'd expect to find an underground heavy metal pizza party, but Frankie's Pizza by the Slice doesn't much go in for the expected. Head here for late night rock, pizza and tinnies.
Read more
7
Every night this late-night sandwich shop is absolutely packed with party people deperate for tender, sweet fatty hunks of roast pork and shards of golden crackling on a chewy white roll with pickled carrot, cucumber and as much chilli as you can handle.
Read more
6
BL Burgers is situated on a busy stretch of Oxford Street, and they're in the right place for late night eats. There are five burgers plus a special on offer, and sure, you could have a cheeseburger, but these guys are known for their riffs on the classics, so we say order the Blame Canada instead. It's a thick, pink-centred beef patty topped with crisp, maple-glazed bacon, double American cheese, poutine (fries and cheese curds soaked in gravy) and maple aioli.
Read more
5
Kings Cross just got amazing with this kickass fried chicken joint, owned by the same guys as Mr Crackles (so you know it's going to be good). Try the meal deal – when we visit you get two pieces of fried chicken with some pickles, one side and one sauce. The side of mash and gravy is pure comfort fare and the mac and cheese is spiked with bacon and topped with crisp breadcrumbs. Get into it.
Read more
4
Where can you go and eat a full, delicious restaurant menu until 3am every night of the week? Big Poppa's, baby. At Oxford Street's newest late night Italian, start with the vongole: soft little nubbles of oceanic purity. The bowl of lamb ragù with handmade pappardelle is pure comfort food: soft hunks of meat amongst long curls of pasta, served with as much parmesan as you damn well like, grated at table. And speaking of cheese, the baked eggplant is a cheese extravaganza. Order with a side of natural wine and you'll be set til sunrise.
Read more
Show more
Need something for the morning after?
Fluffy pork buns. Silky, thin tofu skin. Beef tendon. The sweetest prawn dumplings. Here is our definitive list of the best trolley spots in Sydney.
Read more