The best late night dining in Sydney
Got a hankering for a midnight snack? These are Time Out's go-tos for a late night bite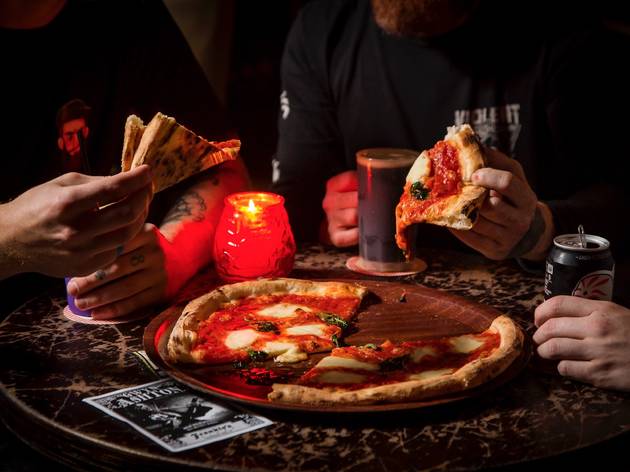 Sometimes you've been out and had a few too many cocktails and need something to soak up the booze, or maybe you've been working late and need something to soothe your soul in the wee small hours. Whether you're after a sit-down affair or something casual, these are the best spots for late night eats in Sydney.
Want to dance instead of eat? Check out our guide to Sydney's best clubs.
Looking for late night drinks? Here's a list of late night bars and pubs without a lockout.
The best late night dining in Sydney
1
This Oxford Street restaurant bar dishes out cheese platters and good glasses of wine until 3am.
2
You can't call yourself a Sydneysider unless you had a late dinner here. It's one of the few places you can sit down to a freshly pressed white table cloth and order plates of pippies and fried squid.
3
The heart of the business district is not where you'd expect to find an underground heavy metal pizza party, but Frankie's doesn't much go in for the expected. Head here for late night rock, pizza and tinnies.
4
Every night this late-night sandwich shop is absolutely packed with party people deperate for tender, sweet fatty hunks of roast pork and shards of golden crackling on a chewy white roll with pickled carrot, cucumber and as much chilli as you can handle.
5
They'll serve you whole or by-the-slice pizza here until 2am, including an excellent smoked potato, rosemary and garlic number.
6
This fiery Thai spot is open until 1am every single night of the week, so you can get your fix of lava hot tom yum at midnight on a Tuesday if you so please.
9
Sweet, juicy, soy sauce chicken, barbecue pork bao and roast-duck congee go down damn well after midnight, so it's good that this Haymarket staple stays open until 2am every night of the week,
10
The orange neon signage and lacklustre shopfront may not look like anything special, but anyone who's tried an Indian kebab from here knows that this Oxford Street late-night haunt is a very special place.
12
This spruced up greasy spoon is open until 1.30am on Fridays and 3am on Saturdays, so you can get your fried chook fix well after midnight.
13
This just in. You can get a Mary's-style burger at the Unicorn Hotel until 2am. Paddington has never looking so inviting for a big night out.
14
What started off as a popular Taipei night market staple has now hit the inner city and it's as close Sydney's ever come to actually having street food.
17
This fast, fun and incredibly cheap spot Enmore Road dishes out hot plates of curry until midnight every night of the week.
19
Juicy Lucy is a chicken shop, with a South East Asian bent. Order 'Aunt Lucy's seasoned chicken'. It's been brined overnight with Sichuan pepper, cassia bark (like cinnamon), cloves and coriander seeds, making it super tender.