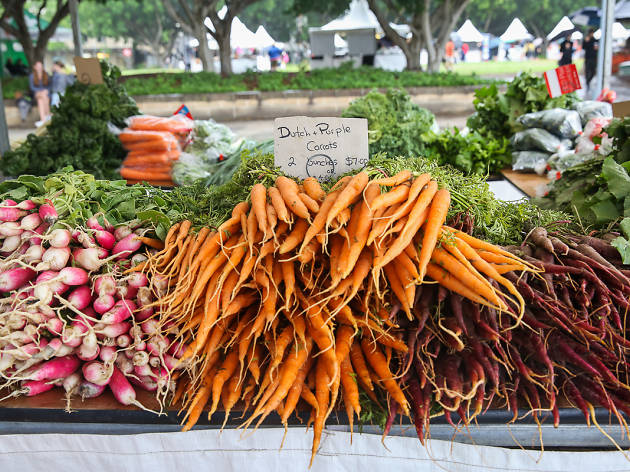 Stock up on farm-fresh eggs and organic meats at the new-look monthly markets
Pyrmont's monthly produce markets have been operating at Pyrmont Bay Park for almost 20 years, but last year the event was given an early retirement when the lead sponsor pulled the plug. In February 2017, the markets reappeared with new organisers, new times and a few new stallholders.
The markets now operate on the fourth Saturday of every month, running ever so slightly later from 7.30am to noon, which means you can squeeze in a bacon and egg roll from Sutton Forest Meats – crisp rashers and a floury bun for $6 – and there's still room for ginger ninja biscuits from Black Star Pastry.
You can shop for fruit and veg from Roots Shoots and Leaves, fresh-cut flowers grown in Goldstone or wheels of Brie from Formaggi Ocello. There's the Australian Gourmet Coffee Company, Little Marionette and Toby's Estate for your caffeine hit. Plus, if you're lucky, Egyptian food truck El Qahirah will be there dishing up fragrant bowls of koshary for $12.
Once you've stocked up on organic nitrate free bacon and handmade chocolates, take a plastic chair and order a 'Prince Will-I-Ham' toastie from Great Wheel of Cheese. For ten bucks you'll get a salty sandwich of German butcher ham on Pioik sourdough and their signature cheddar.