The best dance classes in Sydney
Move your body like a pro or shake the day away at these rocking drop-in classes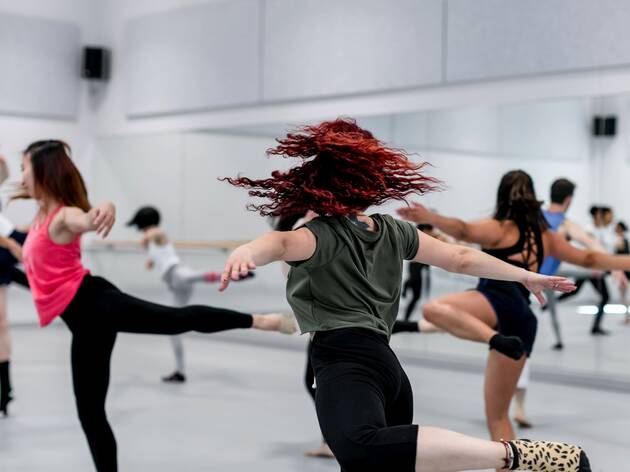 There's no better feeling than stepping onto a dancefloor without any inhibitions. Maybe you've got a few moves up your sleeve, or perhaps you've finally set your self-consciousness free. Either way, the best way to reach this pinnacle of dance ecstasy is to hone your skills and joy in a class.
To help you in your fearless movement mission, we put our own moves to the test in some of the best dance classes in Sydney. Find your flow shaking your booty, tackling contemporary twirls and grooving to the beat at these six drop-in classes – no experience or weekly comittment necessary.
Then, grace the best clubs in Sydney with your new-found confidence, or have a laugh trying these weird workouts around the city.
Sydney's best dance classes
Sport and fitness, Dance class
If your body is aching for energetic, grounded movement full of fierce style, reggaeton is your remedy. While you don't need any experience to join the dancefloor, you will need to throw your body into the beat during this fast-paced drop-in class at Latin Dance Australia.
Luckily, our powerful instructure Debralee Scarselletta is a world-class professional, and has a knack for helping us master the hip grinding, chest pumping, booty dropping and body rolling of this popular Latin dance style. "There's a definite heaviness and an attack to the movements, but also a beauty and flow in its fluidity," says Scarselletta.
We get sweaty in loose warm-up grooves before focusing on specific movements for the full duration of a thrumming song. Our thighs are burning after three minutes of booty dropping to the floor, and we discover uncharted territory in our core as we body roll into an aching abyss.
For the hilarious finale, the group bumbles into two circles to pump out freestyle flows. Then we pair off – hello, sweaty stranger, let's grind – and laugh our way through dual booty shakes until we collapse. "It's a great outlet, even for us [teachers]," says Scarselletta. "If we've had a long day or we're frustrated or exhausted because we do really long hours in the studio, we love to just get in there and have fun."
Things to do, Classes and workshops
It's a wonderous sensory overload when you hop off the lift at Crossover Dance Studios. You walk through graffiti-clad freestyle spaces where synchronised dancers bust incredibly fast hip hop moves to a constantly flowing electro-funk rhythm. Once we get into our Popping Beginners class, we quickly learn it's not as effortless as they make it seem.
Popping. Is. Hard. The foundation movement involves contracting muscles to a beat – it looks as if tiny electric volts are jolting through your arms, legs, chest or neck. The first half of this one-hour class is dedicated to getting newbies accustomed to the style, which came direct from Fresno, California in the early 1970s. We focus on leg bounces, travelling while we pop and arm movements. It's repetitive, but Keanu Wardana, our tireless teacher, says it takes time to master the style, and besides, "simple is good, simple is funky."
Soon, we realise he's tricked us into learning a routine. He slows the pace down for new combinations and continuously reconfigures the sections for a mix'n'match of moves. At the sweaty end, we don't think we've mastered the hits, ticks and pops that are the foundation of this hip hop, funk variant, but we've had a great time trying. And the brilliant, infectious mood at Crossover makes us want to come back for more.
Get down tonight
For the times you just want to sing 'YMCA' at the top of your lungs or drop down and get your eagle on, head to these dancefloors that specialise in guilty pleasure old-school hits.