The best kayaking spots in Sydney
Get yourself in a boat and out on these beautiful Sydney waterways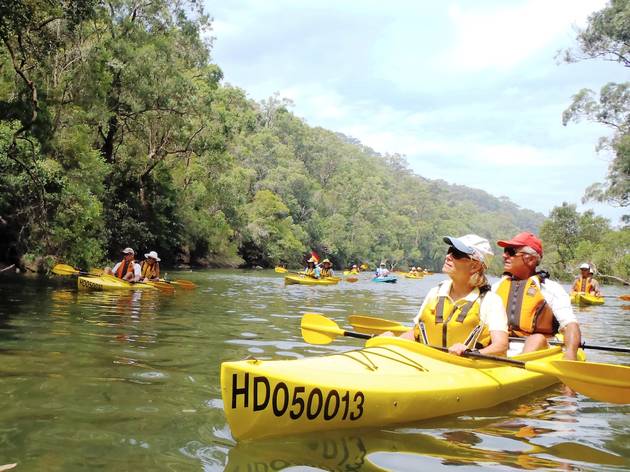 No other city can boast such a range of places to go kayaking. Deep gorges, dense bushland, sandy beaches, wandering creeks, spectacular views, mighty sandstone outcrops – Sydney has it all.
Time Out asked Tony Carr, owner of leading kayak touring company Freedom Outdoors, to identify his list of the ten best kayaking sites in and around Sydney. It's much more fun to go with a group and Carr and his team lead paddles every weekend to a selection of 30 locations. Top quality kayaks are brought in on trailers – all you have to do is turn up and have fun. Come on your own or make new friends while you get some exercise.
Berowra Waters and the ruined castle of Calabash
This is a paddler's paradise – beautiful bush, steep cliffs with quaint houses nestled below, fascinating history from the convict era and some glorious sheltered places to pull in. This protected waterway is part of the mighty Hawkesbury River system and offers a great day out. Calabash Bay is the location of the Ruined Castle – the remains of the San Souci hotel transported block by block 130 years ago from the southern suburb and reassembled on the cliff top to await throngs of visitors that never came.
Tony's tip: After you finish, head back to the marina café – you don't want to miss their chocolate mousse. In the mood to spend up? Try the renowned Berowra Waters Inn.
Bobbin Head, Historic Cowan Creek
In 1889 it was proposed that this spot become the capital of the new Commonwealth of Australia, complete with antipodean versions of Windsor Castle and the Tower of London! When you paddle it you'll discover why politicians of the time were so entranced by this glorious waterway. Surrounded by steep hills covered in dense native bush and with boutique beaches all over the place, you can even identify the spot where Governor Jersey declared Ku-ring-gai Chase the world's fourth national park in 1894.
Did you know? At the headwaters, there's a picnic spot adjacent to the former home of TV's Skippy the Bush Kangaroo.
Colo River, Blue Mountains World Heritage area
The National Parks & Wildlife Services has called this 'the last pristine river in NSW'. So it's just waiting to be discovered by eager kayakers. The lush riverscape has mainly native heath vegetation and abundant wildlife, all backed by steep sandstone cliffs. The Wollemi pine, long thought to be extinct, was rediscovered here in 1994. And the 4km per hour speed limit means fewer boats!
Tony's tip: Start where the Colo meets the Hawkesbury and make your way up to a spectacular sandy beach for lunch and a swim where, with any luck, the local lads will turn up to thrill you with their rope-assisted leaps off adjoining cliffs.
Georges River and Chipping Norton Lakes
Can you believe this picturesque series of lakes and creeks linked by the Georges River is actually man-made? When sand mining finished in the 1970s, the landscapers moved in. These days the area attracts over 50 different species of birds including egrets, pelicans and sacred ibis. And there are thriving stands of casuarina, eucalyptus and angophora. On one of the creeks you'll see literally hundreds of bats and ibis at close quarters.
Tony's tip: There are wonderful, sheltered sandy pull-in points to be enjoyed.
Hawkesbury River from Richmond to Brooklyn
No kayaker worth his or her salt should miss the opportunity to paddle the mighty Hawkesbury River. There are 120 navigable kilometres of this historic waterway just waiting to be discovered and it's possible to do it in a series of daylong, bite sized chunks, each about 30kms. Do Richmond to Windsor, then to Sackville, Wisemans Ferry and Spencer, finally to Brooklyn.
Did you know? The river has a unique place in both the Aboriginal and European history of Australia, which comes to life in Kate Grenville's novel The Secret River.
Lane Cove River
This tranquil waterway is located close to the centre of the city, and it has a pretty amazing past. As you charter your course along its tree-clad banks, impressive sandstone rock formations and picture-postcard views, consider this was once the food bowl of Sydney, the location of Fairyland – the Luna Park of the 1920s – and the site of Australia's most intriguing murder mystery – the Bogle/Chandler case. Be sure you Google it before you set off.
Tony's tip: Avoid early Wednesday evenings, when 90 kayakers descend upon the place and race its length at high speed.
Narrabeen Lagoon and its multi-purpose walking trail
If a relaxing 2 to 3 hour plonk-along is more your scene, then this Northern Beaches gem is for you. Narrabeen Lagoon is the largest coastal lagoon in Sydney. The waterway and its immediate surrounds have just become Narrabeen State Park, and an exciting 11km walking/cycling trail around the 2.5 square kilometre lagoon is about to open. There are 39 Commonwealth-listed threatened species in the vicinity. Rarely more than 2 metres deep, it's ideal for novice paddlers and Middle and Deep Creeks, which empty into its western basin and attract migratory birds from as far away as Russia.
Tony's tip: Go for a paddle, take a walk and then picnic at one of the lovely reserves around its perimeter.
Nepean, Blue Mountains World Heritage area
Start early in the day at Penrith and avoid the hoons with their revved-up boats and skis. Head for the Narrows, which is a spectacular natural gateway into the park itself. The most beautiful part of the day follows, because it's serene, peaceful and narrow. Take a short walk to the spectacular lookout an hour into the park, then further on there's a compact beach for lunch. Plan carefully though – this is a long day: 26 kilometres, all up, and just two landing spots.
Tony's tip: Be willing to put up with the sore shoulders – this is liable to become your favourite Sydney waterway. It remains one of the most popular Freedom Outdoors paddles.
Pittwater, Ku-ring-gai Chase National Park
Colourful Pittwater is famous for its myriad of bays and coves, where you can cruise to Elvina and Lovett Bays, made famous in the Susan Duncan book Salvation Creek. The western side is the most interesting, away from the mega-houses and scampering yachts and powerboats. Take a walk through the bush to the waterfall mentioned in the book and paddle the creek itself. There are also two beautiful sandy beaches on Morning Bay and a spectacularly located YHA in case you want to make a cheap night or weekend of your trip.
Tony's tip: Further north the Basin awaits … but beware, National Park rangers patrol and will demanding $4 from kayakers before they let you land.
Sydney Harbour's inner islands
No visit to Sydney is complete without a paddle around the inner islands of the harbour, heading upstream from the Bridge. Start from Onions Point in Woolwich, explore the historic Woolwich Dry Dock and ogle at the pleasure craft of the rich and famous. Then track across to Cockatoo Island – and go round it clockwise to land at the island slipway.
Tony's tip: Spend a couple of hours lunching and exploring the fascinating convict history and industrial architecture at Cockatoo Island, but do this on a still day. Boat traffic and wind – especially a southerly – can create chaos out there.
Explore underwater
Where are these great snorkelling spots? To find out, we enlisted the help of the good people at Snorkel Safari, who run scuba-diving courses and snorkel trips from several locations across the city. They gave us their picks of the five best places to bury your face in the water in Sydney, from a strange little island in La Perouse to Shelly Beach at Manly.
Read more