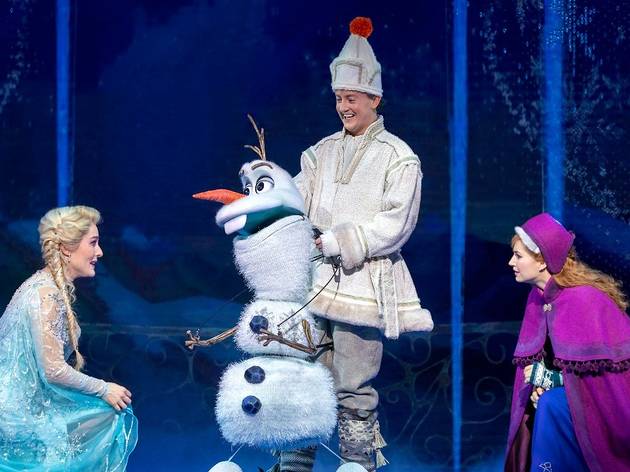 Here's what goes into bringing a hit musical like Disney's 'Frozen' to life
The huge show is set the defrost Sydney's large-scale theatre scene in spectacular fashion
The world's theatre industry has never seen a year like 2020. Broadway and London's West End have been dark for eight months, with little indication as to when they might reopen. Dates for major musicals keep getting pushed back further and further as different parts of the world go in and out of lockdown.
But there are signs of vibrant life down here in the southern hemisphere, with major shows due to open in Sydney including Pippin, Hamilton, and Disney's family friendly juggernaut, Frozen. Based on the 2013 film about princesses Elsa (Jemma Rix, Wicked) and Anna (Courtney Monsma, Aladdin), sisters pulled apart by an apparent curse, it's an enormous show – both in terms of popularity and sheer scale.
Giant set pieces appear to transform from wood to ice, while a three-tonne video wall with 4.7 million LED pixels and 20,000 crystals conjures a spectacular ice palace. One dress features an extraordinary 44,154 stones and crystals. (If you're familiar with the movie, you might be able to guess whose frock requires that much sparkle…)
Lisa Dawn Cave, a veteran Broadway stage manager, is one of the people responsible for bringing Frozen to Sydney and is overjoyed to once again be doing what she loves – even if it does involve travelling to the other side of the world and spending two weeks in hotel quarantine. "Everybody's excited to just be back in a rehearsal room," she says. "The world is looking at Australia."
"Disney magic... What I will say is that it's something that's rehearsed over and over"

Disney's used to rolling out its productions in international locations, but the entire operation had to be rethought this time around. Only 15 people from the original American team travelled to Australia to help mount the production. "We totally get that you don't want 40 people coming over from the US in this time," Cave adds. "The government here in Australia were kind enough to say, 'we'll let you in, but we really need to scale it back'. We had to look at each department and really think: who can handle everything by themselves, without assistants, and teach and empower the Australian crew to pick things up really quickly?"
Among the trickiest moments to bring to the stage is the act one finale culminating in Elsa's unforgettable number 'Let it Go'. Coming to terms with her frosty power, she creates a frozen palace as her olive green coronation dress extraordinarily transforms into a shimmering gown of ice.
When asked how this moment of theatrical trickery is achieved – all while Rix belts out Elsa's fiendishly difficult anthem for young girls everywhere – Cave offers a simple explanation: "Disney magic... What I will say is that it's something that's rehearsed over and over, so it looks effortless. It takes time and patience. Elsa needs to feel really comfortable with what we're doing to transform her."
Reindeer are better than people
A similarly dazzling (although somewhat less glamorous) transformation is key to realising another of the show's beloved characters: Sven the reindeer. The role's shared by two actors who do four performances a week each, because it involves standing on all fours atop specially made stilts in a planking position while covered in fake fur. It's tough work, but the effect is so convincing that even former Disney CEO Bob Iger was fooled at first.
"Bob didn't know what he was looking at at the Broadway premiere," says Michael Curry, the puppet designer behind Sven. "He said, 'is that an animal in a costume?' It was a great compliment that he didn't know."
Curry is no stranger to bringing Disney's non-human characters to the stage, best known for his groundbreaking work on The Lion King. While Sven's a scene-stealer, Curry says director Michael Grandage was initially tempted to minimise his role. That's because the reindeer is a constant companion to Kristof, the rough-around-the-edges iceman who Anna falls in love with.
"People always thought a puppet might get in the way, and if you say it at the outset, it sounds like it might be a problem: 'we need this sensitive love story developing, but there's going to be a six-foot-tall puppet in the frame'. But Sven becomes a great vehicle because he understands the love before stupid Kristof does. When a reindeer pushes two people together, it's a great device."
Sven's role only grew as the creative team began to see the possibilities of this four-legged friend.
Do you wanna build a snowman?
Curry also designed Olaf, the goofy snowman who becomes princess Anna's unlikely companion on her journey. He went through all sorts of iterations, including full walk-around costumes with an actor hidden within, and small Muppet-like puppets, where the puppeteer would be hidden by the set.
Curry's creative process always involves this sort of experimentation; using papier-mache models, pinning foam to actors, and testing movement and silhouettes. Ultimately he decided that it was essential that Matt Lee (Mary Poppins), the actor playing Sydney's Olaf, would be visible to the audience. Lee stands behind the puppet, which comes up to about chest height, manipulating Olaf's arms, legs and face in concert with his performance.
"Twenty-five years ago, when we opened The Lion King, there was still a lot of 'I don't know if people can handle seeing performers and a puppet at the same time'." Curry says. "But today's audience – we've got three phones going at the same time. We can do it. We can multitask."
Even the youngest audience members get their head around the puppets pretty quickly, although their responses can be a little unusual. "One of the funniest parts of seeing this show is that five-year-old boys just like to say what's on their mind to Olaf or tell him what to do, and it happens at every show," Curry says.
Frozen is the latest in a long line of Disney projects for Curry, who has created completely different versions of Olaf for the company's theme parks. So what keeps him coming back? "Disney is a really rare company because they're not in a rush," he says. "Everybody thought 'well they're just going to rush Frozen [the musical] and bank in on it', but they didn't, they did it right."
The entire creative process from planning to staging the musical took four and a half years. And that's about how long it takes to get a show like this right, Curry insists. "You can't blueprint this stuff, and people that try usually get a very sterile show."
Frozen

opens at the Capitol Theatre on December 1.

Find out more here.
Getting tickets? Now plan a whole Frozen-themed day out
It's been almost eight years since Disney's cultural juggernaut of a film, Frozen, hit the screens and like the Elsa-obsessed kids who couldn't stop singing 'Let It Go', the feminist tale of sisterhood has now grown up into a Broadway stage show. The mature, expanded musical is currently playing at the Capitol Theatre, with tickets for additional March and April performances available from December 11. Read on to find out how to book the best value tickets, where to eat nearby, and how to keep the magic going after the curtain comes down.
Best selling Time Out Offers