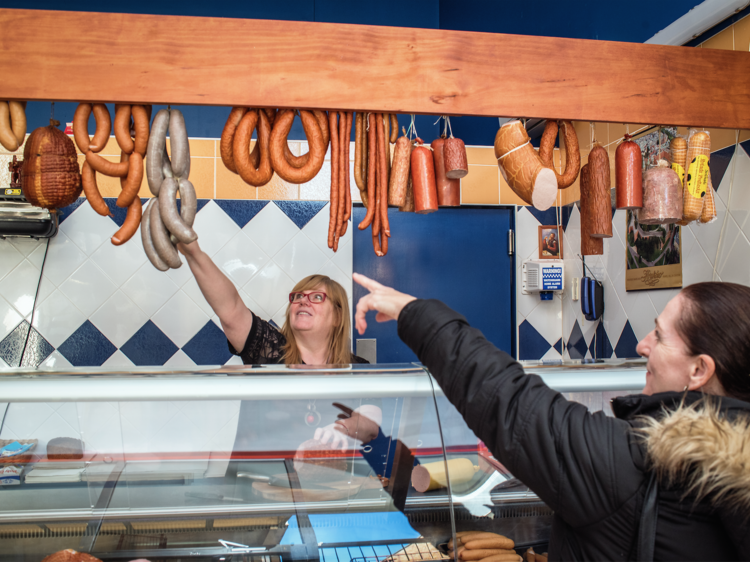 Photograph: Supplied/Grozik Polish Deli
Sydney might have a world-leading food scene, but comforting Polynesian food can be hard to find. Thankfully, Mama's Polynesian Soul Food in Minto is a megastore (it has two kitchens) dedicated to remedying just that. The menu changes regularly, depending on what's in season, but there's always an assortment of housemade donuts to fall back on if what you're after is no longer on the menu. Then, zip up north to Ingleburn for an authentic boodle fight, a Filipino culinary experience where cutlery is forgone in favour of your hands, at Pinoy Grill N Chill.
For a snack on which everyone has an opinion, Suma Katti, who grew up in the Campbelltown area, swears that the hot chips at Kings Charcoal Chicken might just be the best in the world. Striking the perfect balance between "a bit soft, but a bit crispy, the flavour [of King's chips] runs right through the chip rather than just being [plain] mashed potato on the inside." You might even want to hold the chicken salt, because they're that good on their own. Of course, if you prefer your chicken brand named, you might want to head to the local outlet of western suburbs fave El Jannah.
It wouldn't be fair to mention King's without shouting out the other king of Campbelltown: King Kebab House. In addition to dishing out reliably hearty kebabs, it's also home to one of Sydney's best halal snack packs – the very best if you're willing to take the word of former Australian senator Sam Dastayari who famously raved about King Kebab House's HSPs in parliament, giving them a 10 out of 10.
Picnic time? Oregano Leaf Bakery and Yasmin Bakery jostle for most beloved when it comes to local Lebanese bakeries. Both bakeries are made-to-order, while Yasmin's offers a must-try yoghurt topped pizza. Otherwise, pick up some goodies from Grosik Polish Deli, where you'll feel briefly whisked away to the charms of Krakow with an unrivalled selection of cold cuts, kielbasa, traditional cakes and breads and other dry goods.
For a meal you'll want to sit down and savour, Afghan Royal Restaurant is the best (and only) place in the South West to tuck into real Afghan cuisine. If you're new to the cuisine, make sure you order Afghanistan's national dish: the Kabuli palaw, a sumptuous rice dish with caramelised carrots, sultanas and your choice of accompanying meat. If you're looking to suit a completely different palate, nip over to neighbouring Ingleburn for handcrafted American-style burgers at Suzie Dukes, where the silky soft milk buns are made fresh daily and ingredients are locally-sourced where possible. Here, more is more.
It's a universally acknowledged truth that everyone has different Indian cuisine preferences, so let your tastebuds compare local favourites Spice of Life and Aalishaan Indian Cuisine.
There's always room for dessert, and if not, we suggest finding room for some from The Scoop Artisan Gelato. With over 41 flavours at any given time – each one made from scratch in-store using local ingredients where possible – the only question is how many scoops you'll settle on. Or for desserts paired with something unexpected, settle in at Mazag, Campbelltown's dedicated shisha spot.