Carriageworks Night Market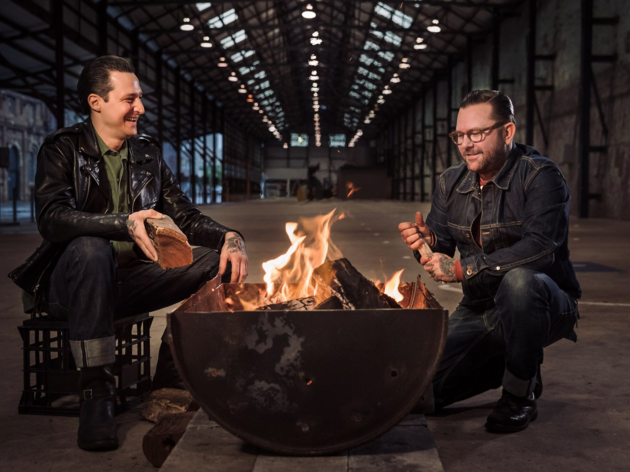 Sydney's best chefs cook with fire and smoke at a night market curated by Porteno's Ben Milgate and Elvis Abrahanowicz
There is a way to tick off the whole of Sydney's dining bucket list in one fell swoop, and it's by purchasing a ticket to the Burning Love edition of the Carriageworks Night Market curated by Porteno's Ben Milgate and Elvis Abrahanowicz. Fifty five of the city's finest culinary talents will be joining them for a night dedicated to heat, smoke, fire and flame.
Abrahanowicz and Milgate will be joined by Morgan McGlone of Belles Hot Chicken, Andy Evans from Spice Temple, Kylie Kwong, Darren Robertson from Three Blue Ducks, Ben Sears from Paper Bird, Mike McEnearney of Kitchen by Mike, Monty Koludrivic from Icebergs, and Flavio Carnevale of Marta. There will also be stalls from Mamak, Chat Thai, Gelato Messina, Bodega 1904, Buffalo Dining Club, Alpha Restaurant, and Ormeggio at The Spit.
Fill your belly with shellfish cooked over coals, hot smoked fish, fresh campfire damper with rosemary butter, whole roasted pumpkins, chargrilled octopus, and Thai sausages. And don't forget the smoked mushroom toastie with cream, onions and salsa verde from the legends of food waste reduction at OzHarvest.
You can also feed your mind with a demonstration of traditional Aboriginal fire making, seafood prepping and asado barbecue.
You won't go thirsty because the drinks front is covered by Young Henrys, the Grifter Brewing Co., Demoiselle Distillery, Archie Rose Distilling Co., Earl's Juke Joint, Jacoby's Tiki Bar, Giorgio de Maria Fun Wines, Jed Wines, Jilly Wines, P&V Wine and Liquor Merchants, Poor Toms Gin and Regal Rouge Vermouth.
And while you're snacking, drinking and learning there will be live sets from the Van Demons, Jeremy Davidson (The Snowdroppers), and JD and the Hunger Men.
Tickets to the night markets have sold out in previous years so lock down your tickets to snack city.