Carriageworks Summer Night Market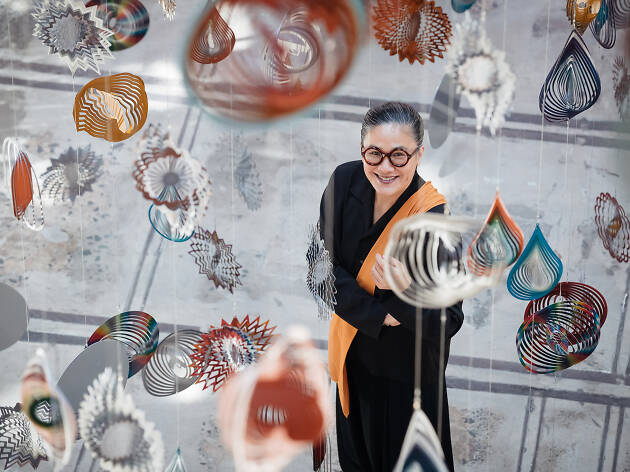 Snack on the best food and drink in Sydney at the next night-time markets presented by Kylie Kwong
Kylie Kwong is calling on 60 top chefs and producers to create dishes and drinks for the next night markets to bring people together and foster a sense of compassion and community.
Inspired by Nick Cave's Until, currently showing at Carriageworks, Kwong is asking stallholders to think about the ingredients they select and the stories they tell through food in response to the themes artist Nick Cave is highlighting in his monumental exhibition.
Attica's Ben Shewry will be there to demonstrate how to cook Australian seafood, supplied by Josh Niland of Fish Butchery. He'll be doing it over a fiery pit made by founder and managing director of Ngaran Ngaran Culture Awareness, Dwayne Banon-Harrison, who'll also share traditional fire-making skills.
Rene Redzepi's non-profit organisation MAD – a global cooking community with a social conscience – will also feature on the night; Bella Napier and Caroline Baum will speak about the theme, alongside Jon Owen, CEO of the Wayside Chapel and Wayside's Bondi Heart Café.

Chefs and bakers from Four Brave Women, the refugee-run restaurant in Summer Hill, will share their personal stories and food samples from Iranian, Ukrainian, Russian, Iraqi and Syrian cuisines.
And there'll be more snacks than you can possibly eat in one sitting, available to purchase from plant-based restaurants Alibi and Paperbark, as well as newbies on the Sydney dining scene Bert's Bar and Brasserie and Don't Tell Aunty, plus well-loved faves Continental Deli Bar Bistro, Bloodwood, Long Chim, Porteño, Belles Hot Chicken, Three Blue Ducks, Billy Kwong, and more.
On the booze front, there'll be natural wine purveyors Jilly Wine, P&V Wine and Liquor Merchants and Dear Sainte Èloise. Plus, local brewers and distillers Archie Rose Distilling Co, the Grifter Brewing Co, Young Henrys, Poor Toms, Batch Brewing Co, Wildflower, Wyno Bar and Shop, and many others.

As always, there's plenty of entertainment; FBi Radio's Amelia Jenner is DJing on the night, there'll be gospel-inspired acapella singing group Café of the Gate of Salvation, and dance performances from Matavai Pacific Cultural Arts.

You can also spend the night learning more about community initiatives like Sydney Doesn't Suck, Oz Harvest, Two Good Co and the National Indigenous Culinary Institute. It'll be a packed evening of eating, drinking, discovering and celebrating what we mean when we talk about good food, and food for good.