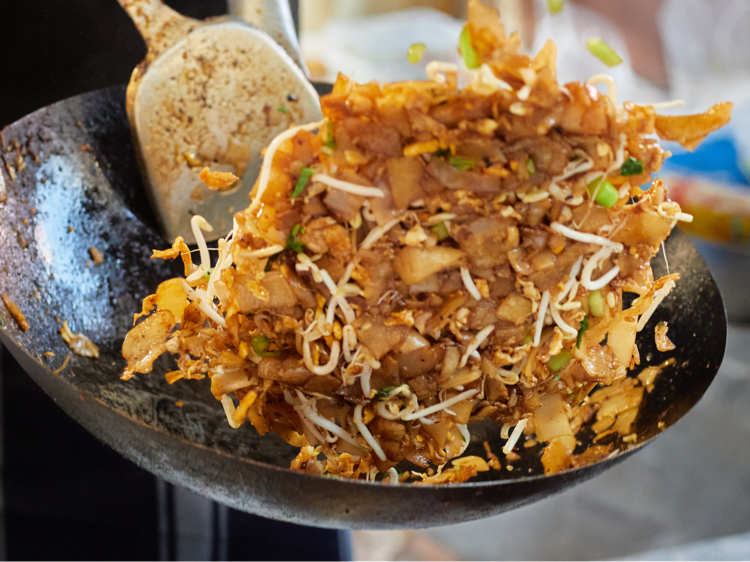 Photograph: Sherry Zheng
While development around Chatswood's station and schmick renovations of the area's biggest malls has seen the arrival of world-renowned Chinese restaurant chains like Din Tai Fung and Hai Di Lao, many small local businesses have also endured.

One such spot? Chatswood BBQ Kitchen (好上好燒臘海鮮小廚) on Victoria Avenue. Chances are you'll spot the queue or smell the sweet and savory aroma of the BBQ glaze dripping off the roasted duck before you see the actual restaurant. You have the option to takeaway but for those with time, order in — there is something sacred about tucking into warm roasted duck, atop fragrant, steamed white rice with a side of tender choy sum. And don't forget the honey-like plum sauce. Nearby Tim's Barbecue Kitchen is also never without a queue – but note that it's takeaway only.

Some of the best culinary spots in Chatswood are nestled in its humble food courts in smaller shopping arcades, like Mandarin Center and Lemon Grove. Food courts have long been a refuge for students tight on cash, but the value and versatility of communal dining makes them a popular draw for many. Buy a drink from one vendor and combine it with a plate from another: it's the perfect solution for indecisive appetites.

Otherwise, head to East West Gourmet (東西坊) and order the fried salmon head noodle soup: the crunchy, fatty salmon head and the tangy broth will convert you. If you're looking to feed a hungry crowd, head to Lemon Grove plays host to Chinatown favourite Chinese Noodle Restaurant (北方拉面馆), which opened up shop up North just a few years ago. The owners come from China's northwestern province of Xinjiang, and pay homage to their hometown with fresh hand-pulled noodles and pork mince pancakes. If you're lucky, you might even catch sight or sound of the owner, a stellar violinist who likes to perform for diners when the mood strikes him.

If it's south-east Asian cuisine you're after, you're in luck: try the the signature tom yum soup at DoDee Paidang, or nasi lemak and roti at Malaysian restaurants PappaRich or Mamak. Or, travel down Victoria Avenue and find Chat Thai down at The Mix (yet another shopping complex) or further to North Willoughby for a nourishing bowl of phở or a herbaceous bánh mì on a fresh, crusty baguette inside High Street Bakery.
Aside from a multitude of bubble tea and purple rice yoghurt drink options, there are some particular special mentions for the sweet teeth among us. Above Chatswood Interchange in District Dining is where you'll find the fluffy-beyond-belief Japanese pancakes of Gram. Gelateria Gondola makes fresh scoops of Italian gelato and sorbet in-house: arum ricotta injects a citrus zing into a creamy flavour, while the arance rosse Aperol blends blood orange into the popular summer drink.