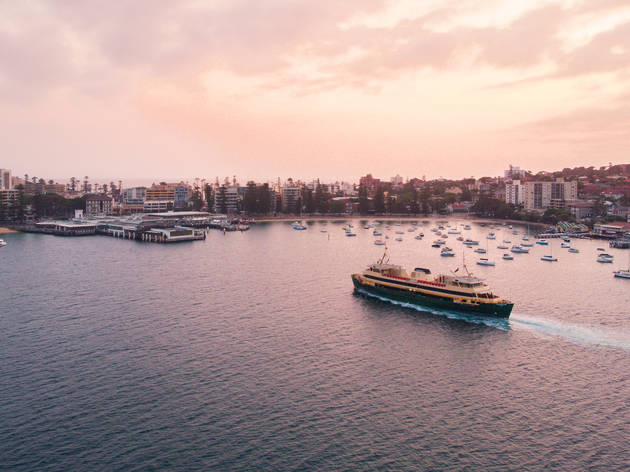 A local's guide to Manly
Every day's the weekend at this beachside suburb – but there's more to the 2095 postcode than long stretches of golden sand
Not everything described as iconic deserves the title, but the double-ended ferries that shuttle between Circular Quay, past the heads and into Manly Cove are truly icons of the beachside suburb. The most visited Northern Beaches suburb is known for its surfing history, rows of Norfolk Island pine trees and busy thoroughfare of shops, cafés and sprawling pubs, but look beyond the well-trodden Corso and you'll find tiny dive bars, indie boutiques and never-ending ways to make the most of the relaxed, outdoor lifestyle. Before Manly became a popular escape from Sydney's CBD, it was home to the Gamaragal people, who were custodians of the land on the North Shore of Sydney Harbour.
Jump to a section
EAT DRINK COFFEE THINGS TO DO SHOPPING
What's Manly known for?
Just how many beaches are too manly for one suburb to have? Well, Manly has eight, which explains why water defines pretty much every aspect of life in this desirable suburb on the Northern Beaches of Sydney. People come here for surfing, sunshine, skateboarding, swimming, snorkelling, kayaking, hiking and beach volleyball.

Why do locals love it?
"You live in Manly for the lifestyle. It's the kind of place where your mum always had beach towels in the boot so you could meet her for a swim after school during summer, and your weekends consisted of nippers in the morning followed by a pink iced doughnut from the local bakery" says Alice Donaldson, who grew up in Manly. Once she got older it was all about waterfront drinks at "the office" where locals gather on a Sunday to sink beers on the grassy verge overlooking the harbour.
How do I get to Manly?
There is no trainline in Sydney's Northern Beaches so it's a matter of car, bus or ferry. Driving can see you get caught in snaggly traffic over the Spit Bridge (especially if you're unlucky and it needs to open for a particularly lofty yacht). Buses are a good bet, especially since the introduction of the double decker yellow B-Line bus service that runs as often as every ten minutes between the CBD and Mona Vale and features in-seat USB chargers. But by far the nicest public transport in Sydney is a ferry. You can get the fast ferry, which is private and has a bar on board, or the big public ferry and use your opal card. Even they have a local brewery bar on board too so you can kick back on what is ostensibly a harbour cruise for your commute.

What's nearby?
The next beach up from Manly's huge expanse of golden sand (so large it's technically three beaches, Queenscliff, North Steyne and South Steyne) is Freshwater Beach, which is famous in surfing history as the very first location Duke Kahanamoku demonstrated surf board riding to Australian audiences in 1914. This beautiful, and quieter beach is also home to famed Sardinian fine diner, Pilu at Freshwater. On its inland border is Brookvale, a semi-industrial suburb that has a growing reputation as a hub for craft breweries on the Northern Beaches.
Map of Manly
If you only do one thing
The ten-kilometre Spit to Manly trek is best approached from the Spit if you want to reward yourself with snacks at the finish line. The route takes you from sandy coves to beautiful vantage points of Sydney Harbour, up and down rocky staircases, and to at least four secret beaches. Castle Rock beach is postcard perfect, so bring your swimmers and a towel for this otherwise hard-to-reach beach in Middle Harbour. Also pack water and proper sun protection, as there are very few water fountains and limited shade.
Find the best things to do in Manly
Discover more of the city
Get a local's perspective on other areas by clicking on the map.
Best selling Time Out Offers