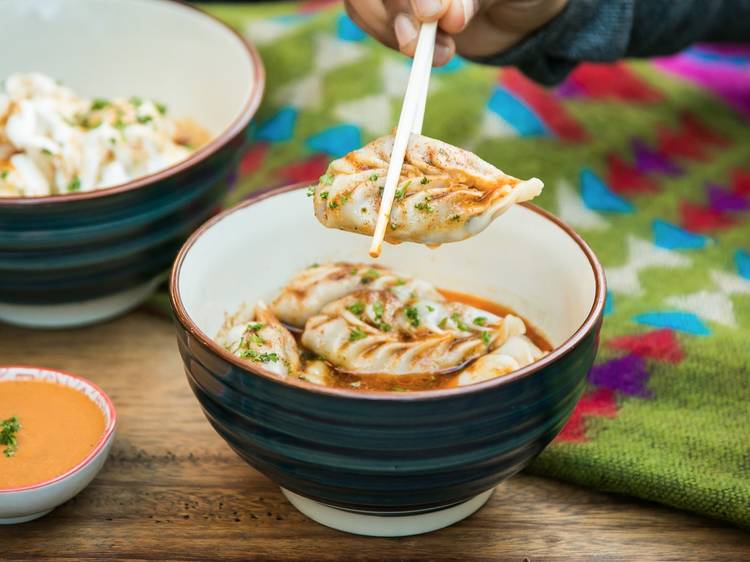 Photograph: Anna Kucera
One of Manly's most delicious snack bars is a Nepalese-inspired dumpling house called Momo Bar Manly (28 Market Pl), where you choose your flavour filling (spiced chicken and vegetarian are ace), then you choose a sauce or make it a soup with broth.
Busta (10 Pittwater Rd) is a retro-glam Italian diner making a faultless tiramisu that people are queuing for.
If you want to eat a bucket of fresh prawns, golden seared scallops, and a bowl of hand-made pasta looking out over the expanse of Manly Cove towards the city skyline and out to sea, Manly Pavilion (West Esplanade) is the place to do it.
The Boathouse Shelly Beach (1 Marina Pde) is the place to be on sunny weekends for that 'Byron holiday in Sydney' vibe. Wear your best coastal whites and enjoy brunch with a view, or get takeaway and eat by the calm waters of Shelley Beach.
Pocket Pizza (46 Pittwater Rd) gets top honours for puntastic names Anchovio Banderas, Cheesus Christ and Gordon Hamsey. The Baracolli Obama is in the running for one of the best veggie options around.
If you're here for that plant-based life, hit up the smoothie loving crew at vegan café Verd (C13 The Corso) for a fresh dose of vitamins.
The original Chica Bonita (9 The Corso) has long been pulling crowds thanks to their killer chicharron, tacos and Margaritas.
For some Hong Kong elegance with harbour views, head to Queen Chow's Manly post, right on the wharf (Manly Wharf, East Esplanade).
There are countless places for fish and chips in Manly, but for higher end seafood there's the Herring Room (94 Pittwater Rd).
Sunset Sabi (26-28 Pittwater Rd) is not here to follow the rules of Japanese dining, but rather to break them in service of good times and snacky hijinks.
Manly loves a little Americana, so get your fix of wings, fried chicken, loaded fries and burgers at JB and Sons (49 Sydney Rd).
What's a beach visit without a golden packet of freshly battered fish and piping hot chips straight out of the frying basket at Fishmongers (Shop 4, 11-27 Wentworth St).
By day Sketch Manly (19 Pittwater Rd) is an Indian inspired cafe, and at night they are slinging curries and craft beers to adoring fans.
For high-end Japanese dining on the water, Saké Manly (Manly Wharf, East Espplanade) is the go-to in this Northern enclave of Sydney.