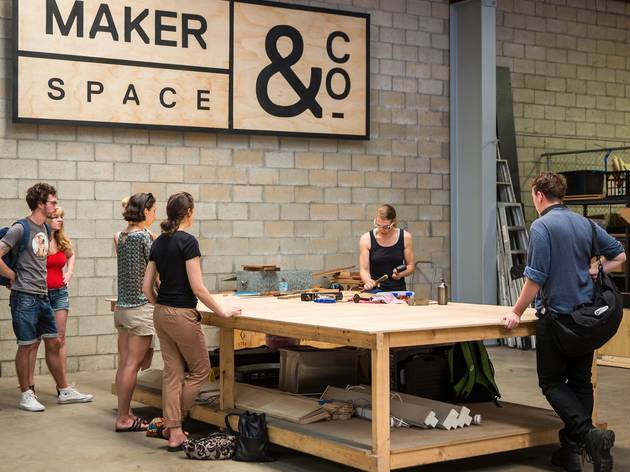 1/18
Photograph: Anna Kucera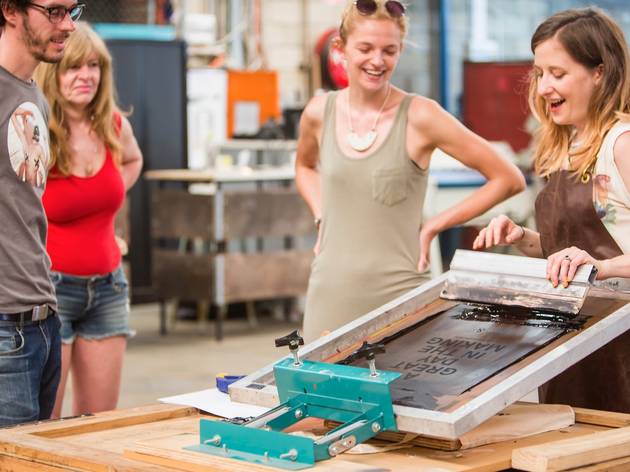 2/18
Photograph: Anna Kucera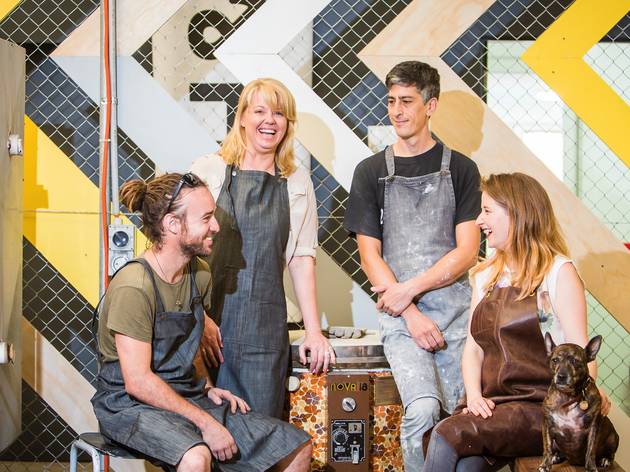 3/18
Photograph: Anna Kucera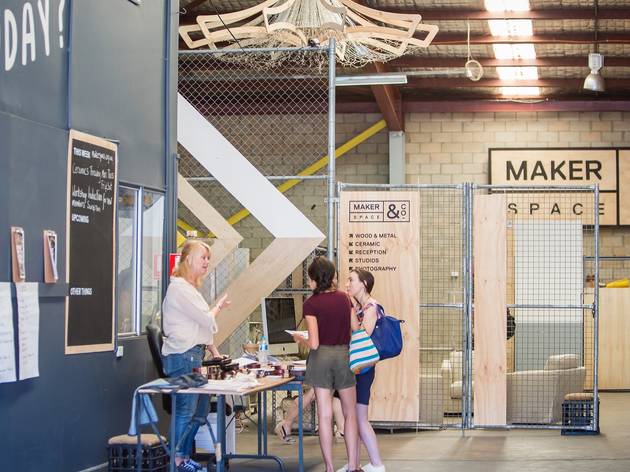 4/18
Photograph: Anna Kucera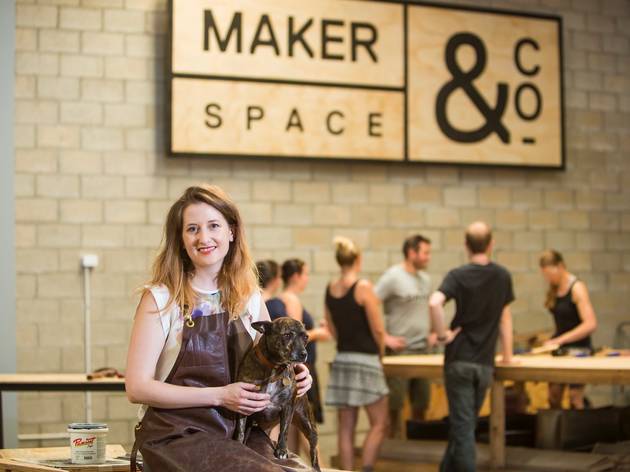 5/18
Photograph: Anna Kucera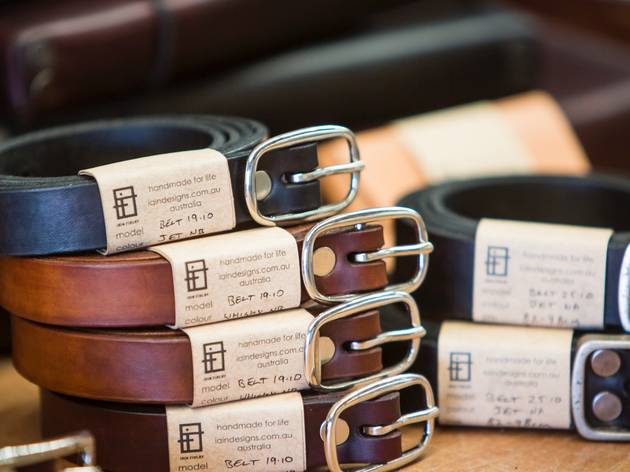 6/18
Photograph: Anna Kucera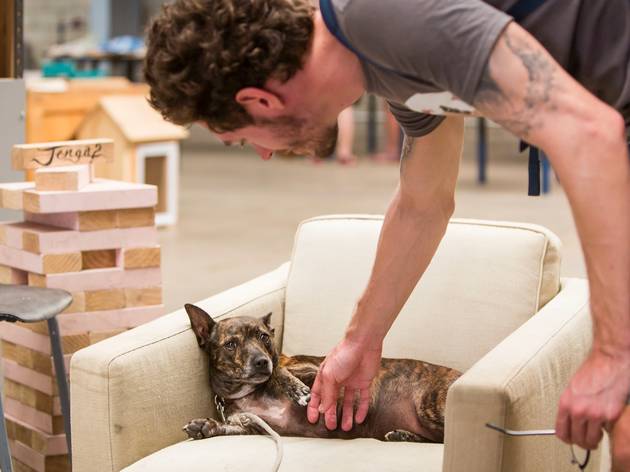 7/18
Photograph: Anna Kucera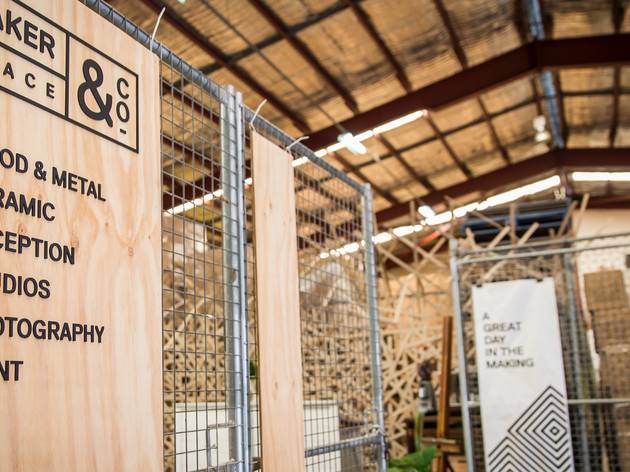 8/18
Photograph: Anna Kucera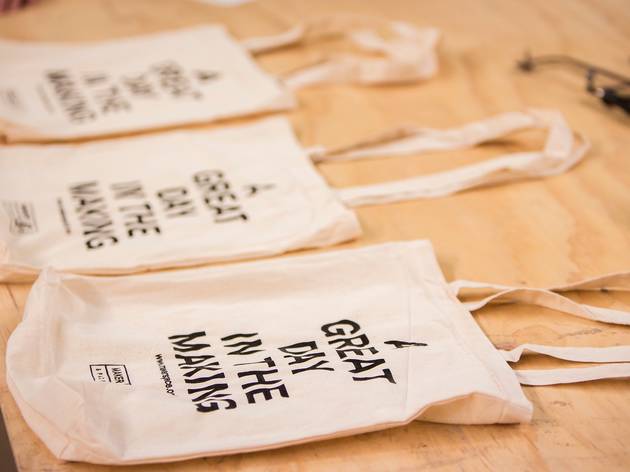 9/18
Photograph: Anna Kucera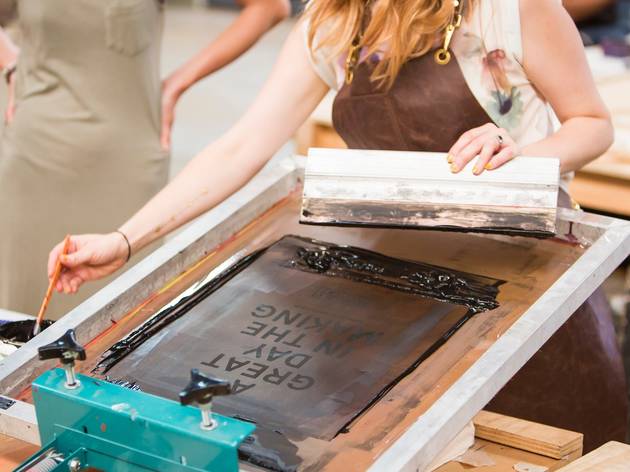 10/18
Photograph: Anna Kucera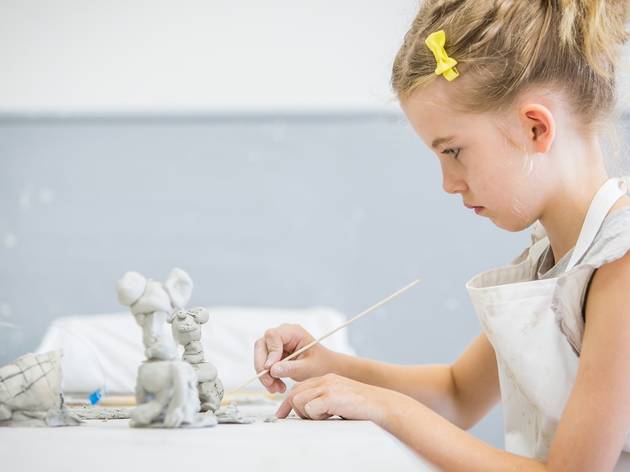 11/18
Photograph: Anna Kucera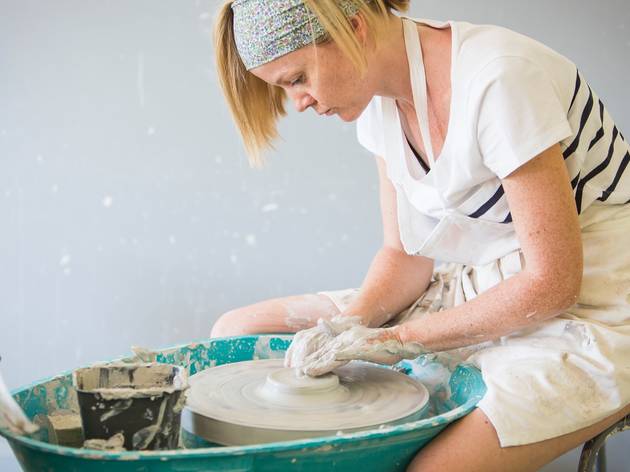 12/18
Photograph: Anna Kucera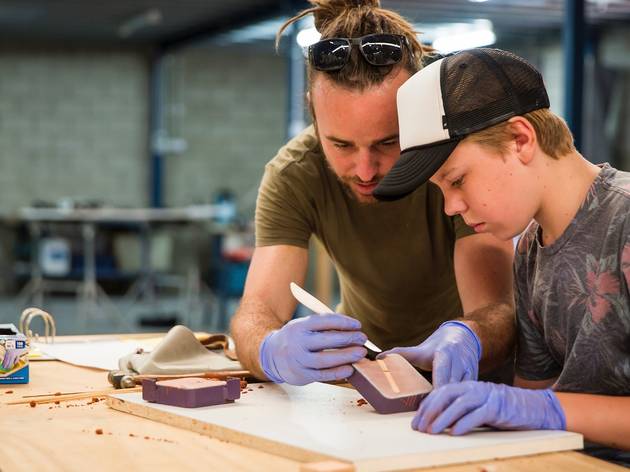 13/18
Photograph: Anna Kucera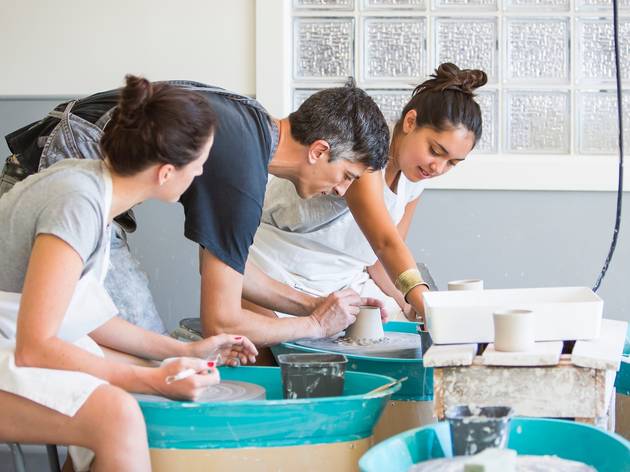 14/18
Photograph: Anna Kucera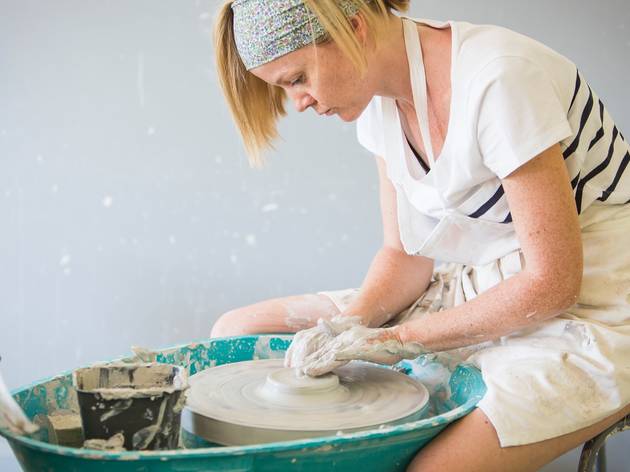 15/18
Photograph: Anna Kucera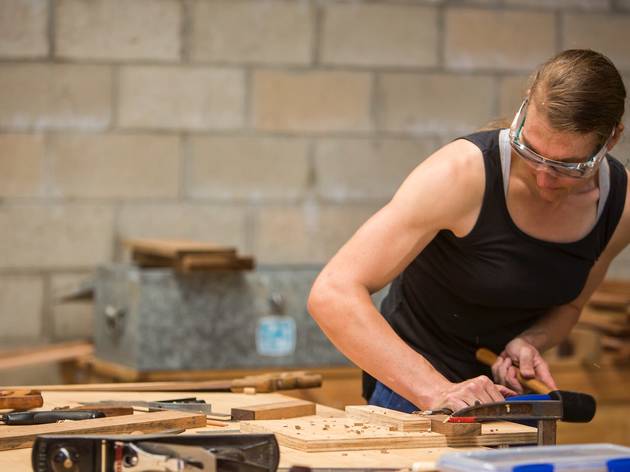 16/18
Photograph: Anna Kucera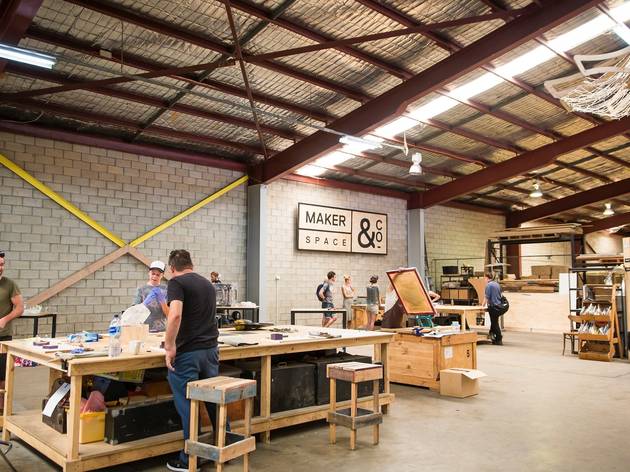 17/18
Photograph: Anna Kucera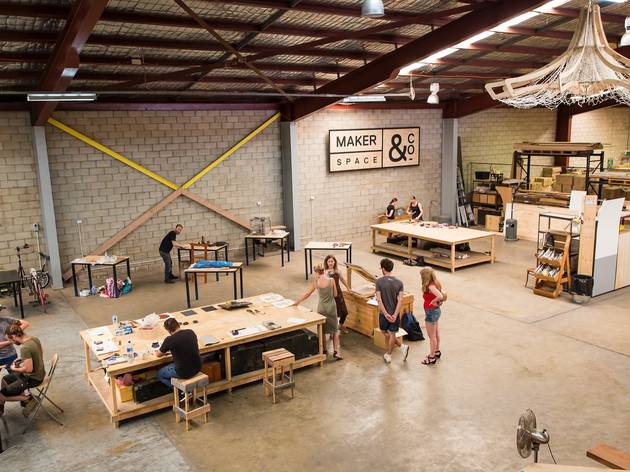 18/18
Photograph: Anna Kucera
MakerSpace &Company is a new community-based workshop in Marrickville that's teaching people how to throw clay, weld metal and dye fabric
Time Out first met founder and CEO Anna Lise De Lorenzo four years ago after she'd raised $20,000 through a Pozible campaign for her big idea – a workshop space for people to learn and engage with making things. She'd just completed a pop-up workshop in the Rocks, and people were starting to offer support to develop the concept.
Now, as we walk around the 1,200m­2 warehouse in Marrickville, De Lorenzo contemplates the journey they've taken to get to this point. "None of this would be possible without the support we've had from donors and volunteers," she says. "Everything you see here has been donated. We'd raised $20,000, which was exciting, but not nearly enough.
"A space like this hadn't existed before in Sydney. It's a space where anyone can come in and learn, or use the equipment – and we really welcome people not knowing how to do things, like throwing a pot or welding a piece of metal."
Four years on, the &Company Foundation has a board of notable directors including lawyer Adam Simpson, co-founder of GoGet Bruce Jeffreys and Prabhat Sethi. De Lorenzo and her team have fostered a community of hundreds of volunteers and supporters, including the co-founder of Dinosaur Designs, Liane Rossler. They raised half a million dollars through philanthropic donations, before finding the right property for the project.
At the front of the space is a ceramics workshop filled with dusty clay pots ready for firing. The main section of the workshop still looks like a warehouse, but it's busy with machinery and tools donated or lent by MakerSpace supporters. A mezzanine level overlooks workbenches, and the upstairs rooms are ready for transformation into new classrooms and studios.
MakerSpace's ceramic technician Xavier Modoux runs wheel throwing classes for $45 per person. Their ceramics workshop was one of the first spaces to open, it will be followed by a darkroom and a printing studio. ("Those things weren't on the original plan but we've got all the materials," says De Lorenzo).
In the main open-plan area, there are workbenches that can be hired by MakerSpace members – from people who want to drop in and use the equipment on a casual basis, up to more professional practitioners. Memberships start from $49 per day, and it includes basic equipment training, hot-desking access to workstations and expert advice.
"We're really committed to having education for the creatively curious, but we also want people to get real skills here," says De Lorenzo, who's already busy offering the space to corporate team building events and hens and bucks parties, too – "whether it's a Ghost moment on the pottery wheels, or mak[ing] sparks fly with welding," she laughs. With Batch Brewing Co next door, it's starting to make perfect sense.
MakerSpace is already offering courses in leather work, 3D modelling and floristry, but De Lorenzo has big ambitions for the space and the opportunities it offers. "One ideal outcome is that Australian design has a renaissance because of access to this space. We want to kick into motion an education revolution, so that MakerSpace could one day replace current education options for people wanting a career as a maker."
If you run as business as a maker, check out the MakerSpace MakeIt Award, which includes a prize of 12 months professional membership to the workshop. If you'd consider yourself more 'creatively curious', there are plenty of low-cost classes, such as their monthly Spoon Carving Club for $10, plus school holiday workshops for kids. We predict that once you've experienced one class you'll be back for many more.
Venue name:
MakerSpace &Company
Contact:
Address:
1/17 Barclay St
Marrickville
Sydney
2204

Opening hours:
Mon, Tue, Thu & Fri 10am-6pm; Sat, Sun 10am-5pm